Are you a fan of slots? Do you often play it online or visiting casinos in Canada? If yes, you must be aware of Playtech slots that are quite popular among gamers just after Microsoft. Here are the Best Playtech Slots to play in Canada if you are looking to spend some fun time!
1. Ice Hockey
Ice Hockey is a cool video slot game and one of Best Playtech Slots to play for hockey lovers from Canada and around the world into the excitement of international hockey. It is a pretty interesting take on ice hockey in video slot form.
You can visit a Playtech-based casino such as BetFred Casino, Circus Casino, Omni Casino, and Bet365 Casino, among others to have fun or can also play online.
Features
Ice Hockey will grab your attention, as it starts with the kind of set-up you may expect more an ice hockey video game than a slot. You can pick your favorite team and your opposing team also. Your team plays left to right, while the other team pays right to left. It's a creative set-up for sure.
The symbols include various players draped in your team's (and your opposing team's) jersey, as well as your typical 9, 10, J, Q, K, and A symbols. You'll have great sound effects and music that you would expect from an exciting slot based on a game like ice hockey. The graphics are cartoonish and amusing, and the theme works very well.
Coin Values and Jackpots
The coin range starts at just 1 cent and goes all the way to $1 CAD, with coin values such as 2 cents, 5 cents, 10 cents, and 25 cents in between. You can only bet one coin per line, so to play all 15 lines, you can play for just 15 cents per spin or as much as $15 per spin.
The top jackpot is 10,000 coins. There are also free spins, multipliers, and other bonus features that will help you to win even more, but 10,000 for a base jackpot is very nice.
Jackpot Rules
To win the 10,000 coin jackpot, you will hit five of the goal symbols all on an active payline to win the prize. You can also win 5,000 coins if you get five of any assortment of players that are on the same team on an active payline.
Special Symbols
The goal symbol is the wild symbol in Ice Hockey, as well as the most valuable symbol in the game from a coin standpoint. This symbol can substitute for all but the special symbols.
Other symbols include the flag bonus symbols, which only appear on reels 1 and 5 and can trigger 12 free spins. The puck symbol is also a special bonus symbol and appears on reels 2 and 4 exclusively. It can activate a special bonus mode if a player appears directly on the left (when the puck is on reel 2) or the right (if it's on reel 4) of the puck.
Bonus Games
The flag symbol can get you 12 free spins if only one team appears on the reels while you have their flag on reels 1 and 5.
The plug symbol can activate the Pass the Puck bonus whenever a player appears directly on the left (with the puck on reel 2) or right (with the puck on reel 4) of the puck. In that case, the player passes the puck to any on-screen teammates, with each pass giving you 3x your bet!
2. Baywatch
This is one of the Best Playtech Slots to play based on popular Baywatch episodes where you will find sexy females in swimsuits. This famous show has taken the shape of a video slot game that many people are enjoying.
This video slot hammers home the theme with light-hearted music and sound effects. The other symbols include different boats and a jet ski, are also helpful in keeping the beach theme going. It has a sunny beach background, with waves and a blue sky to top it all off. It is a 5-reel, 25-payline slot with the kind of features you've come to expect, like a "Bet Max" button, sound muting, and other features.
Jackpots
The coin values start at one cent and go all the way up to $50 CAD, and because there are 20 lines to cover, you can play every line for just 20 cents or $1,000 per spin, if you are a true high roller.
The regular jackpot is worth a conservative 3,000 coins, and since you can only bet one coin per line, that's where it maxes out until you get bonuses and multipliers into play, which are plentiful in the Baywatch video slot.
Jackpot Rules
To win the jackpot, you'll be looking for Pamela Anderson's smiling face, as you'll need her symbol five times on an active payline to strike it big.
Baywatch Special Symbols
Special symbols are several in Baywatch. Pamela Anderson is the wild symbol but also because she substitutes for all symbols except other special symbols.
The scatter symbol is a shot of the lifeguard stand as a silhouette while the sun sets in the background. The rescue feature symbol only appears on reel five but triggers its bonus.
Baywatch Bonus Games
This slot has a robust selection of bonus modes. First is the free spins mode where different lifeguards will trigger different features. Caroline can offer you six extra spins and a 3x multiplier. Neely gives you six extra spins. Matt gives you six extra spins and an extra frozen wild.
The Rescue Bonus feature happens when the Rescue Bonus symbol pops up on the fifth reel. When you're lucky enough for that to happen, you get to choose between a CJ re-spin feature and a lifeguard mini bonus. The CJ re-spin feature, which spins with two, three, or four wilds randomly distributed on the reels. The lifeguard mini bonus gives you 15 lifeguard symbols that are hidden below the sand, with each giving a cash prize that can be collected if you can match three of a kind.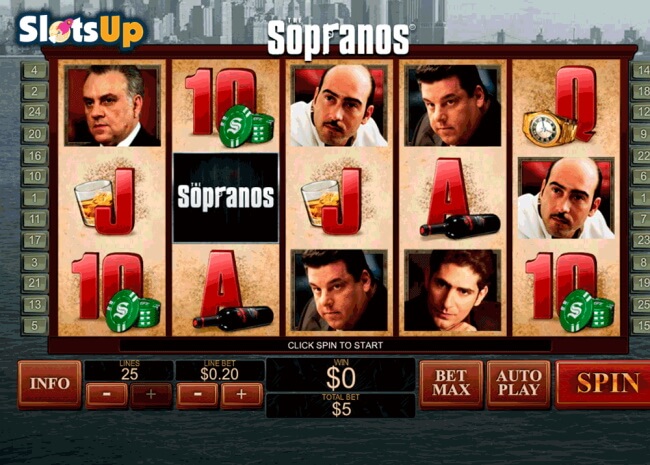 This is a video slot game is one of the Best Playtech Slots to play that is based on the drama and style of the classic HBO drama that won a total of 21 Emmy Awards and 5 Golden Globes while it aired between 1999 and 2007. Being a Canadian fan of The Sopranos will certainly enjoy being able to visit their favorite cast members again in the form of this Playtech slot game.
The Sopranos is a Playtech slot game, you will need to go to one of their casinos to enjoy the game. These casinos include Bet365 Casino, Omni Casino, BetFred Casino, and others.
The symbols include Christopher Moltisanti, Paulie "Walnuts", Bobby "Bacala", and of course, Tony Soprano himself.
You will also find typical theme music and sound effects, which are mostly unobtrusive. The game features five reels and twenty-five paylines and has some bonus features.
Jackpots
The coin sizes start quite hefty at 20 cents minimum and go all the way up to $10 per coin!
With 25 paylines to cover, it'll cost $5 per spin to play all 25 even at the smallest coin value, which kind of limits this slot game's appeal to some players, who would rather play for longer and not spend so much. The maximum bet would be $250, which is something you won't see in many video slots, for sure. The maximum jackpot of just 3,000 coins.
Jackpot Rules
You need to get five of Tony Soprano's mug on an active payline to earn 3,000 coins in one fell swoop.
Special Symbols
The wild symbol is Tony Soprano. It can substitute all symbols except other special symbols. The Sopranos logo is the scatter symbol, and if you get three or more of them, you activate the free spins game, which has multiple modes.
There are two bonus symbols, the Bada Bing bonus and the Stolen Goods bonus. The Bada Bing bonus is the club's logo and pops up on reels 2, 3, and 4. The Stolen Goods bonus comes in the form of a shipping crate and appears on reels 1 and 5. These trigger bonus games of their own.
Bonus Games
On getting at least three Sopranos logos, you get a free spin. Once you get into free spins, you have to pick between four different free spins modes.
The first is the Soldier version, where you get 25 free spins and Christopher is an extra wild symbol, and any Christopher symbol in the middle spot of any reel adds five free spins. The Capo version offers you 20 free spins with a random multiplier between 2x and 5x.
Finally, the Raid bonus game prompts randomly and is triggered at the end of random spins. You need to hide four envelopes before the Feds show up. The Feds will check two of the four spots, so you can put all of your envelopes in one spot or even spread them out and guarantee that you'll keep two of the four spots.
Gladiator Jackpot
This is a clever video slot game that nails the action-packed movie that won 5 Academy Awards and Best Picture in 2000. You can find Gladiator Jackpot at the online casinos for enjoying. There are many offering the game, but one that stands out is Bet365 Casino.
The Jackpot offers a variety of coin sizes to pick from. Start with just 5 cents or go all the way to $1. In case you use the maximum amount this will equal to a whopping $250 for every spin of the reels!
Rule to play Jackpot
To grab the progressive jackpot it's going to take Gold Helmets. Collect three Helmets on the three reels in the middle and get into the Gladiator Jackpot Bonus round. Get nine Gold Helmets to spread across the reels and the progressive jackpot becomes yours.
Special Symbols
Helmet symbol is the wild that can appear as gold, silver, or bronze. A scatter symbol cannot be substituted by this symbol. When three appear across the middle reels the Gladiator Bonus round is activated.
The scatter symbol is Coliseum which two of these to win, but get three or more and the Coliseum Bonus will be triggered.
Gladiator Jackpot Bonus Games
When you hit three Helmet on one spin the Gladiator Bonus round is triggered. This is where you will have a shot at the progressive jackpot. Three scatters trigger the Coliseum Bonus round where you will get to pick a stone to see just what prize will be won.
Powered by Microgaming, Game of Thrones is one of the Best Playtech Slots to play. It is a surprise  for the viewers of Game of Thrones TV series. It is an exciting game that grips its players with its beautiful music and exciting logo. This is 15 lines of '243 ways to win concept game.  You can choose between 243 ways to win and 15 pay lines. You also have four different free spins bonus games with multipliers.
Game Rules
This game revolves around the four great houses- Baratheon, Lannister, Stark, and Targaryen. You need to temper your sword on the GOT slot including stacked Wilds across all Reels. You have to land two iron Throne scatters on any of the Reels. A dragon's egg appears at this point which offers a random cash prize. If you hit three Scatters, you will get a chance to serve one of the four great Houses of Westeros by choosing one of the four free spin features.
Special Symbols
The high paying symbols are symbols of the royal warring houses of- Baratheon, Lannister, Stark, and Targaryen.
The free spin and the base games both, Wilds are stacked 3 up. You will get 4 spin feature one for each House where each feature is a unique number of Free Spins, a unique multiplier, and a unique number of stacked High Symbols. With every win, you can double your win with The Trail Game feature.
Jackpots
This game is also one of best 4 Playtech slots to play offering a competitive 1,500 coins jackpot. In the 243 ways winning version, the top pay-out is 605,000 coins.
Synopsis
These are the best 4 Best Playtech Slots to play in Canada. If you are fond of playing slots better to try out the above slots to have fun.