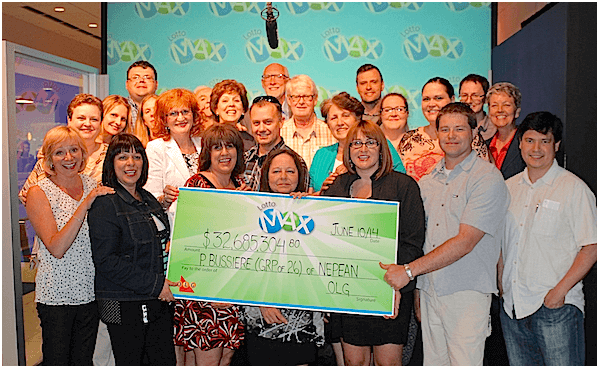 Lottery Pool is a game of lottery where few or many people come together to play a type of lottery. In simple meaning to pool in the game of lottery or you can say a communal lottery where the amount is selected for each participant to pool for the lottery they are playing. Sometimes it's an informal pool and at other times the pool draws up an agreement which everyone signs.
Here are the things you should know before you join in to play lottery pool game.
Lottery pools are becoming increasingly popular in Canada. They are well-established in Canadian workplaces. According to the OLG (Ontario Lottery and Gaming Corp.) there are 100,000 group lottery pools operating in Ontario. Some of these pools are casual affairs — a list of names hand-written on a piece of scrap paper, sealed by handshakes, and played intermittently. Other pools involve formal agreements that set out the terms of the pool and describe possible scenarios, which pool participants must sign in order to play.
But do not take these lottery pools games as an easy activity. As number of lottery draws in Canada is growing every year, so are the legal disputes on the rise among group winners.
How does the Pool game work
In a lottery one pool member is designated as the organizer. That person organizes the participants, buys the tickets and monitors the winning numbers. Some pools are comprised of the same participants who play every week while others involve revolving players.
The advantages of playing as part of a lottery pool are obvious. By joining a lottery pool you have a significantly larger budget to use to buy tickets. You can buy many more tickets than you would as an individual player. If one of the pool's tickets wins, you share the win among all of the pool participating players.
What are the things to worry in this game of Lottery Pool?
The main thing to worry in the game of lottery pool is that when one of the pool's tickets turns out to be a winner, the other potential participants, who might have been excluded from the pool for that particular draw, might raise objections.
Lottery Lawsuits that became popular
One of the biggest legal battles in Canadian lottery history occurred lately when Christopher Bates, an employee of Bombardier, sued his office lottery pool. Bates claimed that he had been wrongly shut out of a workplace lottery pool in which his co-workers won the $50 million jackpot.
Michael Cochrane of the Brauti Thorning Zibarras law firm represented Bates in his objection to his exclusion from the winning pool. Bates, a regular pool participant, was on vacation the week before his office pool won. Bates testified that after he returned from his vacation and asked the office pool organizer why he hadn't been included on the next week's lottery, he was told that it was because another employee still owed him money. The group didn't win that week, but the following week Bates was excluded again that's when the group won the jackpot.
Bates' co-workers argued that the lottery pool was loosely organized as a "no pay, no play" pool and there was no mechanism for adding in players retroactively.
Cochrane, Bates lawyer told the court that the co-workers should have included Bates in good faith, since he had been playing the lottery with them for years.
In the end, the case was resolved and Bates received a payout. The exact terms of the resolution are confidential, though Bates and the other pool participants are all satisfied.
In Surrey, B.C., a woman sued her business partner for her half of the $12.6 million winning ticket that she says the partner bought with money from the workplace cash register.
A group of Bell Canada call center employees sued the 19 lottery pool winners from their office, saying that they were entitled to part of the $50 million prize. In their suit the suing employees allege that they should have been included in on the win.
In 2008 a group of employees from the Powco Steel Co. of Barrie, Ontario lost their case against co-workers who sued them after missing inclusion in the weekly draw. The employees who sued won $4 million as part of the settlement.
Two Hamilton city bus drivers went to court in 2012 over a winning scratch card ticket that they received as a gift.
Therefore such kind of areas of lottery pool activity that the Lottery Corporations and the courts are facing today.
How to Protect your Pool
When any such kind of above mentioned dispute arises and the matter is taken to court it is high time for lottery officials and lawyers to remind is that workplaces should set out clear written rules that will govern their lottery pools. But unfortunately most of the workplace pool participants, don't follow this advice and prefer to enjoy the informal way of playing a workplace pool lottery.
The Bates case was a headliner and, as such, succeeded in publicizing the need for more formal agreements in office pools. Many of the provincial lottery agencies are now posting sample "group play" forms on their website to help workplace lottery pools become better organized. OLG reports that it is seeing an upturn in interest  that their Group Play webpage gets close to 3000 hits every month.
According to Michael Cochrane, Bates' lawyer his model contract that he has build suggests as an option that will help co-workers maintain a more businesslike structure to their lottery pools. His suggestions include:
having members sign their names and pay up-front before each draw
declaring ahead of time that that anyone who misses a draw isn't entitled to any winnings
stipulating the expectations of the group leader – holding the money in trust, purchasing tickets as agreed, distributing winnings)
declaring that the organizer won't be legally liable if s/he forgets to buy tickets
It is therefore to understand these things and keep in mind the rules for playing lottery pool game. Though you may lure for such lottery pool games to play for the chance of hoping to make some huge win but joining lottery pools can create problems that are mentioned above. Therefore organise and invest in such lottery pools carefully. Watch this informative video below