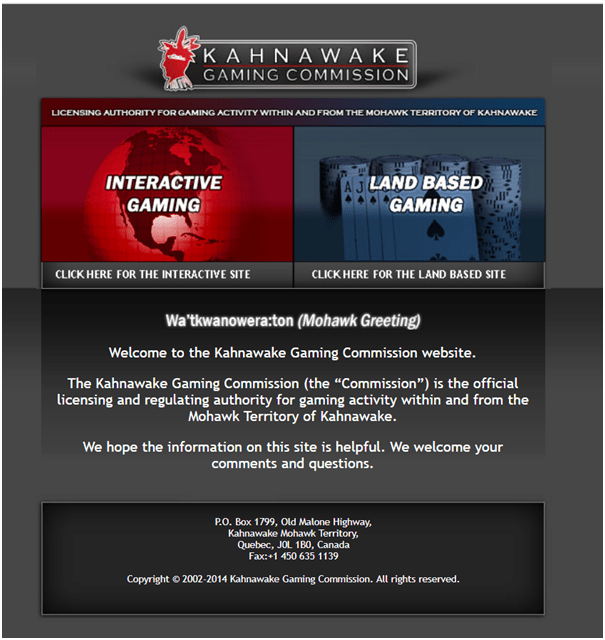 Whenever you visit an online casino of repute with your mobile or PC or tablet you must have noticed that most of Canadian friendly casinos are said to be Kahnawake licensed online casinos. Before you come to know the best Kahnwake licensed online casinos to play slots you need to understand actually what does Kahnwake casino mean
Actually Kahnawake is a Gaming Commission or a Governing Body. Both land based casinos and interactive gaming sites hosted in the Kahnawake Mohawk Territory in southern Quebec are regulated by the Kahnawake Gaming Commission. The Commission offers four types of licences, authorizations, and permits:
Interactive Gaming Licences that allows a company to provide Internet services to authorised client providers based in the same location.
Client Provider Authorisation that allows the conduct of gaming operations from a co-location facility operated by the holder of an Interactive Gaming Licence.
Inter-Jurisdictional Authorisation that allows the conduct of interactive gaming from a co-location facility operated by the holder of an Interactive Gaming Licence.
Key Person Permit which is required by someone employed or contracted by the holder of an Interactive Gaming Licence or Authorised Client Provider to provide managerial or operational functions.
When was Kahnawake Gaming Commission formed?
The Kahnawake Gaming Commission was formed in 1996 under the mandate of the Kahnawake Gaming Law. Three years later, section 35 was included to cover the regulations concerning interactive gaming. According to this section  which covers the conduct of any agents acting within the Kahnawake Mohawk Territory, makes sure that they abide by several principles of gaming which is to regulate and control interactive gaming based in or offered from within the Mohawk Territory of Kahnawake, according to the law, to ensure that interactive gaming is responsible, fair and honest, to prevent interactive gaming from being associated with crime, to ensure that the operators treat players fairly, pay winners promptly and that all information related to player accounts is held in the strictest confidence and to protect persons under the age of 18 years and other vulnerable persons from the risks of gaming.
Under an amendment to the regulations in 2010, all companies must be hosted by Mohawk Internet Technologies, which has a virtual monopoly on the territory. The data centre is managed and maintained by the Isle of Man based technology firm Continent 8.
The Kahnawake Gaming Commission also enjoys strong bonds with other gambling jurisdictions. It entered a Memoranda of Understanding with Antigua and Barbuda in 2005, with Malta in 2006, and with Alderney in 2010. Closer to home, the Kahnawake has similar agreements with the Six Nations Gambling Commission in neighbouring Ontario, and the Santa Ysabel Tribe in California.
In the eyes of Canadian law, only provincial governments have the right to offer online gambling services to their citizens. The Kahnawake tribe, and other First Nation tribes, however, insist that they have the right to regulate gaming sites, and that those they regulate should be made available across the world wherever gambling is legal. Over the last decade, the Quebec government has chosen to look the other way, which has enabled the Kahnawake jurisdiction to grow and become the largest grey-market gaming jurisdiction in the world.
What does Kahnawake Gaming Commission do?
The Kahnawake Gaming Commission offers 0% tax rates to unparalleled infrastructure and human resources, as well as huge bandwidth and multi-layered security systems.
Also is proud of its hard-won reputation that stretches around the globe, and employs a number of agencies to make sure licence holders are following the codes of conduct.
It sees that all companies must be hosted by Mohawk Internet Technologies and gives the commission totalitarian power to shut down any entity or website that is not acting in accordance with the rules.
Mohawk Internet Technologies hosts over 50 clients running approximately 250 online gaming websites. However, with the Quebec government looking to take action and potentially block sites operating out of Kahnawake territory, the tribe may have another long fight on its hands.
Best Kahnawake licensed online casinos for Canadians to play Slots
There are lots of Kahnawake licensed online casinos that are Canadian friendly and allow you to play slots in your own currency that is CAD.
Here listed are few of these online casinos to play slots for free or with real money with mobile or PC:
Ruby Fortune Casino- Click to play
River Belle Casino- Click to play
Spin Casino- Click to play
Jackpot City- Click to play
Royal Vegas- Click to play
All Slots Casino- Click to play
You can join these online casinos and play any game of your choice be it slots, table games, live casino, sports betting or lotto game logging in from any place in the country.
The international gambling industry is developing and changing incredibly fast, and it is certainly commendable to see Canada making a real effort to follow through with the right legal framework and allow the vastly profitable online industry to flourish on its territory. Despite numerous gray areas found in the current law, there is nothing in there to prohibit Canadians from wagering real cash on any video slot, card or lottery game on the internet.
Even though each of the ten provinces is fully empowered by the government to create and impose their own rule regarding online gambling and casinos, the actual differences are minuscule with the jurisdiction of Kahnawake overseeing all gaming sites on a national level. Being quite liberal with land-based venues, Canada quickly realized how beneficial their virtual counterpart would be for the country's economy, opting to take a neutral stand rather than completely ban what is a naturally developing branch of the 21st century entertainment industry. The country has wisely and quietly observed the unstoppable rise of internet gambling, waiting for just the right time to enforce a full and adequate framework for the benefit of both operators and players.
Kahnawake Becomes a Strong Competition to Major Regulators
Kahnawake Gaming Commission is currently the only Canadian licensing authority active and supported by Canadian government officials. Despite the ambiguous legal situation, the entity is considered the only official authority for any and all gaming activity on the Mohawk territory and beyond.
Those who desire this famous seal to grace their homepage must be located on the respective territory of Kahnawake and meet a series of requirements which, in the wider context of gambling regulations, can be described as moderately strict. The most important aspect of this regulator is the fact they regularly check up on their brands, undertaking inquiries before and during the signed and sealed licensing agreement – all this to ensure only respectable brands boast the permit. Another crucial trait is the player protection protocol which is gradually being approved to offer even more security to consumers. A player can self-exclude or set multiple different limits in a number of ways. In the event a complaint has been filed against an operator or a group of casinos, they are obliged to respond and offer an acceptable solution within a week.
Future Licensing of Canadian online Casinos
While there are certainly more famous and reputable regulators that have been active in the iGaming industry for much longer than Kahnawake, the aspiring Commission does their best to improve and contribute to the safety of the gaming community and the good name of the interactive gambling. They provide a strong legal foundation for online casino services, ensure that all games have random outcomes and that all players are treated fairly. This is more than enough to develop into one of the most respected gaming commissions of the future. (with inputs from Kahnwake gaming commission website)