Video poker is also a casino game found in casinos along with games like Video Slots and Progressive Slots. Here in this piece of information, we would talk about video poker and it will help you to hit the video poker machines if you plan to add more poker expertise to your gaming skill.
How to Play Video Poker
This is one of the simplest games to play in the casino. To start playing video poker, you either need to insert your players' card if you're at a live casino or hit the virtual chips you wish to insert if you're playing online. Once done, you should opt for the number of coins you will bet per hand which is available between one and five coins.
It is always suggested to bet five coins as you receive an additional bonus if you make royal flushes while betting five coins. Do remember that coins are a multiplication against your bet. If you're playing a $0.25 video poker machine, a five coin bet will be is about betting $1.25 per hand. Just the payouts increase simultaneously to reflect the number of coins you're betting.
To initiate the bet hit "Deal." You'll get five face-up cards. Now select which cards you'd like to take by hitting "Hold" under each card that you want to keep. Once done, now click "Draw" to get new cards. If your final bet qualifies for a payout on the pay table you'll win!
Majority of the video poker games start a new hand at this juncture, but some "bonus" games offer players an opportunity to double their winnings. In this case, you will be offered with one face-up card and four face-down cards. You need to select one of the four face-down cards. If the card you pick is higher than the initiate face-up card, you've doubled your bet. In case the card is lower, you've lost the original winnings. In case you win you can keep doubling up until you take the money or lose it all.
Importance of Video Poker Pay Tables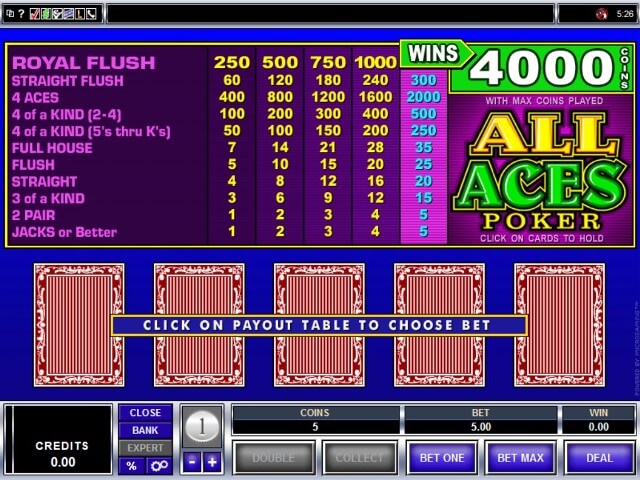 When you plan video poker game to play, it's necessary to check out the pay tables for that game. Several casinos use "full pay" pay table that means the machine is using the best possible pay table for that variation. But "full pay" does not put the player in any advantage. Rather, it is another way around. That means that the player is at the smallest disadvantage possible.
But many times, some casinos opt to use "low pay" pay tables where small cuts are made in one or two payouts that catapult the house edge. So, it is always recommended to find and play full pay games.
Video Poker Strategy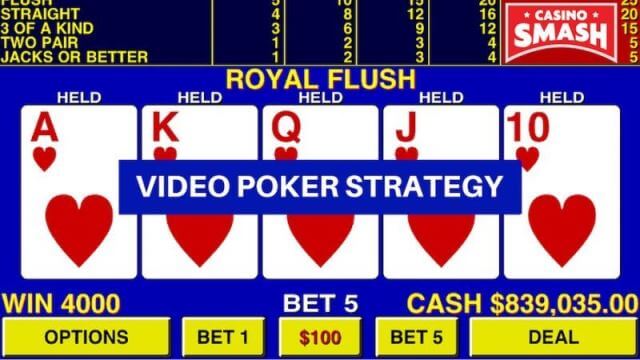 While playing slot machines there are a limited number of strategies that you can use for the game. It's purely a game of chance in its purest form. Video Poker is yet another game of chance with a few strategies which may differ as per the game you're playing. Here are few tips to play video poker games:
In a usual Jacks or Better game, keep with you high cards when you have garbage. Better to try out pairing a Jack, Ace, Queen, or King rather than taking five new cards.
Keep drawing to the royal flush. Four to a royal is worth playing than a made straight or even a made flush. Do not bother about the safe payout and opt for the big jackpot.
Do not forget to use your players' card. Most casinos offer rewards for playing consistently, and you may get perks like free meals or hotel rooms thus can increase your expected return even more.
Synopsis
Hope this piece of information would help you make a firm video poker strategy once to plan to jump into playing this game. You should now be able to play this game properly. Good luck!