Microgaming has offered a reimagining of one of the most popular titles and provides a new way to enjoy online slots games in a secure mobile casino. It has introduced Vegas Flush BoltBet, a unique reimagining of Vegas Flush online slot. Vegas Flush BoltBet is a unique solution in a scenario where players are constantly looking for new ways to enjoy these online casinos.
This brand-new version of slot machines will be available at Spin Casino, Canada's well-known casino online and other Canadian friendly online casinos.
Vegas Flush BoltBet went live at Spin Casino in the second quarter of this year and introduced players to a completely unique experience. The predecessor to this game, Vegas Flush online slot, featured the story of multiple fictional high rollers going all-in against the house in a card tournament at The Straight Flush, one of the richest casinos. Now, Vegas Flush BoltBet retains the art style of the original game, but the gaming experience has been revamped, and it feels familiar yet new.
The game has been designed for all sorts of players, but people who are new to the casino games would find it more appealing than the rest. BoltBet improves the traditional slot games by providing multiple speed options, allowing the player to set the Autoplay count up to three times faster than conventional slots without affecting the game results. The new simplified and streamlined design of the game will cater to the needs of the veterans as well as the newbies alike.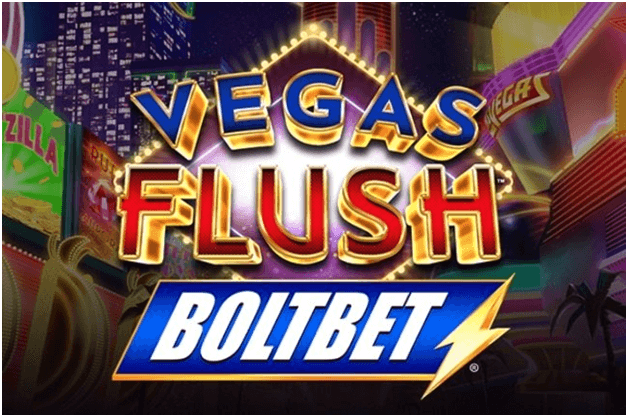 BoltBet features
Players can expect the same great Vegas Flush with the addition of enhanced BoltBet features for those who like to play shorter games. New and innovative design concepts include a simplified interface and console, one-click play, and multiple play speed options.  These added features will likely appeal to all levels of players who like to get into the game quickly and prefer more action in their playtime. These added speed features mean that Vegas Flush BoltBet plays up to 3 times faster than regular slots games. Players are also able to stop at any time giving the player control of their gameplay.
About the game
The base game is fixed at 9 paylines across 5 reels with only the highest win paid per selected payline, and include symbols such as the Scatter, Wild and Regular symbols. No slot symbols and slot reels are displayed, and only the results of the play are displayed within the win area. Multiple paylines wins payout from highest to lowest when playing multiple paylines. All wins are multiplied by the number of credits bet, except when Scatters are involved.
Game features
You can expect to find Scatters as well as their other favourite features such as Wilds and Free Spins. While regular wins are paid from left to right across the paylines, the Scatters in Vegas Flush BoltBet enhance the game by paying in any direction. Scatter wins are also multiplied by the total number of credits bet on a spin and are added to Payline wins. Both Scatter and Free Spins wins are also added to the player's regular wins. Wild symbols are able to substitute for all symbols except Scatters during both the base game and Free Spins.
Free Spin rounds are triggered when players land either 3, 4, or 5 Scatter symbols during their run. 15 Free Spins are granted to players, and all wins during the Free Spins round are tripled. However, 15 more Free Spins can be retriggered during the Free Spin round in order to keep the action going.  All bets and lines played during the Free Spin rounds are the same as the round that triggered the Free Spins. This means that players who trigger a Free Spin during a round will carry that bet amount through the whole Free Spins round. It is interesting to note that winnings are automatically collected during the Free Spins.
Vegas Flush BoltBet is a high-volatility slots game with a total hit frequency of 31.37% and a payout percentage of 96.10%. Because the game is fixed to 9 paylines, the minimum bet amount is 0.09, or 0.01 on each payline. The maximum bet is 5.00 per payline which if you know your maths adds up to a total of 45.00.
Vegas Flush BoltBet is considered to be a high-volatility game and has an RTP of 96.10 percent 31.37 percent Total Hit Frequency. The new game also features a bonus round of 15 Free Spins with a 3x multiplier. The maximum potential win is a whopping 150 000 coins.
The players are given a choice to stop playing at any point and then resume their play from the moment they left later. This feature offers the players complete control of their gaming experience. To play
Vegas Flush BoltBet, a player only needs a compatible computer or mobile device,  along with a reliable internet or WIFI connection. Now try your luck playing this new slot for free or with real money at online casinos.