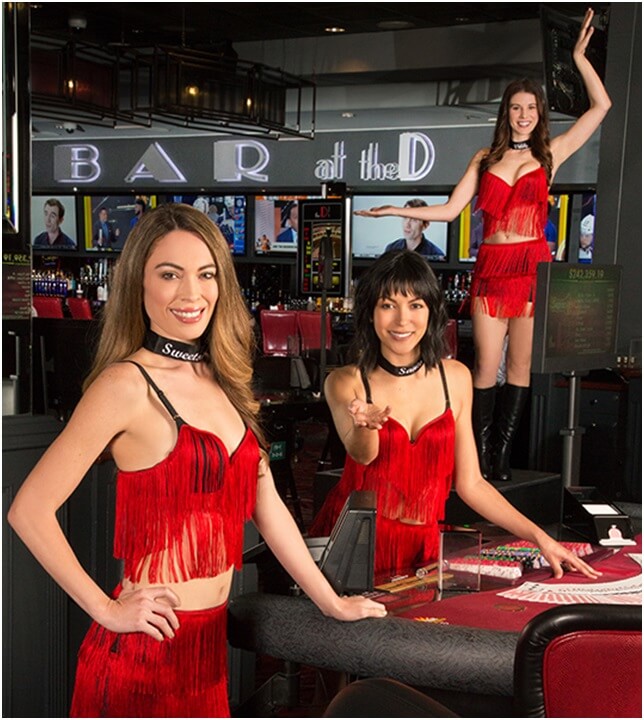 Downtown Las Vegas and the westside have new bars on the way with one dedicated to Canadian sports and in particular hockey and another to the wildly popular Buffalo slot and keno games.
In Downtown, the D Las Vegas plans to open BarCanada, an ode to Canadian sports and culture, in March. The bar is part of a renovation to the 9,000-square-foot, second-floor casino that includes an additional 800-square-foot in the sports book, and offers a hat tip to hockey. VSiN, The Sports Betting Network started by Brian Musburger, the nephew of legendary sportscaster Brent Musburger, plans to offer sports betting analysis and live insights at the bar. VSiN already broadcasts live from the hotel's Longbar, and will house a studio within the sports book at its sister site Circa Resort & Casino
BarCanada plans to feature a 2,000-square-foot, 20-seat bar spanning 60 feet. The space features 85-inch TVs and Art Deco-inspired designs including maple-leaf embroidered chairs, red interiors, and communal tables with up to 38 seats. D Grill provides Canadian dishes and drinks.
Rampart Casino on the westside adds a bar dedicated to Buffalo slots and keno games on February 8 at 5 p.m. Buffalo Bar teams up with Aristocrat Technologies with Buffalo slot games, including the new Winner's World Multi-Game bar top. Buffalo slots and Buffalo Keno, as well as Buffalo, Buffalo Gold, Buffalo Gold Revolution, Buffalo Stampede, Buffalo Diamond, and Buffalo Grand all make an appearance. The 1,095-square-foot bar off the casino floor features nine bar seats with bar-top games as well as a Hairy Buffalo cocktail.
The D Las Vegas Casino
Location: 301 Fremont St, Las Vegas, NV 89101, United States
Phone: +1 702-388-2400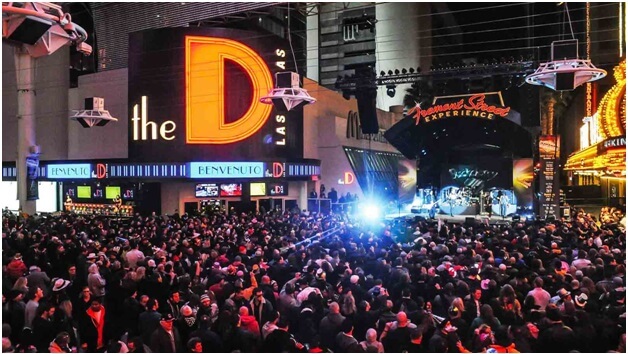 From comfortable rooms in the heart of the city, to blackjack tables and slots old and new, to bars that provide entertainment with specialty drinks, there are three popular bars to visit at the D.
D Bar: Located outside on Fremont Street, the D Bar has a variety of frozen and specialty cocktails that are served by dancing servers and talented flair bartenders.
Long Bar: On the casino floor, you can find over one thousand feet of counter space at LONGBAR where patrons can get specialty drinks from talented flair bartenders, play on video poker machines, or sit back and relax while watching sports on the huge televisions behind the bar.
Vue Bar: Located on the second floor of the D Las Vegas Casino is an outdoor patio where you can enjoy cold drinks, great slots, and a view unlike any other.
Casino Games at the D
If you play games at the casino earning rewards is fun and easy at the D Las Vegas Casino. Simply sign up and receive your personalized players club card that is good at both the D and the Golden Gate Hotel & Casino. Earn points and comps at both properties playing slots, video poker, table games, keno, or at the sportsbook and earn your way toward rich casino rewards!
Members can enjoy special casino discount room rates, qualify for special events and tournament invitations, casino rewards, dining comps, and much more. You earn more points, the more you play.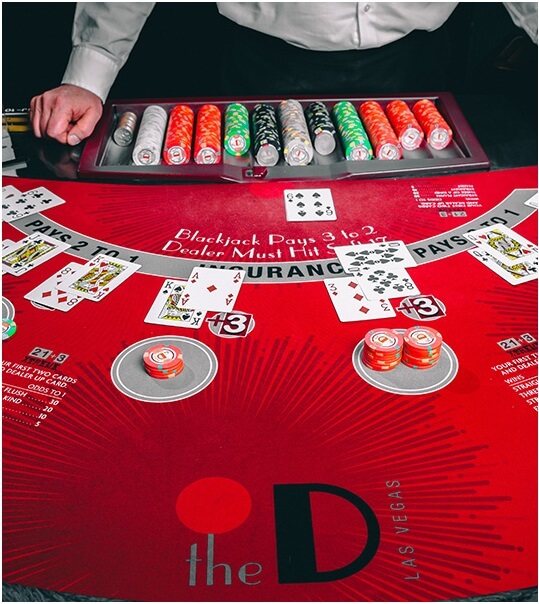 At the D Las Vegas Casino, you can play all day and party all night with high-energy casino games filled with action. From tables that sizzle with Dancing Dealers to a wide variety of games available to play such as slots and Keno, you can easily play your favorite games. With 10x odds on Dice and Blackjack that pays 3 to2 every night.
The D boasts a second-floor casino that invites guests to step back in time to enjoy vintage slots and an original Vegas vibe. The second-floor vintage casino is home to Sigma Derby – a popular simulated horse-racing game. Enjoy throw-back jams reminiscent of eras past playing throughout the casino floor.
On the casino floor, you can find a variety of table games that will have your excitement high and heart racing. Each game has its own set of odds, but if you are looking for a good time, check out 10x odds on dice or 3-to-2 on Blackjack. The only thing hotter than the excitement of table games in Vegas is their Dancing Dealers.  Also say hello to PlayOnSM, the newest and most innovative gaming technology that brings a cashless gaming solution to all table games at the D Las Vegas. With PlayOn, you can purchase casino chips by simply using your debit card.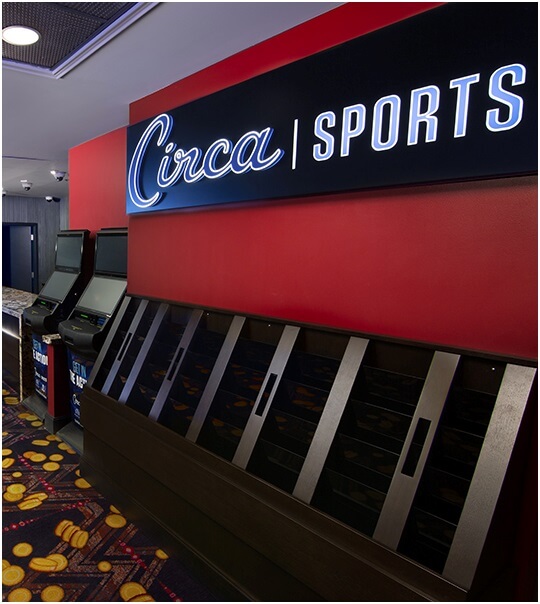 Also, enjoy Keno a classic game of chance that mixes bingo and the lottery. The Keno Lounge is located on the second floor of the D Las Vegas Casino. Whether you are a casual player or a heavy competitor, there is a game for you here. Check the schedule to find a tournament or simply come hang out in the lounge, which is open from 7am to 1am daily. Enjoy this game while sitting on the edge of your seat, as it will have you anxiously waiting to see if you have a winning ticket in hand.
Also join the Circa Sportsbook to enjoy live football and other sports betting to do instantly. For more information on the D casino call toll-free 1.800.274.5825
Rampart Casino
Location:  221 N Rampart Blvd, Las Vegas, NV 89145, United States
Phone: +1 702-507-5900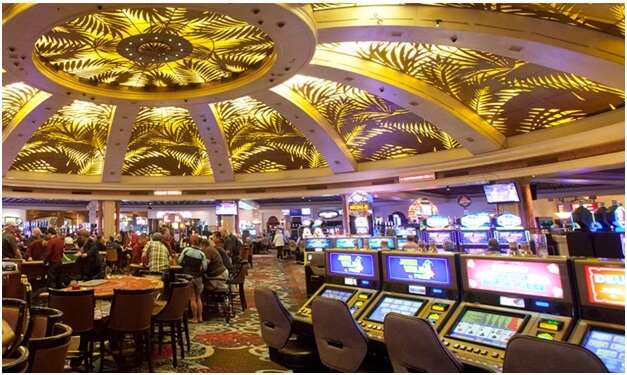 Rampart Casino at the Resort at Summerlin is where you'll find all of your favorite slot and video poker machines, including cutting-edge new game technologies alongside a wide variety of classic and legacy type machines.
The beautiful Summerlin Room High Limit area features games that range from one to twenty dollar denominations. Rampart Casino now boasts 1,767 slot, video poker, and keno machines in Summerlin Las Vegas at the JW Marriott.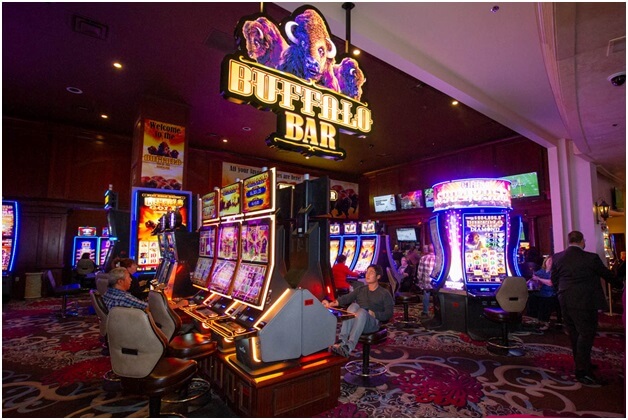 All-New Gaming and Entertainment Space offer premier destinations for Buffalo fans. Announcing the launch of the first-ever Buffalo Bar, the newest evolution of the fan-favorite brand, Buffalo, offers an an-all-new experience for players that combines gaming and leisure. Located just off the casino floor, the Buffalo Bar features 1,095 square feet of gaming as well as offers nine bar seats with corresponding Aristocrat bar-top games.
The Buffalo Bar features a wide variety of Buffalo slot games including the all-new Winner's World Multi-Game bar top, featuring Buffalo slots and Buffalo Keno, as well as player favorites including Buffalo, Buffalo Gold, Buffalo Gold Revolution, Buffalo Stampede, Buffalo Diamond and Buffalo Grand.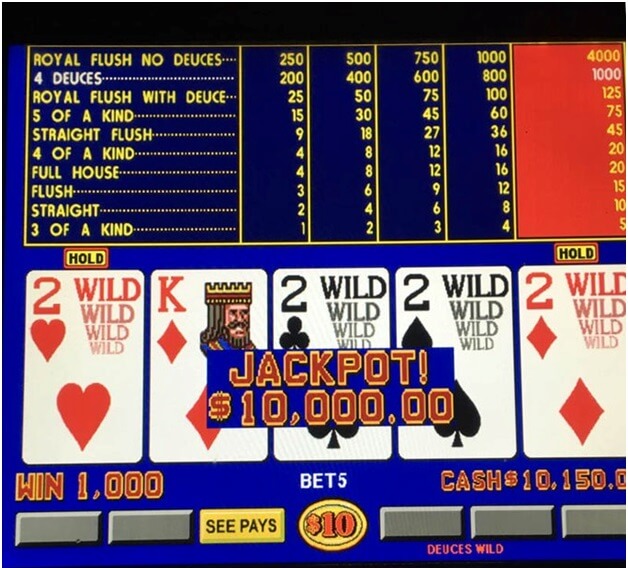 Rampart Casino offers 32 table games including:
Craps, with 10X odds + the "Fire Bet"
Roulette
EZ Progressive Pai Gow Poker
Ultimate Texas Hold'Em Progressive*
Mini & Midi Baccarat
6-Deck Shoe Blackjack
$5 Double Deck Blackjack
21+3 Classic Blackjack Progressive
Limits range from $5 minimum to $1,000 maximum on Craps and up to $2,000 on Blackjack. Offering Royal Match and Pai Gow Poker Side Bets.
Rampart Race & Sports Book opens at 6:00 am and remains open until 10 pm Sunday – Thursday. During football season the book remains open until 11 pm on Friday and Saturday nights for betting on the weekend's games. For your convenience, they have added a self-service kiosk which allows wagering on both Race and Sports all day, every day.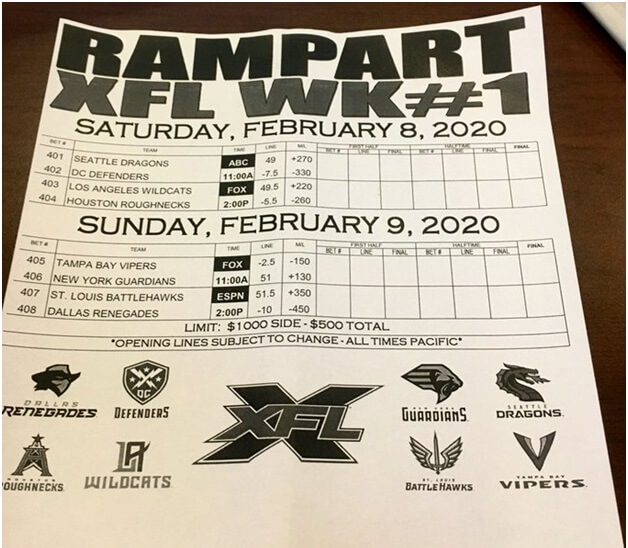 The new Race and Sports Book spans nearly 6,000 square feet and is located just off the main casino floor. The book has 57 private carrels for race bettors. IPT touchscreen betting terminals will also be available.
A 55-foot customizable LED screen is the main focal point for showing multiple games and events, and 80 additional HD televisions throughout the venue will be available to view sporting games and races.
The Race & Sports Book is now also home to their new Race & Sports Bar – a 49-person capacity bar and lounge featuring 17 bar-top gaming machines and plenty of televisions for fans to keep up with all the action.  The lounge hours are 9 am – 11 pm Sunday – Thursday, and 9 am – 1 am Friday – Saturday.
Also find Bingo hall, the 300-seat Bingo Room, located adjacent to the Rampart Buffet, offers six sessions from 11 am – 9 pm Sunday – Thursday and seven sessions from 11 am – 11 pm on Fri & Sat.  Offering top-of-the-line technology provided by Fortunet, the Bingo Room provides a luxurious refreshment station with complimentary beverages, personal cocktail service, and a non-smoking section.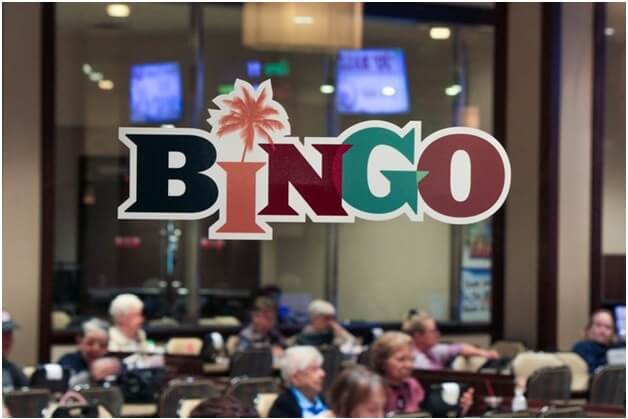 The Bingo Room opens daily at 10:00 am. Bingo sales begin 30 minutes before the start of each session. Rampart Rewards cardholders will earn rewards through Bingo play. $1 of Bingo play = 2 points. Only 200 points to equal $1 cash/comp. Bingo play is cash only and players must be 21 years of age.
The "Jo" Ball Jackpot is an exciting new way to win. It is only available to Rampart Bingo players and is a free "Bonus Ball" played along with the Dual Action Coverall on game 6 every session. The more Dual Action coveralls you play, the more chances to win on the Dual Daub and the "Jo" Ball Jackpot. For more information, you can call at 702-507-5900
Now visit these awesome casinos and bars that host Canadian sports.