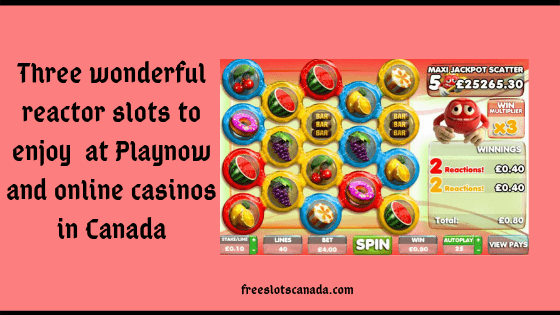 There are two wonderful reactor slots right now available at Canadian online casinos to play for free or with real money. Before you explore these two awesome slot games don't get confused it with the Reactor slot from Red Tiger Gaming as that is completely something different. The two free reactor slots that we are talking of are: Chain Reactors Super Trails, Canucks Reactor and Mr Multiplier Reactor slot game. Let's find below the features of these three slots and how to play them free or with real money at Canadian casinos.
1. Chain Reactors Super Trails
Chain Reactors Super Trails is a no-payline online slot by OpenBet offered via the NYX/NextGen Gaming software. Seven bead-like icons with varying facial features drop into 25 positions inside a 5-row x 5-column slot grid. When 5 or more identical Bead Heads land adjacent to each other vertically, horizontally, or both, the cluster of winning symbols disintegrate and disappear from the slot board. The removal will create spaces to where new icons drop at no additional cost. If by chance, the fresh supply of Bead Heads finds compatible cluster-matches among the existing images, another symbol-dropping action will occur.
A Cluster Win therefore has potential to give players additional chances of hitting additional wins via a single bet. Actually, a chain of Cluster Wins could trigger a Bonus Feature if the Bead Head icon involved is the orange character with a fiery top or Fire, or the one that looks like a vintage cannonball explosive like a Bomb; or for that matter any other Bead Heads comprising 7 Cluster Wins in succession. In fact even Goldie, the frequently appearing happy-faced, yellow Bead Head is capable of rewarding players a Progressive Jackpot.
This Chain Reactors Super Trails has no Wild Symbol to offer. After all, the icon matching rules are flexible, permitting Cluster Win formations in any manner and in any position across the playing field.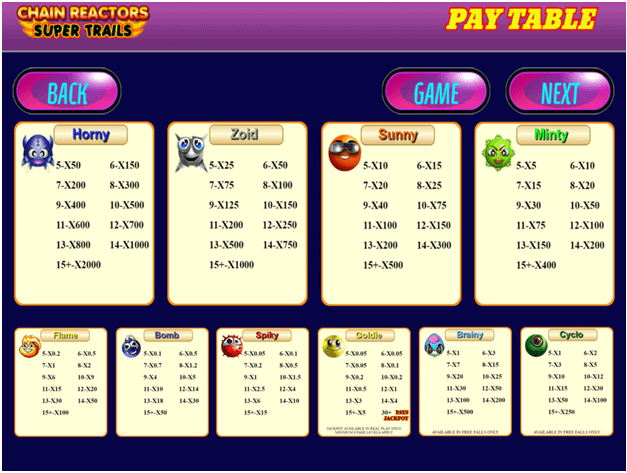 Bomb Bonus Feature: In this slot game every Cluster Win comprising five or more Bomb images works toward the activation of the Bomb Trail Bonus Feature. The wins do not have to occur in succession. Each Bomb win-event lights up a marker in the Bomb Trail Meter. When all ten markers have lit up, the Bomb Trail Bonus Feature activates. Bombs descend across the slot board, causing some Bead Head icons to explode and disappear. Chain Reactors Super Trails players receive compensations for the disappearances. The prizes vary, as they will be based on the bonus awarded by the exploding symbols for this particular Bonus Feature.
Fire Trail Bonus Feature: Similar to the Bomb Trail Bonus, Cluster Wins comprising 5 or more Fire totems light up the markers of the Fire Trail Meter. This time though, lighting up all 10 Fire Trail meter-markers will bring to life a fire-breathing Dragon. As the Dragon explores the playing field, the animated icon breathes fire on randomly selected Bead Heads, causing them to disintegrate and disappear. Again, players are compensated based on the pays awarded by the vanishing symbols exclusively for this Bonus Feature.
The Free Falls Feature: You have to look out for the win-tracker tool below the Fire/Bomb Trail Meters. Seven or more Cluster Wins whether occurring in succession or in separate occasions, initiate the loading of the Free Falls Bonus Round. Once activated, fifteen (15) free falls will be played at no extra costs. The Free Falls Meter continues to keep track of the number of Cluster Win events occurring during the bonus round. This denotes the Free Falls Bonus can be retriggered. However, Fire and Bomb will not appear during the free fall events, which means the Fire and the Bomb Bonus Features are not available in the free games.
The progressive jackpot in the game
If you play this slot game in real time with real CAD you will find that the Goldie smiling yellow Bead Head appears almost regularly and in multiples. A lucky player who hits a Cluster Win comprising 30 or more Goldie images, stands to receive the Chain Reactors Progressive Jackpot.
2. Canucks Reactor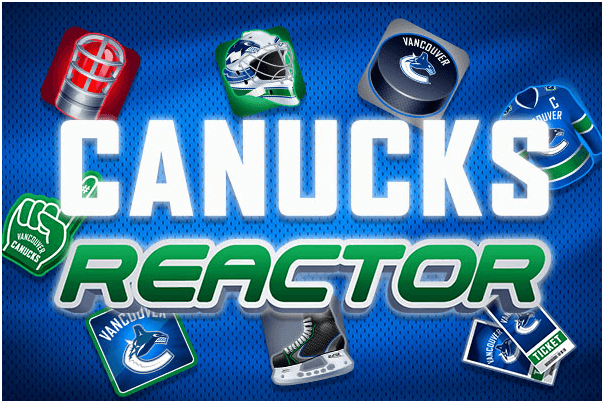 Canucks Reactor are instant play games now available to play which offer great Jackpot prizes to win. These games have 5 x 5 reactor game with a random jackpot and free falls. Canucks Reactor is an on-line matching symbol game. To win, you need to Match 5 or more consecutive symbols connected either horizontally and/or vertically to win a cash payout. The random jackpots can be won at any bet level at the completion of a game and there are three Jackpots that you can win in this game.
The player selects the stake by clicking on the plus and minus signs at the left and right of the bet area.  This transfers funds from the players account to the stake.  The default stake is set to the value defined by the operator.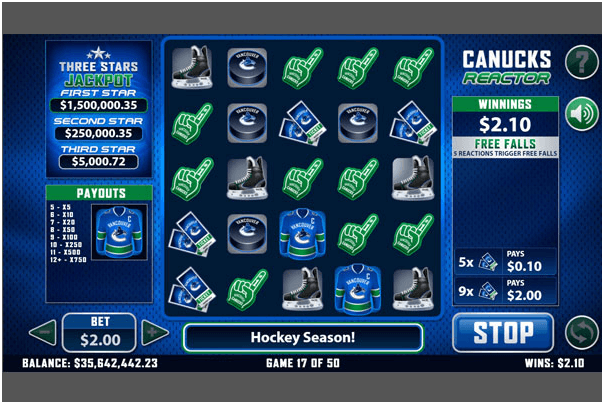 There is the option to play more than one game automatically without having to select the 'BET' button between each game. Match 5 or consecutive symbols connected either vertically and/or horizontally to win a cash payout.  Payout increase depending on the number of matching symbols.
There is additional functionality when the 2 special symbols appear. If the player wins, the winnings will be credited to their account immediately.  If the player loses, they will lose their stake amount. If there is a winning cluster(s) the icons will disappear, and all icons above will drop into the vacant spaces.  New icons will drop from above the play area to fill in any vacant places.  If more wins are created from the descending icons, the same thing happens again; the win lines are highlighted, and the icons disappear allowing the icons above to descend into the spaces created.  This process continues until there are no more wins created from the icons descending into the vacant spaces of the previous win.
The random jackpots can be won at any bet level at the completion of a game. There are three Jackpots as said above. Each paid game will contribute 2.30% to the jackpot.  The jackpots are awarded randomly.  Only one jackpot can be won per paid game.  Jackpots cannot be won during the free falls.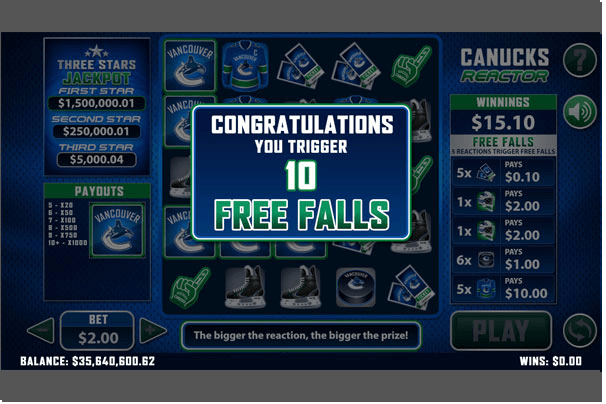 Note that in the event of a game in Real play being interrupted (i.e. started but not completed due to connectivity issues or accidentally closing the browser etc), any winnings will be correctly credited to the customer's account and will be exact according to the result prior to the game being interrupted. Unresolved bets placed but remaining undecided will become void after 90 days and will be forfeited to charity. The maximum win at maximum bet is $500,000.
3. Mr Mulitplier Reactor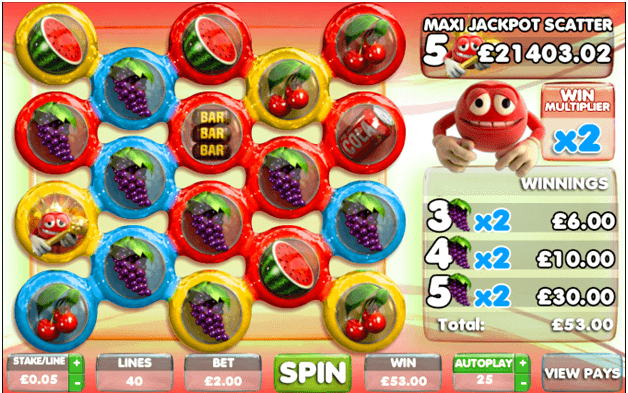 Mr Multiplier Reactor slot game is wonderful slot from Big Time Gaming that will multiply your wins in its Reaction Bonus feature, and offer you the chance to win one of 3 Mr Multiplier Jackpots!
Mr Mulitplier is the hero in this slot who is a fun-loving little guy who  loves cans of cola, boiled sweets, and doughnuts which is why he's happy to reward you with some big line-bet multiplying prizes for finding plenty of them all over the reels. Line-up any 3, 4 or 5 combinations of matching symbols and he will reward you with up to 500x your line-bet for the boiled sweets, up to 700x for the yummy doughnuts, and up to 1,000x for cans of cola.
Mr Multiplier has also been told by his doctor that he's got to eat more fruit so you can collect plenty of smaller wins for lining-up melons, grapes, strawberries and cherries, which have top prizes ranging from 50x to 200x your line-bet.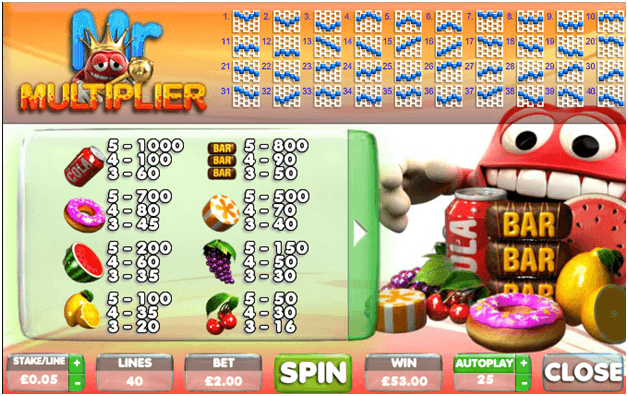 Where Mr Multiplier actually gets his name from though is his role in his brilliant Reaction Bonus. As well as paying-out for lining-up fruits and sugary delights, each symbol is also surrounded by a coloured circle, and should 5 of these colours line-up on any of the game's 40 pay-lines you'll be awarded a Reaction, and you'll notice that the multiplier on the right of the screen increase to x2. When this happens, all winning symbols will then disappear to be replaced by more symbols. If another Reaction occurs the prize will then be paid at x2, and the multiplier will increase to x3 and so on!
Mr Multiplier also likes to make an appearance on the reels and, when 3 or more of him appear anywhere on the reels when the reels stop, you'll be awarded 1 of 3 jackpots. 3 x Mr Multiplier awards the Mini Jackpot, 4 awards the Midi Jackpot, and 5 awards the Maxi Jackpot.
The game's reel set-up is different from many games in that it is a 4-3-4-3-4 window formation, but the 40 pay-lines that all players get to enjoy offer loads of ways of winning. You can play with high or low stake and line-bets range from 0.01 coins up to 25 coins – allowing a high-roller spin of 1,000 coins a spin.
How to play Reactor Slots at Play Now Canada?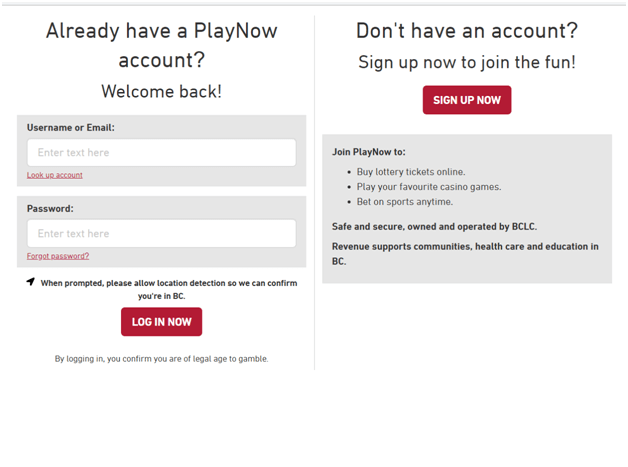 These three Reactor slots are available at Play Now Canada Casino to be enjoyed online with your PC or Mobile.
You will need to provide your name and contact information.
Enter a valid credit card – this is to verify your age and residency only, card will not be stored or charged.
To play real money slots you need to make a friendly deposit in CAD with Visa, Mastercard, American Express, PayPal, Interac Online, Online Bill Payment and Web Cash.
The minimum deposit amount is $5.
Once done with the registration, you need to click on the casino tab on the menu bar given at the top of the home page.
Now go to any of these Reactor slots and click to play this an on-line matching symbol game.
To begin the game, press the 'PLAY' button
How to play Reactor Slots at online casinos Canada?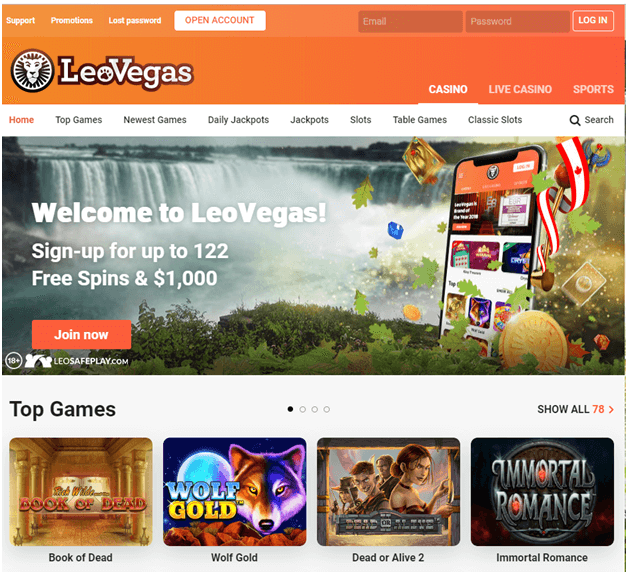 Online Canadian casinos also offer these slots to play for free or with real money.  You simply need to pick your cell phone or sit in front of your PC to play these games. Click on Join Now or Sign Up and begin to play slots whenever you want. Simply do the registration by filling short form and then choose to make initial deposit of CA$10 or $25 to play real money slots or play for free that's your choice.