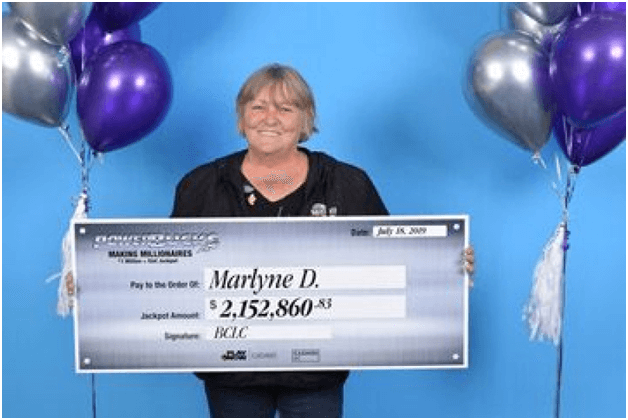 It was all joy for the Canadian punter who bagged 2.1 million dollar prize playing slots at Treasure Cove Casino. This is the Canada's largest casino  jackpot won in BC Canada. This was confirmed by the B.C. Lottery Corporation (BCLC) to Prince George Matters playing a powerbucks slot at the Treasure Cove Casino on July 13th 2019. The Treasure Cove Casino is the largest gaming facility north of the lower mainland. You can play over 500 slot games and enjoy table games.
2.1 million Slot Jackpot winner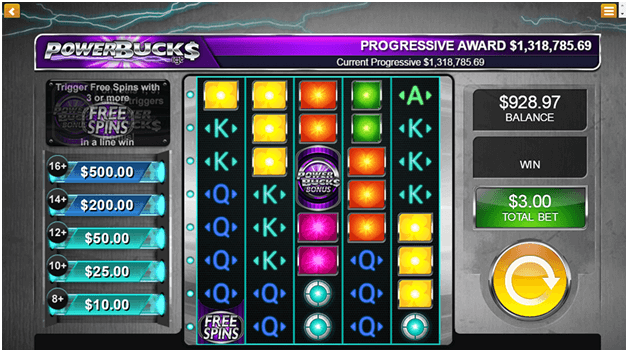 According to BCLC, a Prince George woman named winner of the largest Powerbucks jackpot who literally took her $3 bid and made it into something that only people could dream of. On July 13, 2019, Marlyne Dumoulin's life changed forever and she is still trying to get over the shock of it all. According to a press release by BCLC  Dumoulin was at Treasure Cove Casino in Prince George with her husband. She was playing for a chance to win Powerbucks' $1 million or more progressive jackpot. After placing a $3 bet, she thought she won $2,100. But it turned out, Dumoulin actually won $2.1 million – the largest ever win in Powerbucks jackpot history!
Slot Machines at Treasure Cove Casino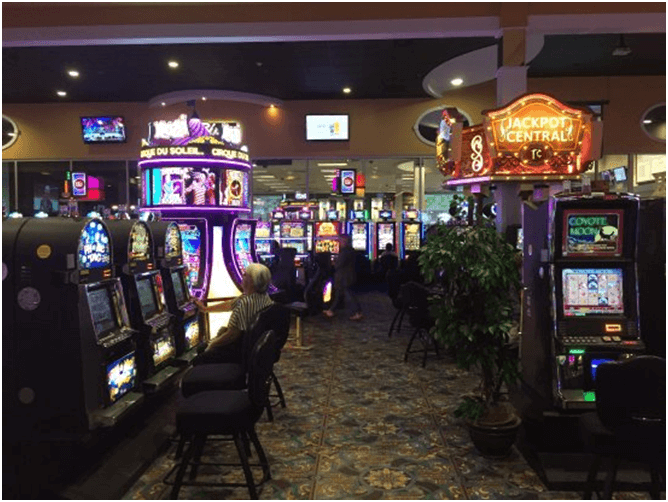 As said above the Treasure Cove Casino has over 500 slot machines ranging from .01 to 1.00 stake.  All machines are ticket in, ticket out. When you cash out of a slot machine, a ticket is printed with the credited amount. You can take this and play it in another machine or go to one of the three Ticket Express Machines that will accept the ticket and dispense the cash you have won. If you need assistance, there are slot staff in navy blue uniforms walking the floor. They pride themselves on exceptional customer service and will pay out jackpots, exchange bills and refill machines as needed. The Treasure Cove Casino prides itself on having many of the newest and most exciting slot machines as well as some old favourites.
Blackjack tables at Treasure Cove Casino
You can play at the Blackjack table. Also known as twenty-one, is the most widely played casino game in the world. Blackjack is played between the dealer and a table of 1 to 7 players. It is played with six decks of 52 cards. The object of the game is to beat the dealer, which can be done in a number of ways:
Get 21 points on the player's first two cards (called blackjack)
Reach a final score higher than the dealer without exceeding 21
Let the dealer draw additional cards until his or her hand exceeds 21
The Low limit Blackjack table the minimum and maximum is $3.00 to $50.00 per hand
At the $5.00 Blackjack Table  the minimum and maximum is $5.00 and $500.00 per hand This table can be played at  weekday evenings on demand and weekends.  There is also a Blackjack variant called Lucky Ladies bet requires $1.00 to $25.00 per hand. Here only the dealer can touch the cards in Blackjack and play the game.
Poker tables at Treasure Cove Casino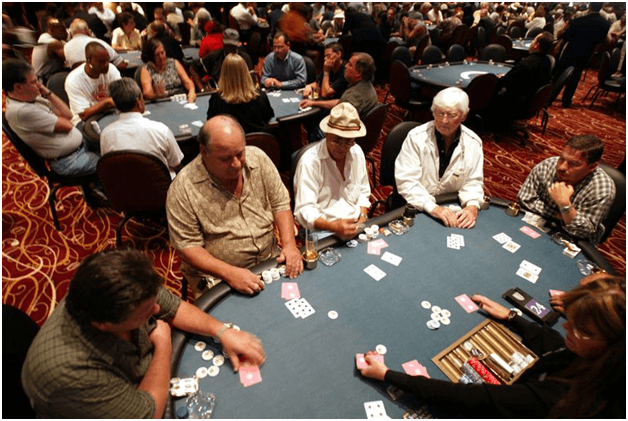 You can enjoy the following Poker tables at Treasure Cove Casino
Fast Action Holdem
There is one single table called fast action Hold'em is played with 6 standerd 52-card decks in a continuous shuffle shoe. Players are dealt 4 cards each and pick their best 2-card hand, or if they have two good hands they can split the cards and play two separate bets. To win, you must combine your 2 card hand and the 5 community cards to make a better 5 card poker hand than the dealer. You can also make a separate wager on the value of your hand alone, regardless if you beat the dealer or not.
Play Fortune Pai Gow
Fortune Pai Gow poker is a game played against the dealer with a standard 52 card deck plus the joker. The player makes two separate hands out of 7 and attempts to beat both the dealers hands. There is also an optional side bet that allows players to wager on the value of their hand.
Four Card Poker
Four Card Poker uses a standard 52 card deck. There are three ways to play, the Game allows the player to wager against the dealer, to wager the value of his own hand against the dealer and on the value of his own hand.
Ultimate Texas Holdem
Ultimate texas hold'em is a casino game in which the player makes a wager on their hand after choosing to see none, 3 or all of the community cards on the table. The more cards the player sees before making a wager, the smaller the wager they are allowed to make. Ultimate texas hold'em is played with a standard 52 card deck.
All the poker tables can be played from Monday to Sunday.
Bingo Games
Play daily Bingo at 11AM, 2:30PM, 6:15PM AND 10PM at the Treasure Cove Casino which has over a 700 seat Bingo hall on site. The casino offers over 650 electronic terminals, paper games, concession and lottery kiosk.
There is only single electronic roulette table at the casino where you can play the wheel game with minimum and maximum bet of $0.50 to $100.00 per bet $3000.00 per spin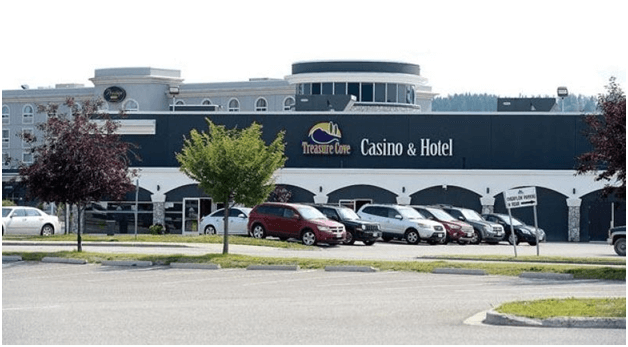 Besides games the Treasure Cove Casino has a private show lounge that seats up to 180 people and has had some impressive acts including comedian Brent Butt, Pauly Shore, Colin James, Grapes of Wrath and Econoline Crush. The show lounge often features Steve Elliot as Elvis, Thunderstruck, Comedy Shows and other first class performers.
You can visit the Treasure Cove casino is nestled in the heart of Northern BC. Location is 2003 Highway 97 South, Prince George, BC, Canada, V2N 7A3