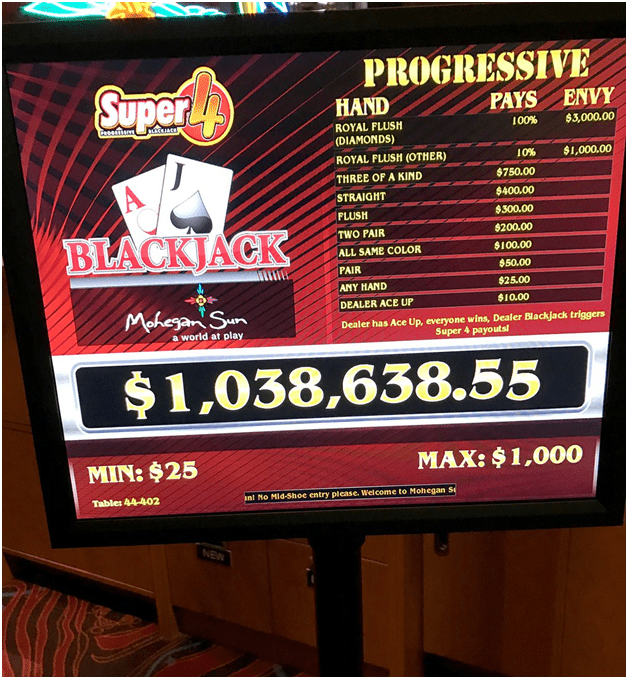 Table game Jackpots are lucrative and every player dreams to win. It's not only the slots machines that come with a Jackpot. Table games at casinos offer progressive jackpots to play and win.  Like slots here too there are many types of table game Jackpots and few games have progressive jackpots. As you know progressive jackpot is a large cash prize that increases over time through the accumulation of a percentage of all lost bets. Most of the time the player is required to bet a certain amount or make a special side bet before each hand in order to be eligible to win these giant prizes. Due to their changing nature, these jackpots can sometimes reach up to millions of dollars.
As soon as a player hits a progressive jackpot they will be rewarded with a percentage of the jackpot prize. The percentage of the jackpot that a player will earn depends on the game's specific pay tables as well as the strength of the player's hand.
At online casinos or land casinos, there are so many table games that offer progressive jackpots to play and win. Some examples of table games that include a progressive jackpot are Caribbean Stud Poker, Progressive Let It Ride, and Blazing 7's Blackjack.
Caribbean Stud Poker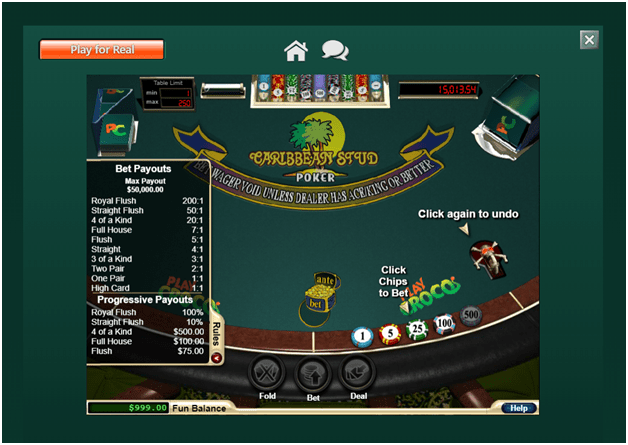 Caribbean Stud Poker is played with a single deck of 52 cards. It can be played by 5 or 6 players, plus the dealer. Players' hands are compared only to the dealer's, not each other. The objective in Caribbean Stud Poker is for your 5-card poker hand to beat the dealer's 5-card poker hand. It is considered a poker game because the player can raise and fold. If you think your hand will win, you raise 2x your ante. If not, you fold and lose the ante bet only. Players have the option of placing a $1 side bet on the strength of their upcoming hand. This is where the progressive jackpot comes into play. The hand must rank as a Flush or higher for the side bet to pay off, releasing the entire progressive jackpot for a Royal Flush.
Progressive Let it Ride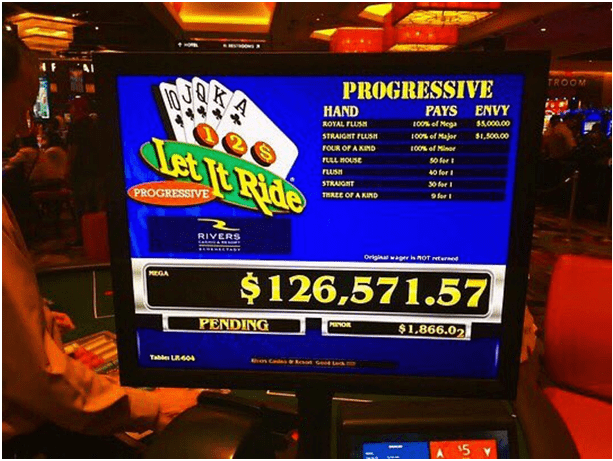 Let It Ride Progressive is a five-card poker game where you compete against a paytable, not against the dealer or other players. If your five-card hand is a pair of 10s or better, you win. Let It Ride Progressive also features a 3 Card Bonus side bet and a progressive bet.
Let It Ride features a twist in its betting process. You have two chances to withdraw one-third of your opening bet. The first time when you can withdraw one-third of your wager comes after seeing your three hole cards. The second time happens after the first community card is dealt. Assuming you don't take back any portion of your opening bet, then you're "letting it ride."
Each round begins with you laying out three equal portions of a bet in three different spots. For example, you might put out $1, $1, and $1.
Let It Ride makes for a suitable alternative if you enjoy table games. It offers a nice mixture of strategy and large payouts. You use basic strategy for the main portion of your bet and rely on luck for the $1 jackpot wager.
Blazing 7's Blackjack
Blazing 777 Blackjack Progressive is an exciting new optional blackjack progressive bet that's based on 7s. The more 7s you get, the more you win! To begin each round, make a standard blackjack bet and the Blazing 7s progressive bet. The dealer then follows the house procedures for blackjack.
The player wins if at least one of their first two cards is a 7. The player wins more if both of their first two cards are 7s. The payouts increase further if the dealer's up card is also a 7. The progressive bet is only based on the player's first two cards and the dealer's up card.
How to win table game jackpots online in Canada?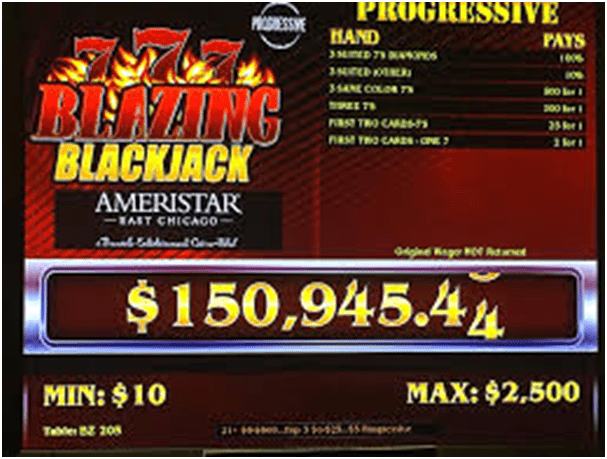 To win table game jackpots in Canada you need to understand few things.
Most of the progressive table game jackpots do not require a maximum bet in order to be eligible to participate. Instead, they require an additional bet to be made on the side of your normal bet which ensures that you will receive the jackpot if you qualify. There will normally be a special circle or slot that you must place a specific number of chips in if you want to be a part of the side bet.
As far as hand strength goes, the exact specifications for winning these jackpots will vary from game to game. However, if you fail to make the side bet it does not matter what the specifications are because you will be ineligible to win the jackpot anyway.
Most of these table games will require you to make your special progressive jackpot side bet every single hand. There is usually no option to auto-bet on this extra option so you have to be on your toes and remember to do it every time if your game plan is to play for the jackpot.
The average return on most casino games is usually going to be under 100%, which is how the casino makes their money. Even in progressive jackpot games where the jackpot amount is larger than the top payouts for other games of similar stakes, the house edge is still tough to overcome.
However, in some games, it is possible to calculate how high the progressive jackpot needs to get before the average return for each player goes above 100%. Anytime a bet gives a player an average return of over 100% then it becomes a positive expectation bet because they will make money if they repeat them millions of times.
The best way to calculate the sweet spot amount that a progressive jackpot needs to reach in order to give your bets a positive expectation is to analyze what the average payoff is with various jackpot amounts. You can calculate the average payoff for each prize on the payout table by multiplying the amount of each payoff by the frequency of each payout. As soon as these average payoffs all add up to more than 1 then you know your bets will have a positive expectation.
If you simply wait around for jackpots to reach an amount that is above this sweet spot, then technically you can be a profitable player in the long run. However, it is important to remember that the long run is extremely long and it could take decades to get anywhere near enough volume by using a highly selective jackpot strategy.
Even if a game is profitable due to its sky-high progressive jackpot, you should always use proper bankroll management when playing these games since most of your returns will come from the top two or three hands which are extremely tough to hit. There is no reason to use your rent money just to chase a dream of winning a jackpot that hits 0.00001% of the time.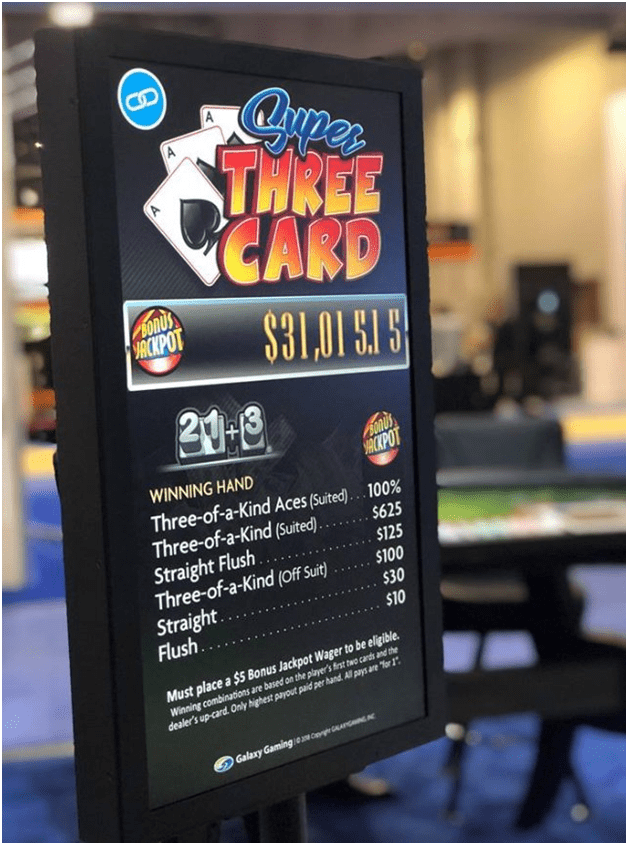 As said above finally remember that most table games that feature a progressive jackpot will require you to make a small side bet before each hand if you want to qualify. If you happen to hit one of the top hands-on the paytable for your specific game, then you will be rewarded with a percentage of the jackpot prize.
The breakeven point on these progressive jackpots tells you exactly what dollar amount the jackpot prize must be for the player to begin to have an edge in the long run. Depending on whether you are playing for real money to win real cash or for fun, you can use these numbers to decide if the current jackpot size fits your goal.
It is important to remember that these progressive jackpots are very tough to hit and you should not be gambling with money that you really need any time in the near future just to try and win one. When the jackpots are low, the house edge can be as high as 30%-40% which means that you should just be gambling for fun in these sorts of games without expecting to hit a jackpot.
So play table game jackpots wisely sticking to your bankroll and not chasing your losses.