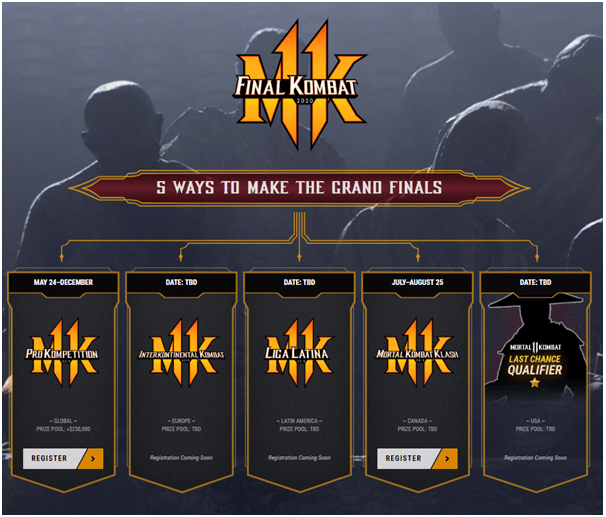 The Mortal Kombat 11 developed by NetherRealm has announced it's jumping into the Esports world with the Mortal Kombat 11 Pro Kompetition for this year's global Esporting season. Mortal Kombat 11 Pro Kompetition will pit players against each other in nine live tournaments for the chance at a prize of $155,000 and a slot in the "Final Kombat" round. Final Kombat has an additional prize pool of $100,000, making the entire pot $255,000 in money for the champs. There will be a total of 16 spots available in the finals for MK experts who beat out the competition: Players in North America, Latin America, and Europe will compete for 12 slots in the Final Kombat, and the following four slots will be filled by champions from Canada's Northern Arena, Latin America's Liga Latina, and the Interkontinental Kombat, along with whoever qualifies in a last-chance tournament taking place the day before Final Kombat.
Live Streaming
All nine tournaments will be live-streamed on NetherRealm's Twitch Channel and will kick off in NetherRealm and Mortal Kombat's birthplace, Chicago, during the 2019 gaming convention Combo Breaker, which takes place May 24 through May 26. The live events will then make their way around the globe, running through December.
Canadian MK Fighters!

Northern Arena's #MortalKombat11 Klash

🔸June 30 – Aug 25
🔸$10,000 CAD prize pool

Winner will claim a spot in the @wbgames & @NetherRealm's #MortalKombat11 Pro Kompetion Final and compete in a $100,000 USD prize pool!

SIGN UP
➡️ https://t.co/OTzPv7rGEu pic.twitter.com/5HHDYK4HQA

— Northern Arena (@NorthernArena) April 16, 2019
What is Mortal Kombat 11?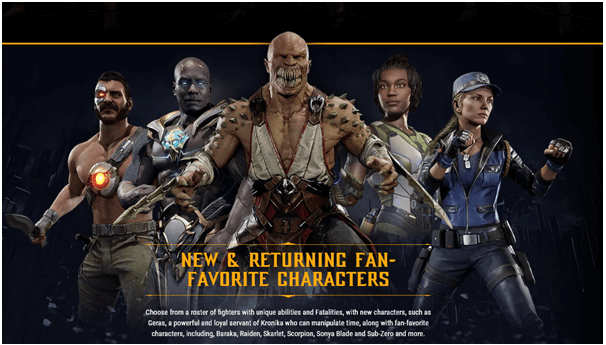 For those who don't yet know what is Mortal Komabt 11 then it is a fighting video game developed by NetherRealm Studios and published by Warner Bros. Interactive Entertainment. Running on the Unreal Engine it is the eleventh main installment in the Mortal Kombat series and a sequel to 2015's Mortal Kombat X. Announced at The Game Awards 2018 the game was released in North America and Europe on April 23, 2019 for Microsoft Windows, Nintendo Switch, PlayStation 4, and Xbox One.  The game was released in April 23rd, 2019.
The game's roster consists of 25 playable characters at launch. Along with series veterans including Baraka, Raiden, Scorpion, Sonya Blade and Sub-Zero, and others such as Skarlet, who returns from the 2011 reboot, four new fighters were introduced, three of whom are playable. Firstly, Kronika serves as the series's first-ever female boss character, who has powers over the flow of time, and had been supervising the events of the timelines since the very beginning. She is not among the game's playable characters. Playable fighters include Geras, a construct of Kronika, who, like her, has powers that allow him to control the flow of time, and produce sand-based attacks; Cetrion, an Elder Goddess with control over elemental forces, who is Shinnok's sister and Kronika's daughter; and Kollector, a six-armed tribute collector who serves the Outworld empire.
How to participate and win?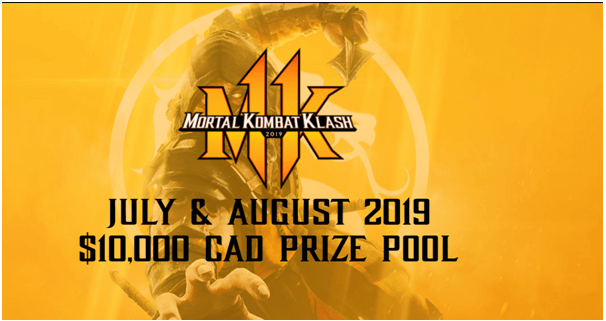 To participate in the Northern Arena Mortal Kombat Klash you need a Northern Arena account which you can do so here.
Every match must be played during the exact time and date, as specified to be considered valid Only the registered players can participate in a match. There are no substitutes allowed. Event brackets will be available on the Northern Arena website (northernarena.ca) and you must follow the outlined rules listed there.
Matches must be played at the scheduled time. If a player fails to be present by the time the grace period ends, the other player may request a forfeit win. The grace period is 15 minutes following the scheduled start time of the match. Players may be required to check in with the administrator up to thirty minutes prior to the start time of the match.
Match creation must follow the Official Match Format. Additional rules and details will be provided to all players following registration. All modes and match setting will be defined within the Official Match Format, as well as the accepted stage pool.
All participating players must be Canadian resident.
You can start practicing Mortal Kombat 11  on PS4, Xbox One, Nintendo Switch, and PC. To qualify you can earn Pro Series Points in the Mortal Kombat 11 Pro Kompetition of Tournaments and battle your way to one of the top 12 spots in the leaderboard. Then win your Regional Final as you dominate your region and step up to the global stage in the Grand Finals. Then there is a last-Chance Qualifier and if you win here and you're in!
Mortal Kombat 11 is available at many online sites in Canada at amazon.com costs CA $59.99, at Walmart it costs CA$79.96 or buy directly from the developers site.