Starbucks opened its first-ever Canadian Pickup store in Toronto This is only the second Starbucks Pickup store in the world. New York City was the first city to get the new, smaller Starbucks, which offers no seating, and only caters to customers who order ahead with the Starbucks app. Starbucks found a way to go even more digital. On February 4th, 2020, Starbucks will open its first-ever Canadian Pickup store in Toronto's Commerce Court.  The Pickup store is made for customers who prefer to 'Mobile Order & Pay' with the Starbucks app, as the only way to order from this store is through the app. As it is a very busy downtown location where most people probably just grab and go and customers will most likely be very comfortable using the app.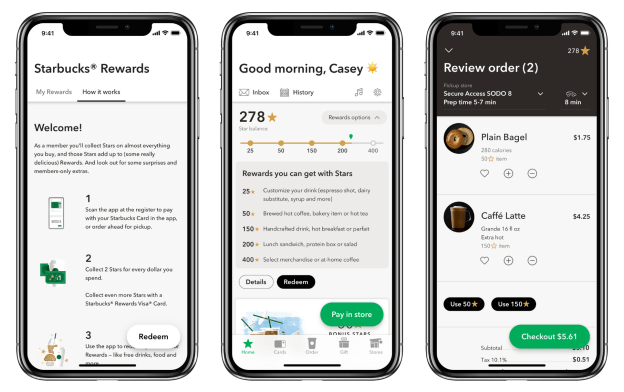 This Starbucks location is small and doesn't offer any seating, but it still features the full beverage and food assortment menu that is available at other Starbucks cafés. Additionally, for the first time ever in Canada, customers will know exactly how much longer they'll have to wait through digital screens. Starbucks hopes to modernize the customer experience in stores, which is why the Starbucks Pickup is so important to the company, it says. This is the first Starbucks Pickup store in Canada and only the second in the world.
Starbucks App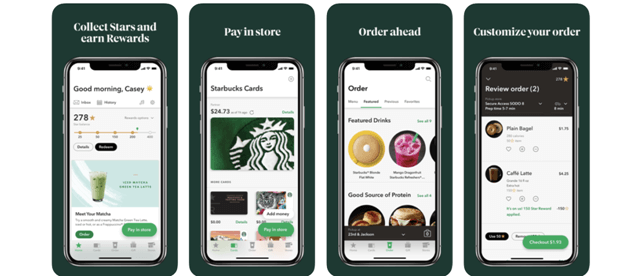 If you have the Starbucks app on your mobile then it is a convenient way to pay in store or skip the line and order ahead. Rewards are built right in, so you'll collect Stars and start earning free drinks and food with every purchase.
You can also pay in store with the Starbucks app at many stores in Canada or customize and place your order, and pick up from a nearby store without waiting in line. Also track your Stars and redeem Rewards for a free food or drink of your choosing. Receive custom offers as a Starbucks Rewards member. It's easy to redeem a gift from email or in the Starbucks app or check your Starbucks Card balance, add money, view past purchases and transfer balances between cards. With the app you can even find stores near you, get directions, hours and view store amenities before you make the trip or leave a tip on purchases made with the app at many stores in Canada.
To order, customers must use the Starbucks app and choose "Starbucks Pickup – Commerce Court" as the pickup location. Once an order is placed, the app will provide a time estimate (usually within minutes) and you'll be able to walk in, pickup your order and leave.
Click here to download the Starbucks app on your iphone
Click here to download the Starbucks app on your Android
The Starbucks Pickup store is located at 25 King Street West in Toronto and will be open from Monday to Friday 6:00am to 6:00pm