Scientific Games Corporation released its omni-channel lottery gaming system last year in November for Atlantic Lottery in Canada, which will support sales in New Brunswick, Nova Scotia, Newfoundland and Labrador and Prince Edward Island. The new system's launch is part of a five-year contract between the two companies.
According to Pat McHugh, senior vice president of global gaming systems for SG, the company is working closely with the lottery's teams to enhance its strategic marketing plan and game innovation across its consumer network.
Also Brent Scrimshaw, president and CEO of Atlantic Lottery, said that Atlantic Lottery is committed to reinvention and renewal through fresh, new and enhanced products and services that are now enabled by this advanced systems technology from Scientific Games. He also added to look forward to providing innovative entertainment experiences, to expanding the space in which the lotto operate and ultimately to beginning their next phase of responsible growth.
Scientific Games' AEGIS® gaming system and Sciplay™ iLottery platform are key components of the technology involved, allowing seamless integration of Scientific Games content and third-party content. The Lottery's second-chance ticket entry program was re-launched as part of the project, along with a new digital instant game program featuring electronic scratch games played via mobile and internet. An all new draw game, Daily Grand, was also developed and launched.
The new digital instant and draw games have been well received by Atlantic Lottery players, and have already created a significant lift in sales.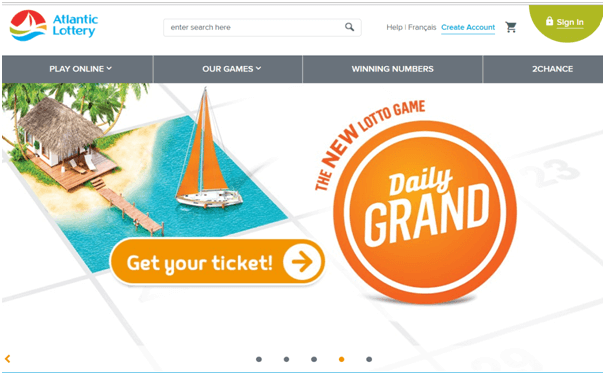 Supporting draw games, digital instant games, iBingo and sports wagers, the system features the Company's secure, cross-platform Player Account Management system which allows Atlantic Lottery players to purchase lottery products through a unified experience with one wallet.
Atlantic Lottery offers a variety of entertaining games that offer a chance to win prizes ranging from a free ticket to millions of dollars. They all have one thing in common: winning or losing is entirely random. Every play has the same chance of being a winner or loser as the one before it and the one after it; however, your odds of winning prizes of different values vary based on the size of the prize available to be won. For example, the average odds of winning the highest prize combination in most video lottery games can vary from 1 in tens of thousands of games up to 1 in millions of games while the odds of winning a smaller prize are better.
A Scientific Games team is based at the Lottery's headquarters in Moncton, New Brunswick. Scientific Games has provided products and services to the Atlantic Lottery since the 1990s. Today, with operations on six continents, the Company provides games, services, systems and retail technology to more than 150 lotteries globally, including the majority of North American lotteries.
About Scientific Games
Scientific Games Corporation is the global leader in technology-based gaming systems, table games, table products and instant games, and a leader in products, services and content for gaming, lottery and interactive gaming markets. Scientific Games delivers what customers and players value most: trusted security, creative content, operating efficiency and innovative technology. They offer customers a fully integrated portfolio of technology platforms, robust systems, engaging content and unrivaled professional services.
At ICE 2017, SG Interactive showcased groundbreaking innovations where players will be able to experience the larger-than-life thrill of mobile portrait mode gaming on two giant touch screens. Vertical device play yields full portrait screen artwork, animations, and interactive bonuses, maximizing the player's enjoyment and gaming experience. In addition, SG Interactive and SG Gaming team also released the latest in exciting omni channel content.