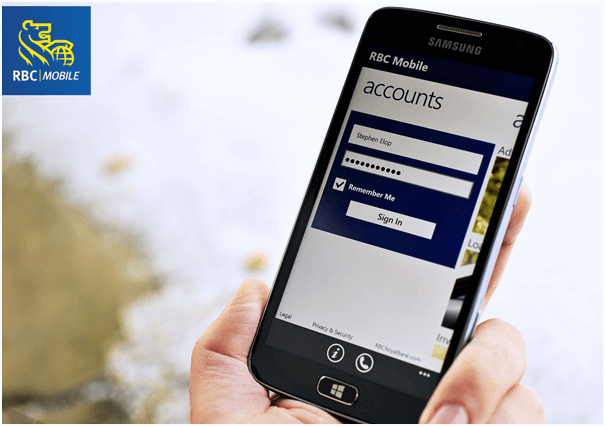 RBC Mobile app is the best awarded app for Canadians to offer clients two new client focused features. These two digital services are based on artificial intelligence (AI) that offer actual insights about your financials and a fully-automated savings solution that uses predictive technology to identify money in cash flow that can be automatically saved.
Known as NOMI Insights and NOMI Find & Save these features provide personalized, timely and relevant insights to help you manage your day-to-day finances on the go through the RBC Mobile app. Both of these new capabilities use your account activity to identify trends, unusual activity and potential savings opportunities.
NOMI Insights will be automatically available to all RBC Mobile clients running the most recent version of the RBC Mobile app.
NOMI Insights and NOMI find and save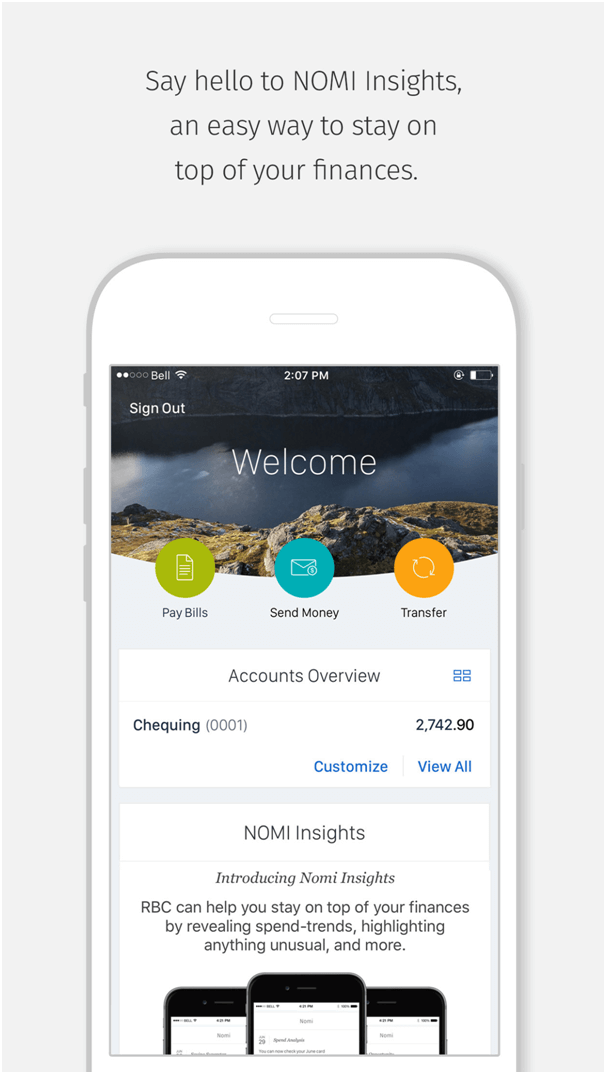 NOMI Insights and NOMI Find and Save help you to manage your money effortlessly, and on the go, by offering personalized insights at a glance through the RBC Mobile app.
NOMI Insights helps manage day-to-day finances with timely tips and advice.
NOMI Insights keeps an eye on your finances to help you keep track of spending, plan for upcoming expenses and give you a head's up when needed, like when a regular monthly payment is higher than usual.
NOMI Insights can also tell you when monthly spending in a certain category is unusual so you can make informed decisions about your spending habits. Like, NOMI Insights may notice that you've been dining out more than usual in a given month, or your transportation costs have increased.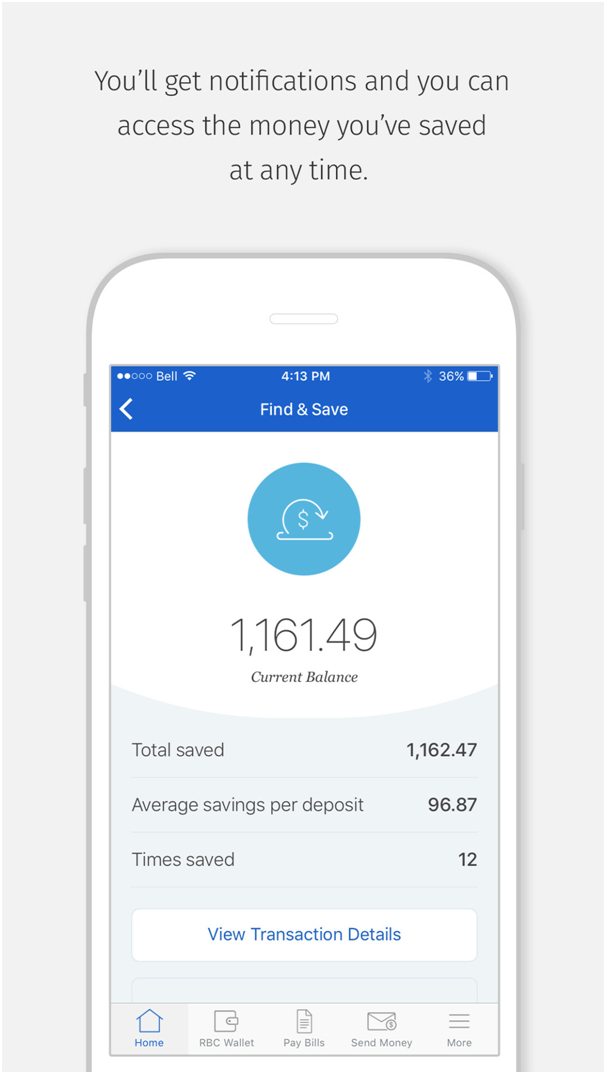 NOMI Find & Save helps make saving simpler by using predictive technology to find pockets of money in your cash flow and automatically moving that money into savings.
Both NOMI Insights and NOMI Find & Save blend artificial intelligence and client data with a highly personal touch, identifying trends, unusual activity and potential savings opportunities.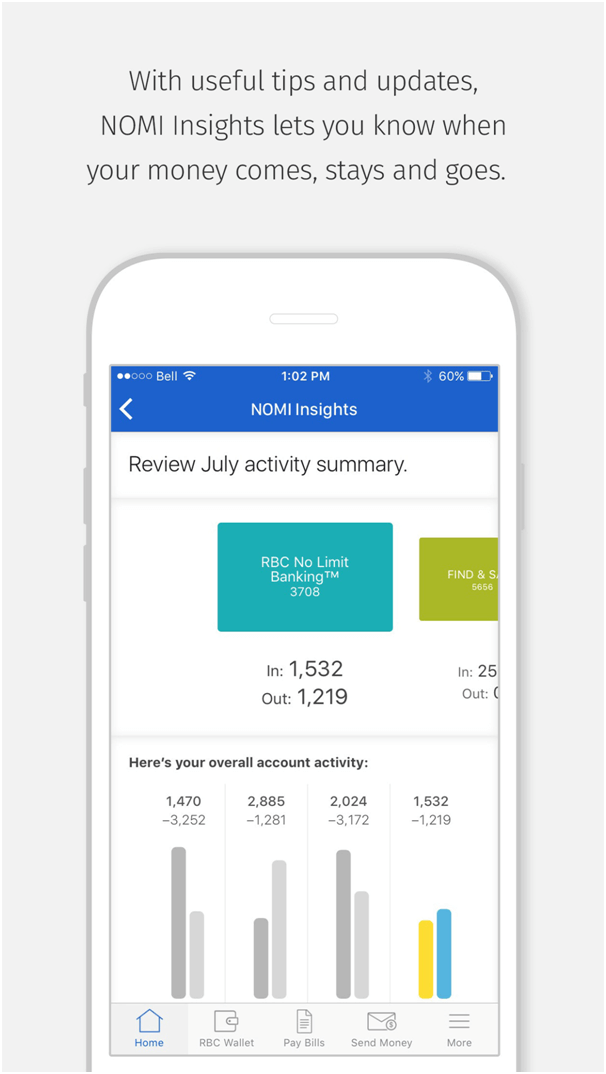 RBC continues to evolve into a digitally-enabled relationship bank, focused on providing clients with an exceptional and secure experience that's available when, how and where it's most convenient for them.
Note that NOMI Insights and NOMI Find & Save, are provided to clients through RBC Mobile app, which was recently awarded the Highest in Customer Satisfaction Among Canadian Mobile Banking Apps by the J.D. Power inaugural 2017 Canadian Banking Mobile App Satisfaction Study. RBC has seen an increase of more than 20 per cent in active mobile users over the past year, a clear indication that more Canadians are using the RBC Mobile app to bank whenever and wherever they want.The RBC Mobile app is available for free download from the App Store on iPhone and iPad or at www.AppStore.com. Click here to know more about the RBC Mobile app, and banking.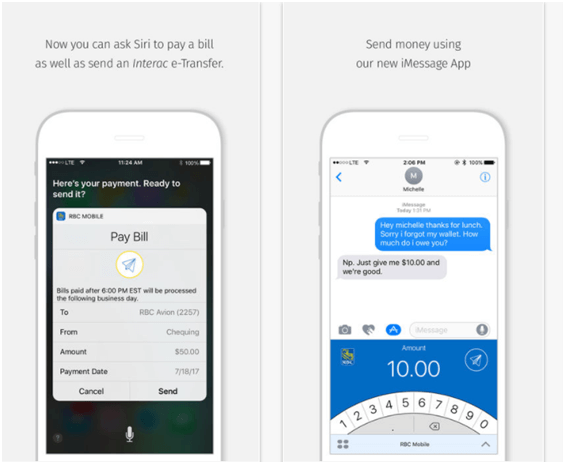 Royal Bank of Canada
Royal Bank of Canada is Canada's largest bank in the world, with leading diversified financial services companies, and provide personal and commercial banking, wealth management, insurance, investor services and capital markets products and services on a global basis. They have approximately 81,000 full- and part-time employees who serve more than 16 million personal, business, public sector and institutional clients through offices in Canada, the U.S. and 35 other countries. RBC also helps communities prosper, supporting a broad range of community initiatives through donations, community investments and employee volunteer activities.