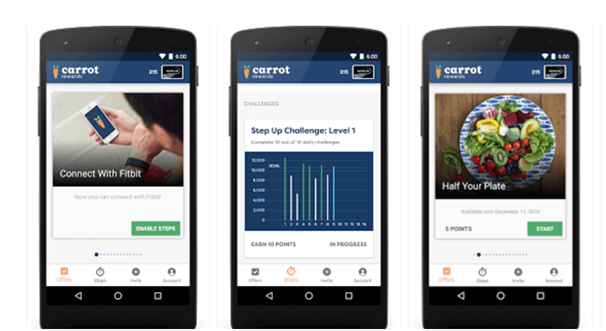 If you are willing to quit smoking then this is the best app that will help you. Developed by Carrot Insights this app promises you a healthy living and offers you great free rewards too. The app is known as Carrot Rewards and is open for residents of Ontario, British Colombia, New Foundland and soon will be available to all Canadians.
You can start living healthier with Carrot Rewards by just downloading the free app from iTunes for your iOS smartphone and from Google play store for your Android phone devices.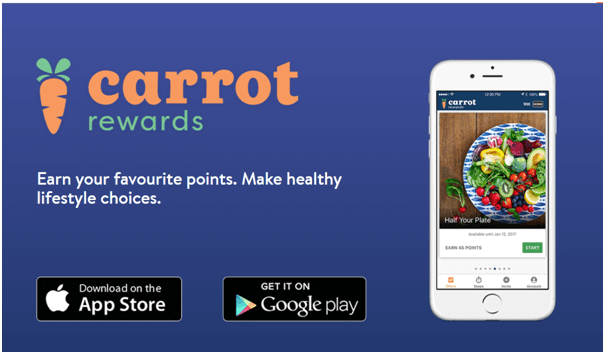 Once you download the app you can start earning rewards everyday.
First create your account and register yourself with the app
Next invite friends and start earning
You can collect SCENE points, Aeroplan Miles, Petro-Points, or More Rewards points by completing surveys, quizzes and learning about how to lead healthier lives.
Participants using iOS 9 or above or iPhone 5S or newer can also connect their phones to Apple Health to track their daily activity and be rewarded for achieving daily step goals.
All offers are designed by sources you can trust like the BC Ministry of Health, Newfoundland and Labrador Government, the Heart and Stroke Foundation, the Canadian Diabetes Association, and YMCA.
New and exciting offers come out every week.
Canadians are among the world's most eager consumers of rewards programs, and this collective appetite for loyalty incentives can actually be good for health with this new prevention app developed by the Public Health Agency of Canada, in partnership with Carrot Insights, that is being rolled out across the country.
Carrot Insights is a rewards firm launched in 2015 by Toronto ad-agency veteran Andreas Souvaliotis. The Carrot Rewards app serves up points for most large consumer loyalty programs such as Aeroplan and Scene when the user performs tasks such as, filling out an easy online quiz on smoking cessation or managing some chronic condition, exceeds a daily walking target, or even checks a map showing where to get a flu shot.
In Ontario, where the app was released in the middle of February 2017, Souvaliotis expects to quickly see up to 250,000 active users. He also expects to see even more types of offers and earning options on the app, as governments continue to identify more ways of using Carrot as a public engagement platform. For example, beyond using it as a health and wellness promoter, it is already being used to encourage financial, environmental and civic/elections literacy, and to foster participation in public surveys.
For iOS users you need iOS 9.0 or later compatible smart phone to get going with this app and Android 4.3 and up compatible Android smart phones. This app also support Fitbit devices for tracking steps. Any wearable devices that connect with Apple HealthKit or Google Fit are also supported.
Some important points to note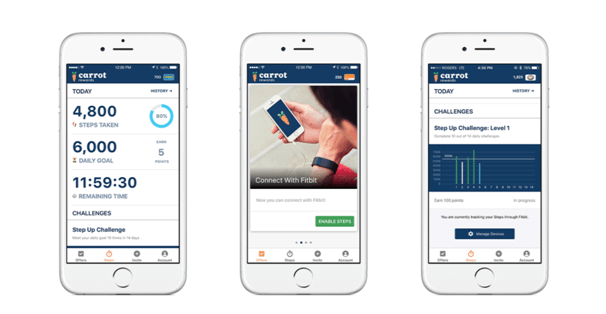 Due to a bug in Google Fit, Steps will not work on HTC M8 devices. But soon as HTC fixes the Google Fit bug, the Carrot app will start working for you.
Currently Microsoft Mobile is not compatible with Steps.
Steps is compatible with iPhone models 5S or higher and phones that are running on iOS 9 or higher. The iPhone 5, 5C, 4s and earlier do not have built-in pedometer capability, and as a result do not support these devices. If your phone is ineligible for Steps, or you are running an iOS version that is not supported, you will not see Steps on the app.
Most Android phones running Jellybean will support Steps. This includes BlackBerry phones running on the Android platform. Due to the variability of Android devices, some devices are not supported.
Also carrot app is only compatible with Google Fit on Android phones. You need to install Google Fit and your steps will be reflected on Carrot.
You will receive your rewards as soon as your friend confirms his or her email address through the Welcome email. You will receive an email notification as soon as the address is confirmed, notifying you that rewards have automatically been deposited in your account. You can view the status of your invitations at any time in the Invite menu under View Pending Invites.
You will not receive referral points until your friend confirms their email address.
There is no limit to the number of friends you can invite. The more people you invite, the more rewards you have a chance to earn!
Rewards earned in the app are automatically submitted to your chosen account within 10 business days. You can see the status of your rewards by going to Rewards History in your Account page. Rewards that have been deposited to your account will be included under "Earned," while those still being processed will be included under "Pending." Once deposited, your rewards will be available in the account that you registered with and you can redeem them the same way you always would.
There is no limit to the number of rewards you can earn. You are able to earn rewards for all offers that you receive.
Your loyalty points card number can be updated or changed at any time. To change your card number, go into the Account page. Once the card number has been changed, all new rewards will be deposited into the new account. Unfortunately, you cannot move rewards collected on a previous card number into a new account.
For security purposes, a rewards card can only be linked with one account.
If you've enabled push notifications, you'll receive a notification on your phone to let you know that a new offer is available. You will also see a notification on the app icon when a new offer is available.
You can contact at help@carrotrewards.ca in case of any issue or to know more.