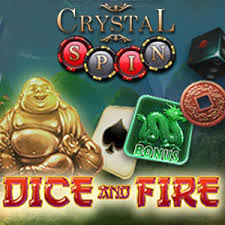 This slot is a new and welcome addition to the burgeoning online slot world. Not to be confused by Fire n Dice, this slot is totally different and we believe an even better proposition than the brilliant Fire n Dice so this shows what an amazing game it truly is.
The new Dice and Fire slot has been launched at the great Crystal Spin Casino and is already making waves for the game play it delivers and the quality of the slots graphics to support this game play.
Dice and Fire has a real Asian theme to it, which is quite apt given that the Chinese New Year is only a couple of weeks away. Taking a mix of Asian influences, you can expect to see golden Buddha's and dragons a plenty to really deliver something special.
The kind of symbols to expect on the Dice and Fire slot are Jade Dragons, smiling Gold Buddhas and ancient oriental coins to name a few. The graphics for these symbols are brilliant and really do bring the symbols to life to make the game into something special.
One special feature in the Dice and Fire slot is the fact that it has multipliers and spins combined so you can enjoy a double-or-nothing bonus feature to multiply winning spins. Every time you get a winning spin, you get the option to go for the double or nothing option by choosing red or black on the next card. For those who have an extra gambling streak in them, why not gamble for the 4 x winning option where you guess the next suite to win four times the amount won.
This is a low denomination slot where you can bet from $0.01 to $5 per line and a total max bet of $20.