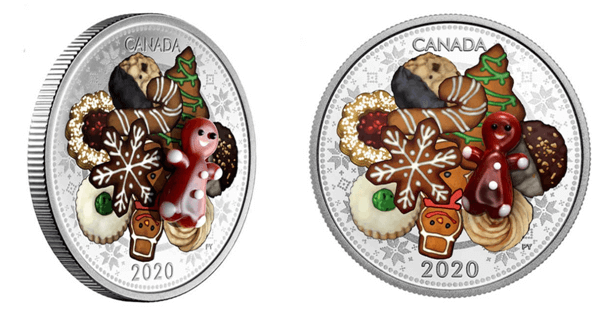 Canada is gearing up for Christmas a bit early and to fervor the  spirit of the holidays the Royal Canadian Mint's Christmas coins for 2020 which are so cute are now available for you to buy. The new coins, designed by artist Pandora Young and made from 99.99% pure silver, feature a collection of Christmas cookies. Sitting right on top of those cookies is a little, decorative glass gingerbread man.
These adorable, smiling gingerbread men are made of Murano glass, and give the coin a whole new dimension. Each little gingerbread man is hand-crafted using a process that dates back hundreds of years.
Since each gingerbread man is hand-crafted rather than being made by machines, they are all different and unique in their own ways (just like snowflakes). That also means that every single Christmas coin is also different in its own way.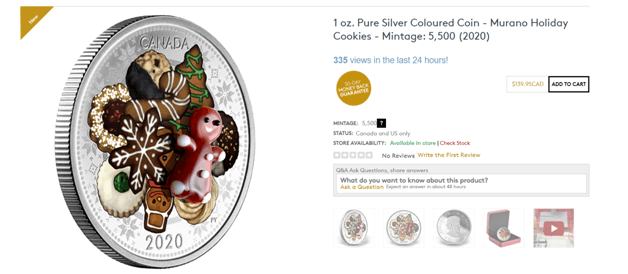 The coin, as described on the Royal Canadian Mint's website, is meant to look like a platter of cookies that might get left out for Santa, and the engraving on the silver helps to sell that appearance as well!
It further adds that a spoonful of ginger, a pinch of nutmeg and a dash of cinnamon… these are the spices that make the holidays nice. 2020 holiday coin serves up some festive magic with a Murano glass gingerbread man on a plateful of cookies for Santa! Shortbread, chocolate chip and more—these decorated treats are a sweet reminder of a holiday baking tradition that is a recipe for family fun. With the coin standing in for the plate, the colourful cookies will appeal to your sweet tooth and bring back memories of leaving milk and cookies out for the jolly old elf.
The Royal Canadian Mint has produced a number of memorable and unique coins in 2019. One of their most popular designs was a coin with the vintage Toronto Raptors logo.
The Mint also created a pretty awesome Transformers coin that actually transforms, and a truly incredible dinosaur coin for all the prehistoric fans out there.
Only 5,500 of the special gingerbread man Christmas coins will be produced. If you're an avid coin collector you can order one through the Royal Canadian Mint's website for $139.95. 
How to order the coin from the Royal Canadian Mint?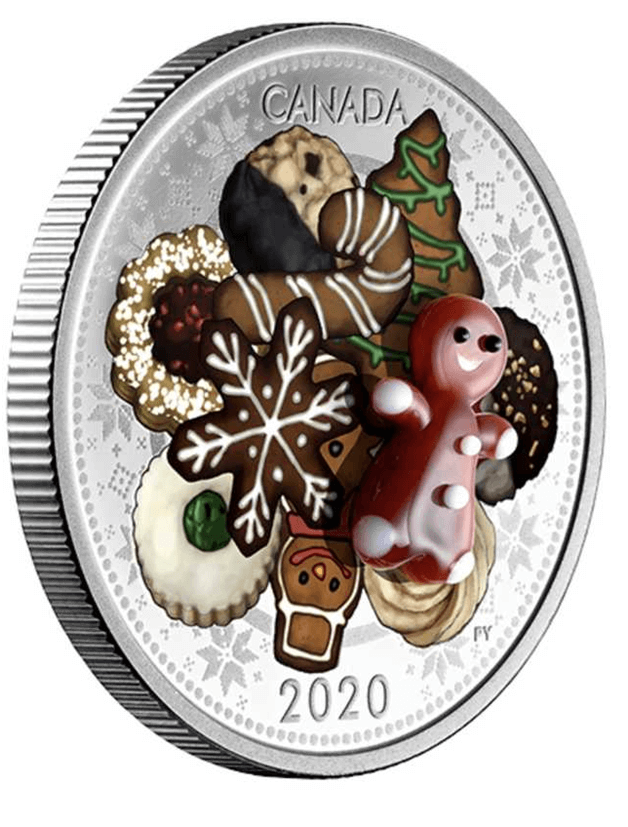 To order online you need to visit the Royal Canadian Mint website
Then register for an account, simply click on 'Log in to your account' at the top of the home page
Select the coin you wish to purchase and add to cart
The Shopping Cart summarizes all your current online purchases. Each item selected for purchase from the Mint Store is itemized by photo, product name, quantity, unit cost and total cost. You can make additions and deletions to your order and view the revised total of your purchase. You can either continue shopping to add more items to your Shopping Cart or complete the purchase transaction by clicking on the Checkout button, once you have chosen your location and shipping method.
Enter your shipping address and payment details, then review your order one more time before submitting it. When your order has been successfully submitted you will receive an onscreen confirmation and a separate confirmation by email.
To view the status of your order, click on Track order at the top of the page. You can also inquire about the status of your order by calling at 1-800- 267-1871 in Canada and the US.
You can also shop for these coins by phone, fax, mail or in-person at their boutiques in Ottawa and Winnipeg. Boutique business hours are detailed in Visit the Mint. To shop by phone, call: 1-800-267-1871 or 1-613-954-2626 (International). For mail and fax orders, call to request a catalog, then fax the completed order form to (613) 993-4092 (long-distance charges may apply), or mail to: Royal Canadian Mint, 320 Sussex Drive Ottawa, ON  K1A 0G8 Canada
Finally, note that there is 30 days money-back guarantee on these coins.