Are you visiting Canada? Don't worry if you are a gaming enthusiast. Canada has top casinos to offer various games for you to enjoy and have fun.
Amongst the Canadian beauty and the amazing environment surrounding this impressive and large country you will find elegant land casinos with gaming options, striking architecture and design, fine dining, entertainment, hotels, bar and restaurants, night clubs and shopping malls in prime locations.
Though these days online casinos might be the go-to destination for modern gamblers, but there's no doubt that land casinos in Canada provide a unique gaming experience. From the riffling of chips to the blinking of neon lights, every live Canadian casino has something to offer in the way of profit and entertainment.
Aside from offering a slew of table games and slot machines, Canadian casinos are stocked with complete entertainment experience for everyone.
Casino de Montreal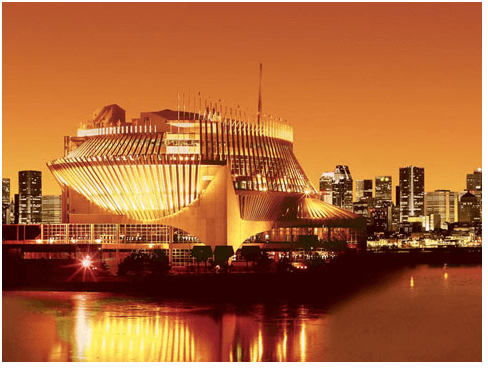 Address: 1 Avenue du Casino, Montréal, QC H3C 4W7, Canada
Phone: +1 514-392-2746
Website: http://www.casinosduquebec.com/montreal/en/
The Montreal Casino known as Casino de Montréal in French is a casino located on the Notre Dame Island in Montreal, Quebec, and is the largest casino in Canada which was opened in 1993. The casino is open twenty-four hours a day, seven days a week and persons aged 18 and older are allowed. It offers more than 150 gaming tables and 3,200+ slot machines running on a 24/7 basis.
The casino also offers Royal Ascot electronic racetracks, high areas inter-casino jackpots, electronic bingo, video lottery terminals, Keno lounges, tournaments and mini-tournaments.
Casino de Montreal is a non-smoking facility and on top of its gaming areas the venue boasts three bars, four restaurants, conference facilities and an area for shows. The casino is owned by Société des casinos du Québec and one of its main talking points aside from being the largest live casino in Canada is its styling. Designed by Jean Ferguson, the imposing building is littered with windows and pitched with low ceilings making it one of the brightest casinos in the country.
The Niagara Falls View Casino Resort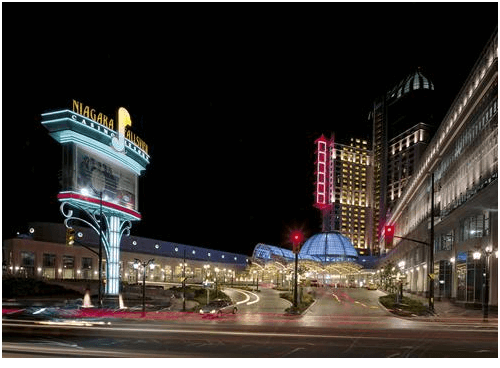 Address: 6380 Fallsview Blvd, Niagara Falls, ON L2G 7X5, Canada
Phone: (888) 325-5788
Website: http://www.fallsviewcasinoresort.com/
The Niagara Fallsview Casino Resort also known as Fallsview Casino in Niagara Falls, Ontario  was founded in 2004. This $1 billion complex overlooks the Horseshoe Falls and is one of the most prominent features of the Niagara skyline.
It has more than 200,000 sq ft of gaming space,  and is able to house a slew of entertainment and leisure facilities such as a 374 room hotel, a number of convention halls, a health club, a shopping centre and nightclub as well as a wedding chapel.
Beyond this Vegas-style infrastructure, Fallsview Casino has more than 100 gaming tables as well as 3,000+ slot machines. Additionally, Fallsview Casino has a bustling poker room that regularly hosts major events such as World Poker Tour festivals.
The legal gambling age at Fallsview Casino is 19 and the Ontario Lottery and Gaming Corporation owned property handled by a five partner consortium Falls Management Group LP of Toronto.
Caesars Windsor Casino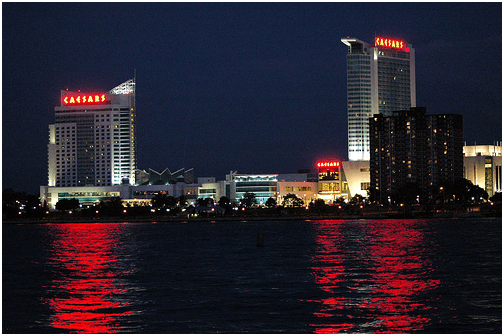 Address: 377 Riverside Dr E, Windsor, ON N9A 7H7, Canada
Phone: (800) 991-7777
Website: https://www.caesars.com/caesars-windsor
Caesars Windsor in Windsor Ontario is one of four casinos in the Detroit–Windsor area. Owned by the Ontario Lottery and Gaming Corporation and operated by Caesars Entertainment, this casino is a slice of Las Vegas in Canada. Styled in the same way as Caesars Entertainment's famous Vegas venue, the Windsor comprises of accommodation and gaming facilities.
The casino is located on Windsor's riverfront overlooking the Detroit skyline near the Canadian end of the Detroit-Windsor Tunnel. The creation of this casino was a leading factor in the legalization of casino gambling in Detroit.
The "Forum" hotel tower stands at 23 stories tall and opened in 1998. The "Augustus" tower stands at 27 stories and opened in 2008. Caesars Windsor attracts about six million visitors annually
Caesars Windsor underwent a major renovation in 2007 the property has grown to become one of the most popular casinos in Canada and now serves millions of people a year. On top of offering almost 100,000 sq ft of gaming space, Caesars Windsor is home to Canada's first licensed sports book. Opened in 2006 and located inside the Legends Sports Bar, the betting facilities are some of the most expansive and popular in Canada.
Casino Niagara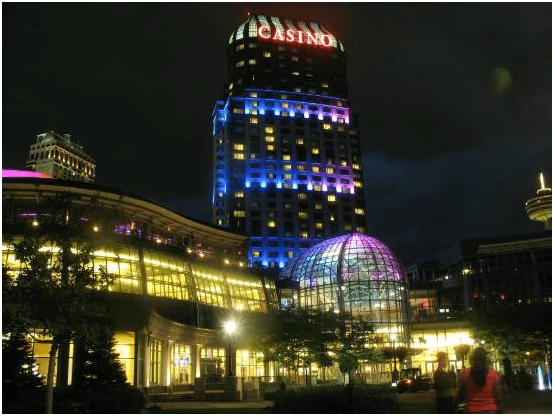 Address: 5705 Falls Ave, Niagara Falls, ON L2E 6T3, Canada
Phone: +1 905-374-3598
Website: http://www.casinoniagara.com/
Casino Niagara located  near Niagara Falls Ontario, Canada was opened in 1996, on the site of the former Maple Leaf Village amusement park. With a prime location beside Clifton Hill, it has remained open as a permanent facility. It is the first Casino in Ontario to feature electronic Roulette. Casino Niagara has over 1,500 slots and over 40 table games, as well as sports betting.
As it is located near famous Niagara Falls this attraction alone is enough to make it a "must see" destination for millions of travelers each year and this has allowed Casino Niagara to offer both gaming and sports betting provisions.
Rock Casino Resort River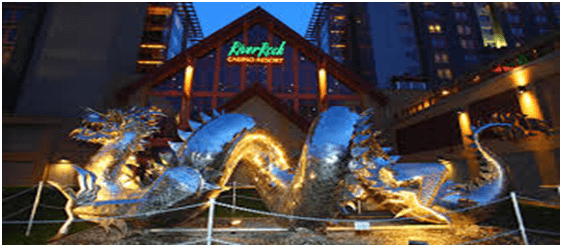 Address: 8811 River Rd, Richmond, British Columbia V6X 3P8, Canada
Phone: +1 604-247-8900
Website: http://www.riverrock.com/
River Rock Casino Resort in Richmond, British Columbia is the largest casino in the province of British Columbia. The casino is owned by Great Canadian Gaming.  River Rock Casino resort is a popular destination for seasoned gamblers and Canadian poker players. Although the 70,000 sq ft gaming floor can't quite compete with some of the country's larger venues, the casino still welcomes more than 10,000 punters each day.
There is a total of 396 rooms, including standard rooms and suites and it is situated on the river with a 144-berth marina. It offers variety of casino game from blackjack and baccarat to craps and slots.