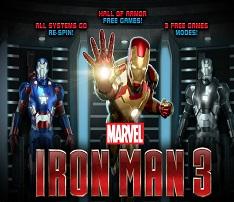 The Iron man films are among a select few where the next one is always better than the last; in fact you could say this trilogy is one to rival any other film trilogy before it. With this in mind it is of no surprise that a third instalment in the Iron Man slots would be created to complete the slot trilogy too.
Everyone has been eagerly anticipating this new slot and it will not disappoint we can assure you.
Playtech and Iron Man
Playtech were the fortunate online casino software developer that gained the licence to develop the Iron Man slots. We say fortunate as it wasn't just fortunate for them, it was also fortunate for us online casino players.
Playtech is renowned for their brilliance in the online game development world, especially the slots so it's of no surprise that both the first two Iron Man slots gained a cult following and this third version is going to be much the same.
Iron Man 3 Slot
As you would imagine, the slot follows the outline of the third Iron Man film, much in the manner its predecessors followed the earlier movies. The slot is a five reel effort that will certainly entertain and if its like the Iron Man slots before it, then it will pay out regularly with good jackpot sizes.
The jackpot is a 10,000 coin per jackpot line so there is lots of hard cash up for grabs. The symbols you should look out for are the Arc Reactor (wild symbol), the Iron Man logo (scatter) and other symbols such as Mandarin, Aldrich Killian, Mark 42, War Machine and Iron Patriot …for those who have not seen the film these wont mean much but the game explains them.
If your looking for a fun slot to play then look no further!