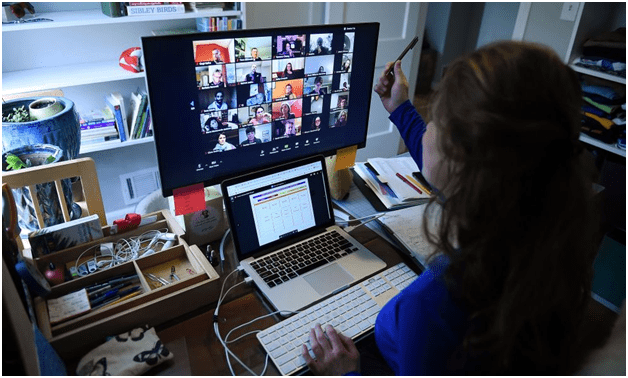 Due to the Coronavirus pandemic and frequent lockdowns, people opt to work and play at home. This gave rise to online gaming and Zoom, Google Meet, or Skype-like channels as a medium to connect people to each other.  These days video calls become the primary method of socializing and many websites and apps are popping up designed to facilitate games on Zoom.
This means many simple games and activities can be easily adapted to Zoom, without any app or software needed.
Zoom is the ideal method of playing games with friends for many. Interestingly, few games are specifically designed for Zoom, while others are finding a new audience on the platform with minor adjustments to suit their new, virtual play.
How To Play Games On Zoom?
It's quite easy to play games on Zoom
You need to download the Zoom app or software and open your account with Zoom. It's free.
Now set up your screen for Zoom games.
This means all you need to do is invite your friends to a Zoom call, open the game you want to play and share the screen with them
How To Play Games On Skype?
Download Skype on PC or mobile
Sign up to Skype and open your account if not done before. It's all free.
You just have to open a conversation window and click on extras. You will see a series of games you can play.
By selecting your game, you will send an invitation to your friend
If they take too long to respond, you can send a message inviting them to accept
Once the invitation has been accepted, you will find yourself in the game.
Note that the Skype App store has an exciting feature called "Play Games" that comes bundled with the Skype client for Windows and is pre-installed.
You can play a host of free classic and innovative games with friends and family online on Skype. Just click on extras, which will give you a series of gaming options like puzzles, words, casinos, arcade games, classic board games, and you can play solo, or have a multiplayer session on the web with friends.
Skype has a huge fan following on the web for its extras, including the "Play Games" feature. Skype games' popularity made game software companies expand their services by launching the GO Games platform that adds more features and games, to keep the gaming community happy.
The Best And Popular Games To Play Over Zoom Or Skype
1. Charades: Choose a book, film, song or play title and send it via direct message (DM) to the opposing team's designated player. Then watch as they act it out for their teammates to guess, using standard Charades rules.
2. Battleships: You can play digital Battleships on gaming sites while Skyping or Zooming your opponents, but this old-school favourite can just as easily be played with a pen and paper. You need to agree on a grid size, how many different ships each player gets, and how many squares each type of ship covers.
3. Pub Quiz: Several local pub quizzes and other trivia games are hosted via WhatsApp and Facebook at designated times, so get a team of family and friends together on Zoom or Skype to play together. Or you can devise your own, with a designated quizmaster at each meeting, and the other players divided into teams.
4. Bingo: There are websites that provide free bingo cards, so you can play in teams against a virtual caller, or you can devise and run your own games. They don't have to be number-related, either: certain events, words and physical actions are predictable in awards ceremonies or reality shows. Devise your own bingo cards, distribute them among the players, and add extra zest to watching shows together.
5. Karaoke: Pretty easy to organise get all the players to search YouTube for karaoke versions of their favourite songs, share your screens via Zoom or Skype
6. Heads Up/Guess Who: The guessing game in which one player holds a word or name up to their forehead, while other players give them clues and ask leading questions to make them say the word, is available in online app form. All players need both a smartphone and a desktop/laptop to play them properly, though.
7. Pictionary: Another great game option  Pictionary is fun even if your artistic skills are limited. Players have their own pads and pens to draw secret words in picture-form for their team-mates to guess, and the opposing team delivers each player's secret word by DM.
8. Psych: In this game each player in turn gets to pose a trivia question or a word for definition, and all answers are sent via DM. The questioner for that round then displays all answers, including the correct one, and players vote on which is correct. Players get points if their answers are chosen, or for guessing the right answer, while the questioner gets points if no one picks the correct answer.
9. Scattergories: Here you choose five categories, pick a letter, and all the players must list something in each category that starts with that letter. Unique answers score more points than answers shared by two players, which score more than those shared by three, etc. A different player gets to pick the letter in every round.
10. 60 Seconds: If everyone playing has their own version of the game, they can simply select their own random cards and try to explain the 5 words on it to teammates in 60 seconds. Or you can make your own lists of 5 names each and transmit them to players via DMs.
11. Random Trivia Generator: You can use a random trivia generator to play against friends. Random Trivia sets trivia questions that can already be seen as random. For instance, why do you need to know which bird lays the largest eggs? You don't, but it's always fun to know the answer in case there is no Internet connection around and someone desperately needs to know. The answer is an ostrich.
12. Just Dance: Just Dance is a rhythm game series developed and published by Ubisoft. Download the app on your mobile if you want. Play the world's favorite dance video game without a videogame console! All it takes to turn any room into a crazy dancefloor is an internet-connected screen and a smartphone to use as a controller!
13. Kitchen Connect: Kitchen Connect gets players cooking, using the same basic idea as the TV show "Chopped." Players figure out what ingredients they have in common, then compete to make the best meal using the same base.
14. Doodle Demons: Doodle Demons uses Zoom's whiteboard function to draw a creature, and only requires two players.
15. Murder Mystery: Another game submission on the website, Murder Mystery, requires seven players and works like the game Mafia.
16. Whack a Mole: The Zoom version of Whack-A-Mole only requires a gallery view in Zoom and everyone to have mics on.
17. Code Names: In this game, you send one link to a group of people, and everyone can split their screen between Zoom and the Codenames website. The link will show you a five-by-five grid of random words. Then you make two teams — the red team and the blue team — and each team chooses a Spymaster. Each Spymaster clicks the Spymaster button, which allows them to see the color of the words. The Spymaster then gives a one-word clue that links two or more of the words together, and their teammates guess which words the clue applies to. You need at least four people to play, so this is a great game for larger groups.
18. House Party: The video-calling app Houseparty also has some great games to play. You can video-call multiple friends on Houseparty and choose from a variety of games: Heads Up!, Trivia, Chips and Guac, and Quick Draw. Quick Draw gives one person an image to draw, and the other players have to guess what the drawing is. Chips and Guac is similar to Cards Against Humanity — one person puts out a card with an adjective on it and the other players "put down" cards that relate to that adjective.
19. Playing cards.io: Another easy way to play Cards Against Humanity is on playingcards.io. The website has "Remote Insensitivity," which is essentially the same game and can be played with multiple players.
These Zoom and Skype games may bring some joy to your day and help you get full fun at home. Interested in slots free games then play here.