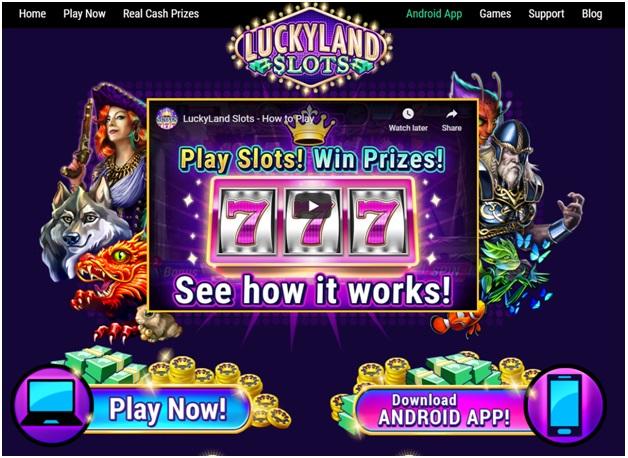 Canadians can play free slots at Luckyland with their smartphones. Luckyland slots is a new social gaming site and app for US and Canadian players to play free slots. This casino was launched in 2019 and now popular among all players from the states and Canada.  LuckyLand Slots is a promotional sweepstakes casino that operates legally across most of the US, including Tennessee.
LuckyLand uses a dual-currency model, where you'll use "Gold Coins" as the play-for-fun currency, which you can buy using your bank card As a gift, every time you buy Gold Coins, LuckyLand Slots will give you the same value in "Sweeps Coins." Every time you play, you can choose Gold Coins or Sweeps Coins.
You can play this casino and its slot games on PC and cell phones, Android or iOS.
Click here to play on your PC now
Download the app for Android and iOS here.
Remember there is no app of Luckyland at app stores to download. You can only enter the casino from the links provided above.
Is Luckyland Slots Casino Legal?
LuckyLand Slots is registered in the US and is fully compliant with all laws regarding gambling. As part of the legal licensing, LuckyLand cannot charge you for Sweeps Coins. Instead, you pay for the Gold Coins with the Sweeps Coins being given away as a gift. This "free" gift system, either by making a purchase or sending that handwritten letter, ensures that the site remains fully compliant of the law.
One thing to remember is that only players from US and Canada can play at this casino.
How to sign up at LuckyLand Slots?
To sign up at Luckyland slots, simply visit the casino homepage and click on the sign-up button on the top right hand side.
When you click that you will get the above form where you need to enter your full name and email.
You will get a link for verification on your email ID that you have entered.
Click on that and you will be lead to sign up again and you have to set your password for login.
Also you can sign up with your Facebook account and login immediately.
Once done you are ready to play at this casino.
You are offered free gold coins to play and 10 free sweep coins to play.
Some of the navigation buttons to make things easy for you are:
Home: This button takes you to the home screen when playing any slots while bringing you to the bonus screen when "home."
Level Status: Here you can see your current level, your VIP status and your level-up requirements.
Balance Bar: Here, you'll find your current balance in Gold Coins and Sweeps Coins. The selected play mode is highlighted. At either side, you'll find the "buy" and "redeem" options.
Events: You'll find all of the events, tournaments and goals on offer at LuckyLand Slots.
Menu: This drop-down menu allows you to check messages, invite friends, collect and send gifts, such as free spins. You can head to the settings, too, all facilitated by the game host Victoria Cash.
Slots: You'll find the selection of games available. If you select a slot for the first time, it will have to load first, but then you'll be ready to play.
Bottom Row: This is info bar that displays spin size, the spin button and more during the gameplay. You'll find info regarding gifts, a bonus countdown, new slots, and a contact email address on the home screen.
What currencies are used to play slots?
There are the two types of currencies available for play in LuckyLand Slots:
Gold Coins – You can use these to play the games. Gold Coins are used to play for fun. Winnings from Gold Coin play cannot be redeemed for any type of prizes.
Sweeps Coins- You can choose to play with Sweeps Coins to participate in sweepstakes promotion. Should you play one of their games of chance with Sweeps Coins and win Sweeps Coins as a result of your gameplay, that amount is eligible for prize redemption (pending account review and verification as stated in our Terms of Use) at a rate of SC 1.00 of Sweeps Coins to  USD 1.00 of prize (within the constraints of the "Minimum Prize Redemption" amount on the redemption request screen).
Also note that you cannot convert Gold Coins to Sweeps Coins or vice versa.  You may switch the currency you are using in the game by clicking on the "Switch to Gold Coins / Sweeps Coins" button.
To be able to more fully enjoy everything LuckyLand Slots offers, you have the option to purchase Gold Coin Packages that come in different denominations. These Gold Coin Packages are comprised of Gold Coins, and some come bundled with FREE Sweeps Coins as a promotion.
How can I get Free Coins in Luckyland Slots?
There are different ways to get free coins in Luckyland slots.
Upon signing up, you will benefit to the tune of 7,777 Gold Coins, which will kick-start your account.
Also you get daily bonus offer of free coins when you login daily.
As said above after you sign up at LuckyLand Slots,  you will notice there are two currencies: Gold Coins and Sweeps Coins. You can swap between the two when playing slots. Any time you purchase from your bank, you'll be purchasing Gold Coins; you'll also receive "free" Sweeps Coins.
When you are playing for Sweeps Coins, you can convert them into cash prizes. Any wins with Gold Coins will simply see that balance increase and are used for the social side of the site, such as leader boards and giving you the ability to level up.
When you make your first $4.99 purchase of Gold Coins, you'll receive an additional 10 Sweeps Coins, which is the equivalent of a 100% bonus. You'll also boost your Gold Coin account by 50,000 coins.
Participate in contests on social media at https://www.facebook.com/LuckyLandSlots/ and get free coins.
To comply with the laws surrounding social casinos, LuckyLand Slots has to offer a way for you to play for free. As well as receiving free Sweeps Coins when you buy Gold Coins, you can also receive Sweeps Coins by sending a handwritten letter. In LuckyLand's terms and conditions, it details how to score 2 Sweeps Coins. This amount is the equivalent of the award you'll receive for buying $2 of Gold Coins.
What are the slot games to play at Luckyland Slots?
In total at the time of writing there were 24 slots to play.
You can spin Amazonia 3D, Buffalo Rush, Cake Off, Clover Cash, Cobra Room, Dead Lucky, Dragon's Den, Empire Reels, Enchanted Fairy, Fashion Frenzy, Forbidden Fortunes, King of the Jungle 3D,  Lucky Wheel, Mardi Gras Money, Mayan Gold, Money Monsters, Mummy Mayhem, Oasis of Wilds, Payday Puppies,  Pirate's Bounty, Siren Song, Snow Queen 3D, Treasures of Atlantis and Vaults of Valhalla to name a few.
All these slots are loaded with various bonus features such as free spins, multipliers and exciting bonus wheels. When playing, you'll discover progressive jackpots for Gold Coins and Sweeps Coins. Pop-ups appear, too, displaying the big winners and bonus information throughout your gaming.
How can I take part in Luckyland slot tournaments?
LuckyLand Slots hosts tournaments that run for varying lengths of time, as short as 15 minutes or as long as 48 hours, on selected slots. Players can win free Gold Coins and Sweeps Coins based on their final position in the leaderboard!
You can enter tournaments automatically by playing a slot game that is currently active in the tournament. There is no fee required! You earn points for the tournament leaderboard by winning Gold Coins or Sweeps Coins playing slot games as you normally would.
Every spin you make on a slot spin will contribute additional Gold Coins/Sweeps Coins to the tournament prize pool, so you can watch the prize pool grow as all players spin on slot games that are part of the tournament.
The higher your player rank position on the leaderboard when the tournament time comes to an end, the bigger the tournament prize you can win. Players get a percentage of the overall prize pool based on their final leaderboard position. (You can see your current prize amount at any time by clicking "Info" on the bottom of the tournament leaderboard).
Once a tournament is finished, the Gold Coins/Sweeps Coins go directly into your player account.
It is not necessary to be in the game when the tournament ends and you do not have to be actively participating when the tournament is over. Any winnings will go directly into your player account even if the tournament ends while you are offline. When you log into your account again, you will see that your winnings are already in your currency balance displayed at the top of the screen.
You can go to your account's inbox to see a message that will give you a summary of what your final leaderboard positive was and how many Gold Coins/Sweeps Coins were awarded to you as a prize for that position.
Can I win cash prizes?
Yes you can win cash prizes playing at Luckyland slots and legally redeem your winnings online. Cash prize redemptions are sent via secure Electronic Funds Transfer (EFT) directly to your bank! SC 1.00 Sweeps Coins winnings can be redeemed for USD 1.00 of cash prizes, so go for the HUGE wins! You can also just play for fun by using Gold Coins. Gold Coins won have no prize value but it's a great way to relax and unwind. Play for fun or play for the thrill of cash prizes, the choice is yours!
Your initial Sweeps Coins are Sweepstakes entries until you play them in a game of chance for the Sweepstakes drawing! Play through your Sweeps Coins one time and you may get to redeem prizes.
The maximum amount of Sweeps Coins that can be redeemed at once is 50,000. At any amount above this, players should split redemption requests into (2) two or (3) three parts to prevent any delay or inconveniences to their account.
When you submit your prize redemption request you need to complete ID verification on your account. This is sent through their same-day prize redemption internal review.
Once this internal review is completed, the casino will submit your prize redemption to your bank for transfer into your account. They submit prize redemptions to the banks once per day, Monday through Friday. From there, banks average of 3-5 Business Days–Monday through Friday–to transfer the prize into your bank account (some banks more rarely may take up to 10 business days). Transfers cannot be processed during weekends.
Finally in case you need any help or support you can contact Luckyland slots casino 24/7. You can email them at support@luckylandslots.com or call +356 99088901