Casino War is one of the most popular and the easiest games found in a casino. Here in this piece of information, let's have a close look at how Casino War works and how to win this game or at least get the best odds.
You can play this game online for free or for real money both the ways.
What is Casino War?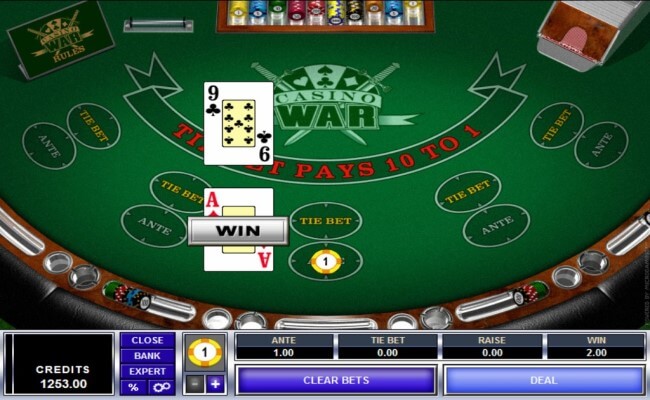 Casino War is the easiest card game you can find in Casino. In this game, six decks of cards are dealt with. The dealer deals one card (face up) to all the players including themselves.
Once all the cards have been dealt, you may face three scenarios:
Your card is lower than the dealer's card where you lose.
Your card is higher than the dealer's card so you win.
Your card equals the dealer's card, it is a tie and the fun begins.
On a tie, you can opt to surrender or to go to war. Opting the first option allows you to leave the game, losing half your original (Ante) bet.  If you opt to go to war you get the chance to stay in play. You can place your bet, the dealer burns three cards and deals one card to you and to all the players who opt for similar choice and to themselves.
What to Avoid in Casino War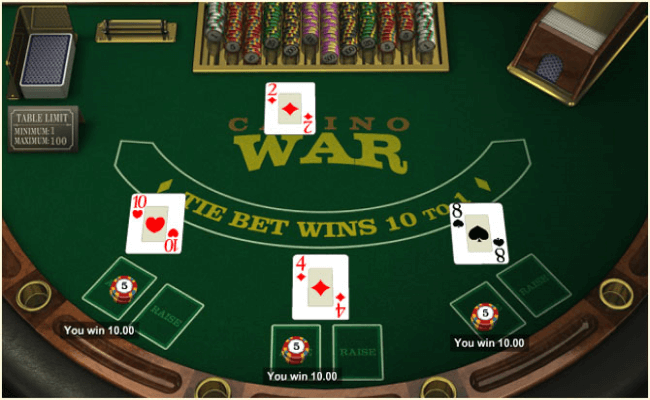 To make it more exciting you can place a side bet on the fact that your first card will tie the dealer's one which is termed as tie bet. This is Jackpot slots are all about. But in case you are looking for a fun game to play and does not want to stay at the table for hours, Casino War is a solid choice.
What to Opt for – Surrender or Go to War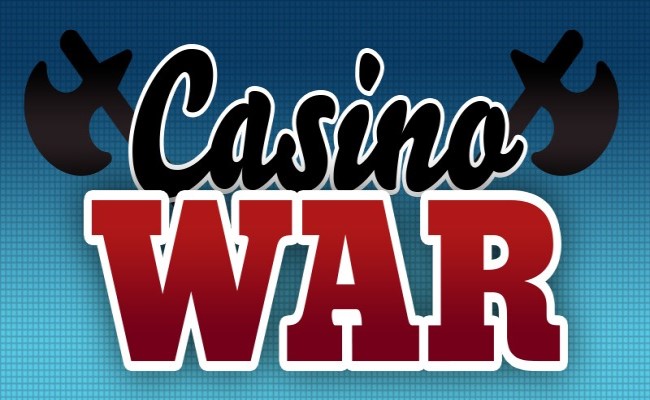 You should always opt for 'go to war'.  You might be thinking that there's no reason to risk your money to win only half of your bet. But it is better to bet two unit than sacrificing one just because you no longer want to play.
Never surrender. When you quit, the house edge moves from 2.88 to 3.70 percent. So always fight. By doubling your initial bet to compel the dealer to deal one more card, you bring the house edge from 3.70 to 2.88 percent.
Avoid taking the side bet. It's a sucker bet. The house receives a better edge only in games like Big Six, Sic Bo, Keno, and some slot games. Look for the Aces. These are the highest cards in Casino War which means on getting an Ace you can either tie or win you cannot lose. If no aces have been dealt for quite some time, you can expect an ace on the table shortly.
Where to Play Real Money Online Casino War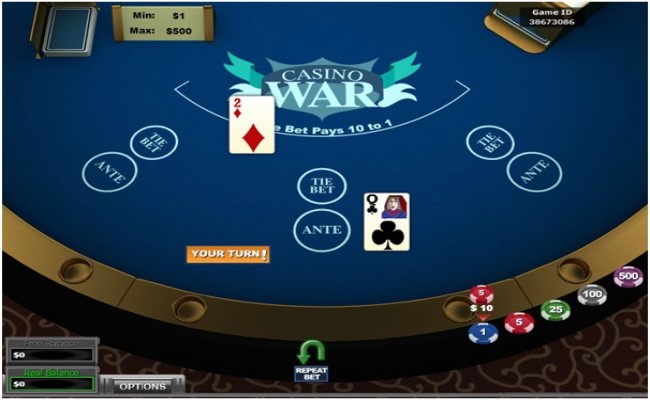 Mostly Casino War isn't as popular as other games like Blackjack, Roulette, or Slot machines, so you may not find this game everywhere. You can play this game in brick-and-mortar Casino.
Here, you get beginner-proof games at very low stakes. Before playing for real money, you can sign-up and practice the games completely free. You will also get a pretty neat welcome bonus involved with this game.