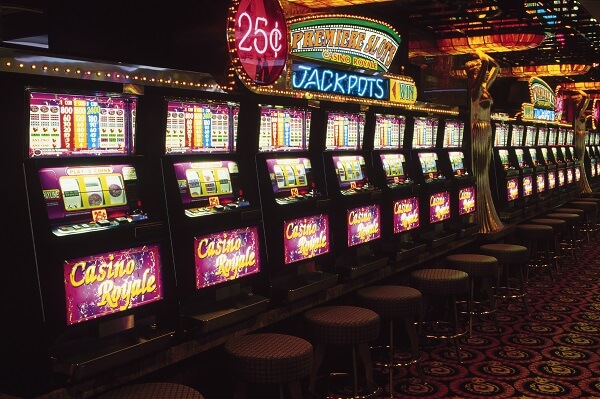 Even though many people don't know how Slot Machines work they are the undisputed main attractions of casinos around the world. Since their introduction in the 1980's they have exploded in popularity & gain 70% of casino revenue. Their larger than life jackpots and flashy displays are able to stimulate users' brains in ways that are impossible with table games. The amount of misconceptions surrounding slot machines is staggering. Not understanding how they work can lead you to losing massive amounts of hard earned cash at your favorite machine. Take a look at this article to educate yourself on how slot machines work so you can avoid the pitfalls that so many players fall into. After all, if you don't understand what you are up against your odds of winning are severely decreased!
When it comes to slot machines there are flat top and progressive jackpot machines. Flat top machines have a set jackpot amount that won't change no matter how many people play it. Progressive jackpot machines are a group of machines that are linked together that use a percentage of the amount of money spent on the machines to increase the jackpot. The amount of machines feeding into the jackpot can vary from a couple to literally thousands of machines that are regulated by a state. In Nevada the MegaBucks & Wheel of Fortune machines are all regulated by the state so they can afford to pay out the massive jackpots that they offer. However don't be fooled by a gigantic jackpot, with slot machines the bigger the jackpot the lower your odds are of winning it. Since each casino has different payout percentages it can be overwhelming trying to decide which ones will give you the best odds. Fortunately sites like Wizard of Odds & A to Z Las Vegas give you a detailed run down on each casino to help shed light on where is best to play.
Nowadays all slot machines are computerized, with every machine set to pay out at a certain set of odds. Since they are all set at a cycle of odds, winning doesn't have anything to do with how recently someone has won at that machine. The fallacy that a machine is due to win is a myth that is costing players huge sums of cash. Think of it like this: if you flip a coin 10 times in a row and get tails, your odds for getting tails again are still the same. On average the jackpot payout is set to pay out at a ratio of 1 in 250,000. So it doesn't matter if that machine hasn't won in 10 years or just gave someone the mega jackpot before you sat there, you are still facing the same odds. This coupled with the fact that slot machines allow you to spend more money at a faster rate than table games ($80 an hour on average) shows that you need to be careful.
In the end the best advice to save you money is to play the tables instead of slot machines, but if you absolutely love slot machines these tips will help you increase your odds. First off start by playing the lowest denomination slot machine that you can so you spend your money slower. Then pick a machine with the lowest jackpot to receive better odds of winning. Avoid video reel slot machines since casinos make their money back from the time you spend being entertained by these machines by giving you worse odds on them along with options to bet more money at a time. Using a slot card doesn't increase your odds of winning however it does give you some much needed perks for spending your money at the casino. These can range from free meals to discounted room prices that will at least give you some return for the money that you are spending. So quit getting played and use this info to help you play the slot machines like a pro!