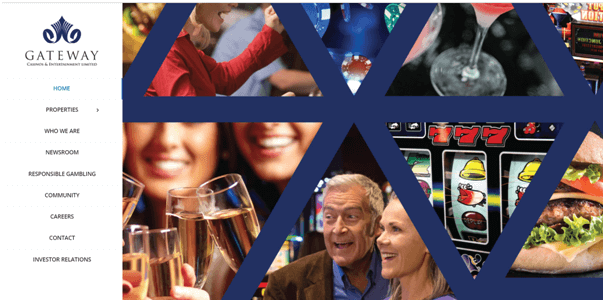 Gateway Casinos & Entertainment Limited ("Gateway") signed a 20-year Casino Operating and Services Agreement (COSA) with the Ontario Lottery and Gaming Corporation ("OLG") and has purchased the business and assets of the Southwest Gaming Bundle. Gateway took over the day-to-day operations from May 2017. The expansion into Ontario represents the next exciting chapter in Gateway's successful growth strategy making Gateway Canada's largest and most diversified gaming company.
Gateway Casinos and Entertainment is a Canadian gaming and entertainment operator. The corporate offices of Gateway Casinos and Entertainment are located in Burnaby, British Columbia. Gateway Casinos & Entertainment Limited is one of the largest casino and entertainment companies in Western Canada and has grown from just 2 facilities with 150 employees to over 5,200 employees and operates 23 gaming properties with 248 tables, over 8,400 slots, 54 restaurants and bars and 272 hotel rooms.
As the selected service provider in Northern Ontario, Gateway will add an additional three properties and two new planned builds to the portfolio when fully transitioned and developed.  Gateway is undertaking an ambitious growth strategy to dramatically improve the customer experience and attract new customers. This includes the development of proprietary food and beverage brands like Match Eatery & Public House and Atlas Steak + Fish.  This year Gateway is celebrating 25 years in the business of gaming and entertainment in Canada.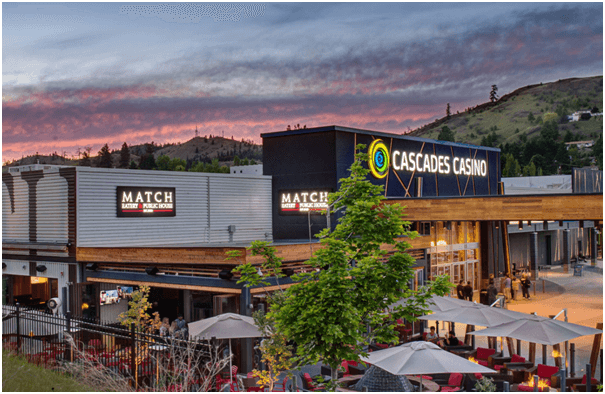 Starting in 1992, Gateway Casinos has provided operational services for casinos in the Greater Vancouver Regional District of British Columbia. In April 1992, Gateway Casinos acquired two casino operations in the Vancouver area: a 5,000 square foot facility on the second floor of the Mandarin Centre in Vancouver's Chinatown and a smaller 4,000 square foot operation on the top floor of the Royal Towers Hotel in New Westminster, BC.
In March 1994, Gateway Casinos purchased a third casino, located in Maple Ridge, British Columbia with the intention of relocation in the future, which ultimately became Gateway's Burnaby Casino.
June 1994 saw the Gateway relocation of the Vancouver casino from the small premises on the second floor of the Mandarin Centre to newly renovated premises in the same building. At this time, Mandarin Centre was the largest casino in British Columbia. In January 1996, Gateway Casinos relocated its operation in New Westminster from the top floor to expanded premises within the hotel.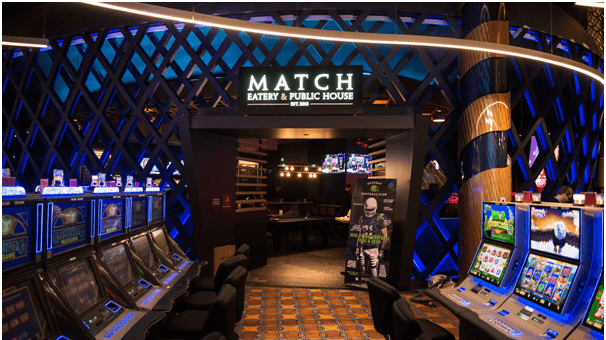 Gateway Casinos ceased operating the casino in Maple Ridge in November 1996. The new operation was opened on the second floor of the parkade across from the now Grand Villa Casino in Burnaby, British Columbia.
November 1999 saw the Gateway acquisition of the Palace Casino in Edmonton, Alberta where an extensive renovation which more than doubled the size of the facility, was substantially completed in October 2001.
The year 2002 was pivotal for Gateway due to the acquisition of the Baccarat Casino in Edmonton, Alberta, in June and the August purchase of the Lake City Casinos in Penticton, Kelowna, Kamloops and Vernon.
In 2005 Gateway Casinos opened the Cascades Casino in the heart of Langley, British Columbia which brought about a new era of gaming for the company, boasting over 60,000 square feet of gaming space, 77-room hotel and more than 25,000 square feet of convention space operated by Coast Hotels & Resorts Limited.
The Starlight Casino and Grand Villa Casino were opened in 2007 and 2008 respectively and are currently operating as Gateway Casinos & Entertainment Limited's flagship properties. In 2011 Gateway Casinos & Entertainment Limited purchased three existing Community Gaming Centres located in Squamish, Mission and the Newton Surrey area. In April 2015 Gateway Casinos & Entertainment revealed its plans to build brand new casino located in the Edmonton Arena District.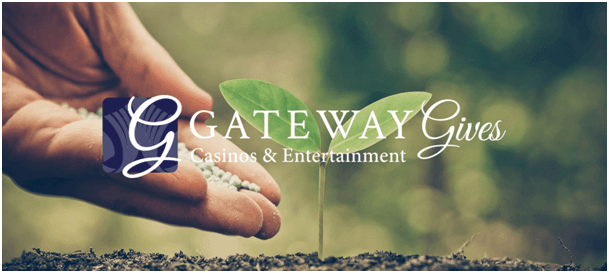 In December 2015 Gateway casinos bought Playtime Gaming Inc. expanding their properties with 4 new CGC(community gaming centers) and 2 commercial bingo halls making them the largest casino company in British Columbia.
In December 2016, Gateway casinos purchased 11 Casinos from OLG in Ontario ranging from Thunder Bay to London with rights to build in Kenora and North Bay hereby now employing 6000+ people and making its way into the Ontario market.
In December 2016, Gateway was selected by OLG as the successful service provider in the Southwest and North Gaming Bundles.  The Southwest Gaming Bundle includes a casino in Point Edward and slots in Woodstock (at Woodstock Raceway), London (at the Western Fair District), Clinton (at Clinton Raceway), Dresden (at Dresden Raceway) and Hanover (at Hanover Raceway).  The North Gaming Bundle now transition to Gateway (late May 2017 ) and includes casinos in Thunder Bay and Sault Ste. Marie, slots in Sudbury (at Sudbury Downs) and two planned casino builds in Kenora and North Bay.  The Ontario acquisitions are expected to be immediately accretive to Gateway's top-line growth, EBITDA margin and full year earnings.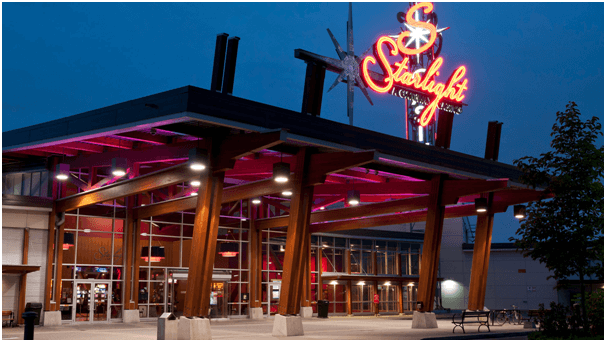 The expansion into Ontario is the next step in the continued evolution of Gateway. In 2010, The Catalyst Capital Group Inc. ("Catalyst"), Gateway's ownership group, took Gateway and its 9 properties under management to rebuild and restructure the company. A focus on superior customer experience and measured growth has seen Gateway's portfolio expand to 28 properties once the Southwest and North Gaming Bundles are fully transitioned and developed.
Central to Gateway's success has been the development of signature casino and restaurant brands that have dramatically improved the gaming customer experience while generating important new customer segments.  With transition complete, Gateway will now focus on plans to invest over $200 Million in Southwestern Ontario communities to introduce the proprietary casino and restaurant signature brands.
According to Gabriel de Alba, Gateway's Executive Chairman, Gateway's growth strategy and focus on a superior customer experience revolves around investing in the company's unique gaming properties and creating a broader attraction across numerous demographics.  This success has resulted in significant job creation across the communities where they operate in Western Canada.  They are bringing this same approach to Southwestern Ontario with a planned investment of over $200 Million to revitalize and enhance the gaming and entertainment landscape.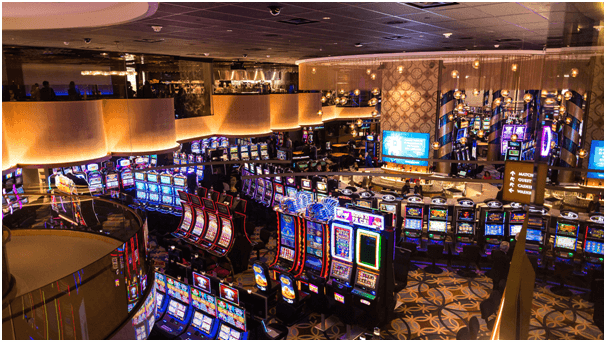 A customer celebration will be held on June 22nd, 2017 at all Gateway's Ontario sites in the Southwest and North.  The daylong celebration will include new and exciting promotions and prizes, live entertainment, Gateway merchandise giveaways and delicious food and drink specials.  To learn more about the celebration on June 22nd  visit www.gatewaycasinos.com.
A commitment to responsible gambling is integral to how Gateway operates.  All Gateway properties in British Columbia and Ontario hold RG Check accreditation. Together with OLG and other government partners, Gateway will continue to implement responsible gambling initiatives at all properties across Canada.