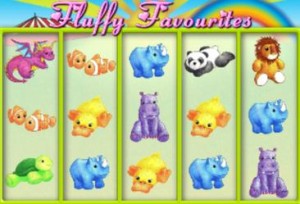 Now the themes we generally divulge when it comes to new slots are those of sports, history or based on comic books, it's very rare we generally delve into the world of fluffy cuteness. Well, today we are breaking the mold as we talk about a new fluffy, cute and wonderful bundle of joy in the form of an animal based slot.
For all you hardened guys out there don't despair, this slot may have all the trappings of cuddly animals but we are sure that after a game or too, you will find Fluffy Favourites to be your guilty pleasure.
Fluffy Favourites Slot Game
One of the big aspects of this new release is that it is a mobile slot developed for both Android and iPhone mobile phones. You can also play Fluffy Favourites on the PC so whether you play online slots on the move or whilst comfortable at home, Fluffy Favourites will always be available to enjoy.
Fluffy Favourites is a five reel game that delivers all the wonders of online slot heaven mixed with the enjoyment of animals. Whilst the game play is simple when compared to other slots, it doesn't diminish the fun you have. You can expect to see symbols such as fluffy yellow ducks, cute pink elephants, adorable panda bears, and cuddly lions and more, all of which really make you feel great about playing.
Whilst the graphics immerse you into a soft and fluffy world of animals, the jackpots are hardened to say the least with huge cash prizes to be won if you play your game well.
Fluffy Favourites really is a game for all to enjoy, even the most hardened of men will find their inner softness enticing them to play this brilliant slot game that promises the world and delivers more.