If you as a Canadian player want to look out for the best slot machine payouts in Canada then you need to first understand what does it mean by the term "payout". In a layman language payout refers to the amount of money a player receives in return for betting. It is most commonly expressed as a percentage or a ratio, and it is calculated by dividing the number of winnings paid by the total amount of cash wagered like if a player starts out with $100 and finishes up with $95, the payout is 95:100 or 95%.
The Payout percentages are not Random
Payout percentages are mandated by law and may not fall below a specific minimum determined for each jurisdiction by a regulatory authority. Whatever payout ratios are mandated must be set at the factory as part of a slot machine's programming. This is the only way of ensuring that the ratio of winnings paid to cash played falls within the legal range. In Nevada, for example, the statewide minimum payout for slots is 75%. There is no limit on the maximum.
Fortunately for players, most casinos insist that their slot machine be programmed with payouts ratios far above the minimum. Simple supply-demand economics drives the decision. The closer the payout is to 100%, the more money players will be willing to risk. The lower the percentage is, the more profit will be made by the casino per dollar bet, but the lower the volume of play will be.
The challenge is for the casinos to set their payouts at a level that maximizes profitability. Although the point of equilibrium can be quite elastic, in most areas it typically falls between 80% and 95%, with so-called "tight" slots at the low end and "loose" slots at the high end. A casino will usually have a mix of both and achieve an overall payout ratio of above 90%.
Best slot machine payouts in Canada
If you are looking for best slot machine payouts then as said above you need to understand what the Return To Player (RTP) percentage is of a slot machine. Then check to RTP of the slot to find out how well it rates on the RTP scale:
If a slot machine has 93% or less then it has low RTP
Between 93% and 95% is acceptable RTP
In the range of 95% and 97% it's great RTP
Slot between 97% and 98% is an excellent RTP
If higher than 98% it is superb RTP slot machine
The higher the RTP, the more favourable the odds are for you as a player and the bigger the chance that you will win on that particular slot.
How can you check the RTP?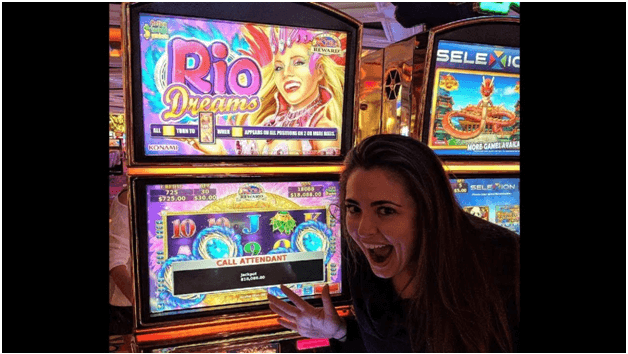 Most slots have the RTP listed in the rules or paytables of their game. Sometimes you have to look for it, but most software providers are happy to provide the RTP.  But remember that there are no slots that will guarantee a win. On the other hand the closer the RTP comes to 100%, the better odds you have of actually beating the casino.
Progressives slots have the lowest RTP percentages by far, often 8-10% less than the ones given above and that percentage include all the big progressive jackpot amounts, so the RTP on the base game is even significantly lower.
The reason big progressive jackpot slot games have a lower RTP is that a certain percentage of your wager is a contribution to the jackpot fund, plus of course, in order to build a bigger jackpot, the slot cannot pay out as much as other slot games otherwise the size of the jackpots would have to be considerably smaller.
This is why you can find some progressive jackpot slot games have a lower RTP than non-progressives. However, it is the size of the jackpot on offer that matters more to players, which is why they will accept a lower RTP, for the chance to win a much bigger prize.
Five Biggest Slots Payouts of 2019
Here are the Five Biggest Slots Payouts of 2019
1. Hall of Gods – €6,084,758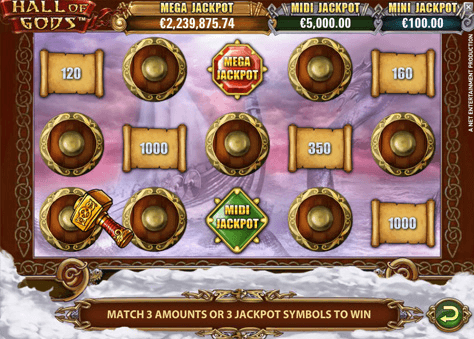 NetEnt's progressive slots seem to have a penchant for paying out jaw-dropping prizes. One player managed to score a godly jackpot worth €6,084,758 in July after triggering the Hall of Gods Mega Jackpot, forever immortalizing himself as a very important player.
2. Mega Moolah – $5,956,662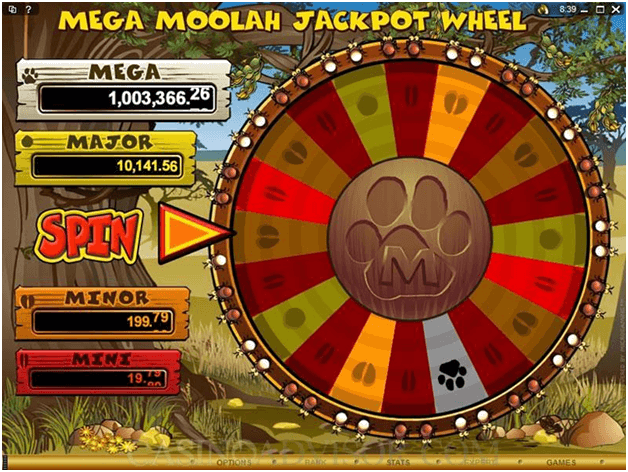 Microgaming's famous Mega Moolah online slot can always be relied on to pay out life-changing wins. The largest win for this slot landed in May, clocking in at $8,165,457. Early in September, one fortunate gambler took home another Mega Jackpot, which at the time was worth a drool-worthy sum of $4,746,504. In mid-October, someone else scored  $3,558,641 on the same safari-themed slot.
Later in October, another punter won $4,444,248 on the same game, and in November, the slot paid out an equally juicy jackpot of $2,771,825. In fact, Mega Moolah has paid out an incredible jackpot worth over $1m nearly once a month on average this year!
3. Mega Fortune – €4,853,228
September brought about an incredible €4,853,228 win for one Mega Fortune player – but there was more to come. It was reported in November that a player had once again struck a monumental win while playing NetEnt's Mega Fortune. The slot's progressive jackpot showered the thrilled player with an unbelievable haul worth €4,187,576 – one of the largest to have been paid out this year.
One very lucky player also struck casino gold when playing the same progressive slot in December. The punter in question hit the slot's iconic Mega Jackpot on December 9, 2019, pocketing a hefty cash prize of €1,016,967. That's the equivalent of nearly $15 million in local currency!
 4. Millionaire Genie – $3,528,387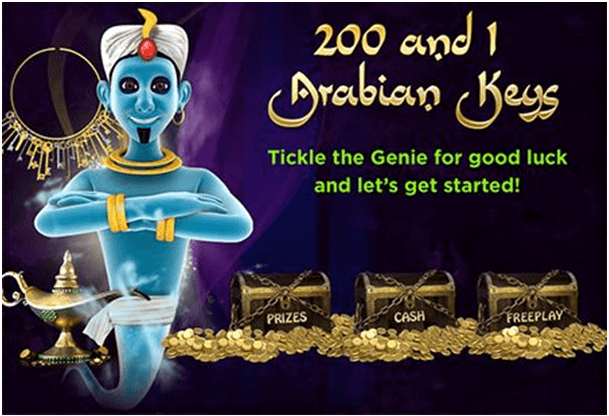 The Millionaire Genie slot from Random Logic made a few players very happy this year. One punter, in particular, managed to land a whopping $3,528,387 prize when playing it at a relatively low stake.
5. Joker Millions – €3,109,781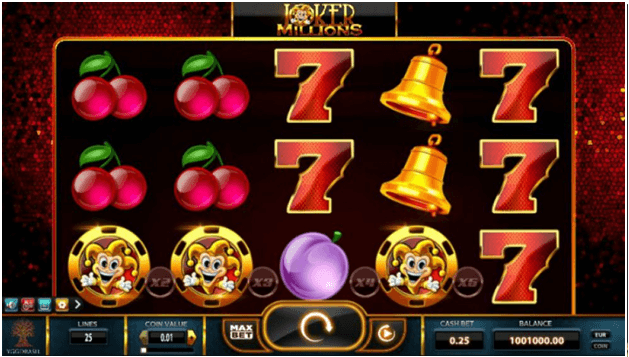 Yggdrasil Gaming's Joker Millions slot is another game known for being generous to a fault. In April, one of its fans managed to land its top progressive prize, pocketing the first jackpot for the game in the 22 weeks prior. Later in September, the same game made another player €3,040,869 richer.
How to find best payout slot machine at online casino?
The online casinos offer a payout percentage on their slot machines ranging between 94%- 97%. A very common and incorrect assumption is that if, say, you deposit $200 at a casino with a 97% payout percentage, you will on average receive back $194, that being 97% of 200. Unfortunately, the payout percentage is the payout of the casino games and not the payout on the deposits the casino receives.
Suppose you play a slot machine with a payout of 95%, You will lose at a rate of 5% of the money you wager and the casino will "pay out" 95%. That wagered money is in no way related to the deposited money in terms of casino payout. You can deposit $50 and wager $500, or you can deposit $1000 and wager $15. Your losses are based on your wagering and not on your deposits.
Wagering $3000 on this 95% slot machine, the casino will hold $150 on average and "pay out" the remainder of your $200 deposit – $50. The casino is ultimately going to pay you just 25%, yet the game still had a "payout" of fully 95%. So in order to lose your deposit entirely on a particular game, you would simply need to wager an average of twenty times your deposit, $4000, and that still playing a machine with a fully 95% payout percentage.
So the  payout percentage figures relate exclusively to the money a player wagers and do not relate in any shape or form to the money a player deposits. When a casino posts a payout percentage of 97% they're saying that of all the money their players have collectively wagered, the games have collectively paid out 97% and held a 3% profit. If the casino has made a monthly profit of $100,000 from players wagering totalling $50,000,000, the casino games have "paid out" 99.8%, which is still a great payout figure.
But if you successfully locate a game with a payout of 99.99%, you can wager a lot at relatively low cost. You could wager $100,000 at an average cost of only $10. With other casino bonuses, you can find yourself with a very attractive proposition indeed.
The payout also depends on the game you choose to play and the software of the game.  Also, higher payouts is the machine's credit denomination. Higher payouts are usually offered at the higher denominated slots. One study showed that nickel machines at a certain casino averaged payouts of 92.5%, while quarter machines provided a 94.1% ratio. The rate of return on that casino's dollar slots was 95.9%, and the machines that featured a five-dollar minimum paid out at 98.4%.
Knowing this information can help a player decide not only what machine to play but also how much to wager. For example, if six spins are played per minute with a max bet of three credits, a player can expect to wager 1,080 credits per hour. When the payback percent on a machine is 95%, the player might expect to lose 0.05 x 1,080 = 54 credits. On a nickel machine, it would be $2.70. On a quarter machine, that's $13.50. Also when playing a dollar machine, it works out to $54. The size of the player's bankroll will determine which denomination is worth the risk.