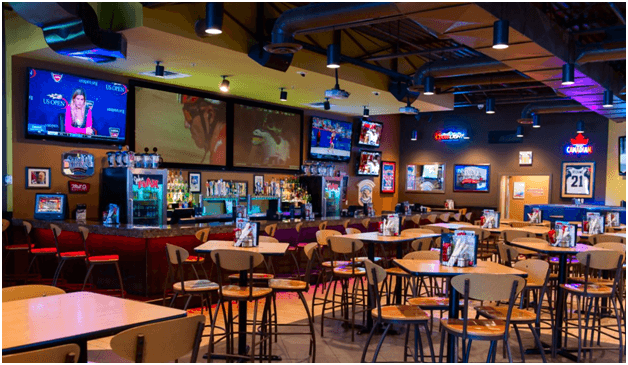 Canadian sports fans have a choice to enjoy their favorite sports by watching various sports and tournaments at pubs and bars. These sports matches are streamed all live at sports bars across the country on big LED screens and you needn't go to the sports venue but sit comfortably, order drinks and good food, chat with your friends as you watch the game. If you are a sports fan and live in Toronto especially in the downtown area then here's a list of eight sports bars in Toronto where you can cheer your most wanted sport.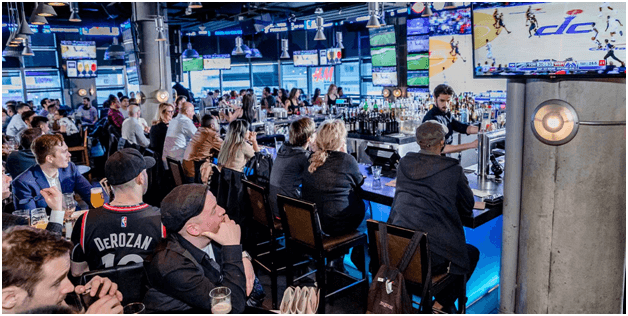 Location: 10 Dundas St E, Toronto, ON M5B 0A1, Canada
Phone: +1 416-506-0753
Cuisine: Bar food, cocktails & beers
From their 90 foot long sports ticker, to the 15 foot big screen, even a blind NFL ref could see why this powerhouse was voted Canada's Best Sports Bar. This sports bar has multiple screens so you'll never miss a moment. In total there are 57 screens with a seating capacity of 200, and one private room if you want. They also have various sports contest from time to time where you can win handsome cash prizes.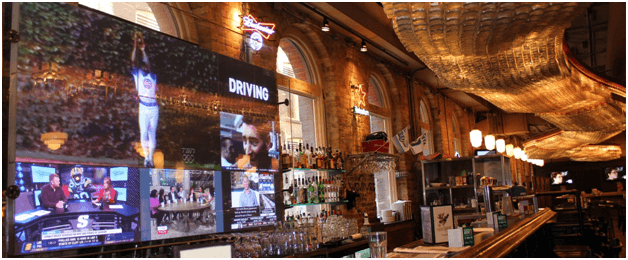 Location: 146 Front St W, Toronto, ON M5J 1G2, Canada
Phone: +1 416-977-8840
Cuisine: Bar food & drinks
The Loose Moose is a lively bar in downtown Toronto favoured by locals and out-of-towners since 1989. They have over 65 varieties of beer selection and tap, repeat visits are kind of a given, especially for lovers of Canadian craft.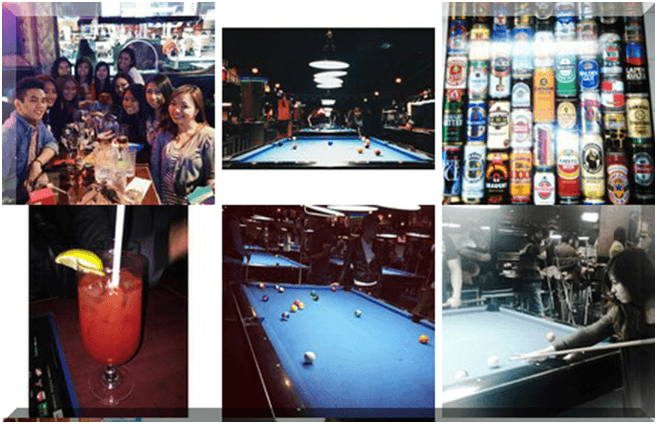 Location: 842 College St, Toronto, ON M6H 1A2, Canada
Phone: +1 416-977-1011
Cuisine: Bar food, beers, drinks
This is Toronto's freshest sports bar and you can catch the game on one of their many big screen TVs and cheer on your favourite team. There's good food, great beer – bottled and on tap, and a selection of the finest wine and spirits. Also they have plenty of other things to keep you entertained – karaoke rooms, pool tables, foosball, and ping pong, making us much more than your average sports bar.
4. Real Sports Bar & Grill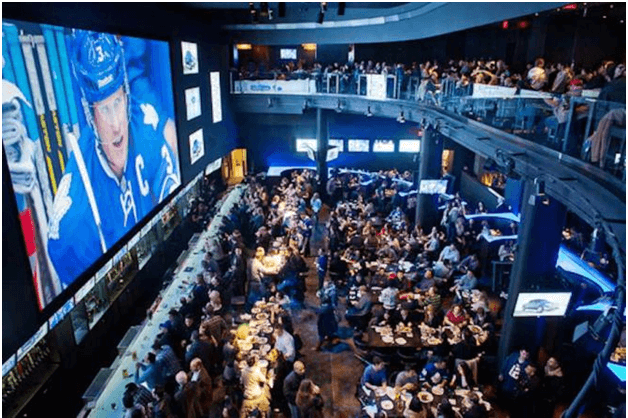 Location: 15 York St, Toronto, ON M5J 2Z2, Canada
Phone: +1 416-815-7325
Cuisine: Bar food & drinks
Famous for its capacity and its wall of screens, Real Sports is always a great option. Being so, so close to all the action of the Scotiabank Area you'll practically feel like you're inside. Featuring one of the largest screens, this is the place to watch all your favourite sports while feeling like you're actually there.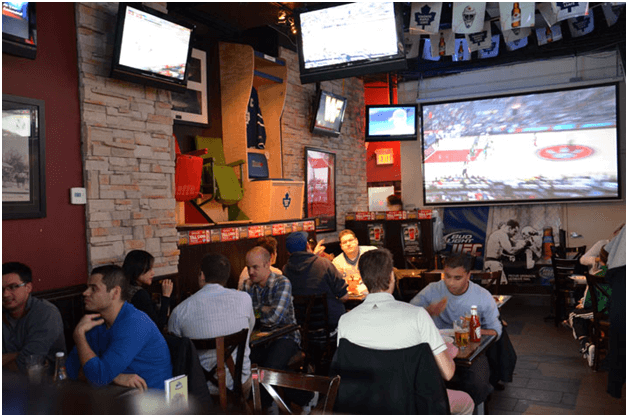 Location: 125 Bremner Blvd, Toronto, ON M5J 3A8, Canada
Phone: +1 647-343-0783
Cuisine: Bar food, beers, cocktails
Hoops Sports Bar and Grill is Toronto's premiere venue for all things in the wide world of sports. Major league sports, international soccer, UFC or pay per- view events, and more. Hoops feature a multitude of flat-screens TV's, some on the walls others in private booths and a massive 126-inch infinite plasma for the big events. With a diverse menu that includes traditional pub fare with their own Hoops twist and 19 beers on draught there is always something for everyone.
Location: 33 Yonge St, Toronto, ON M5E 0A9, Canada
Phone: +1 416-861-9966
Cuisine: Restaurant dining, bar food, beers and cocktails
PICK 6IX SPORTS located in the heart of downtown Toronto boasts local and international craft beers on tap, elevated bar classics with a twist, signature burgers, wings and beef brisket nachos in addition to many other great options. They offer ample seating for small parties, large comfortable private booths and over 38 flatscreen TV's playing all of your favourite games.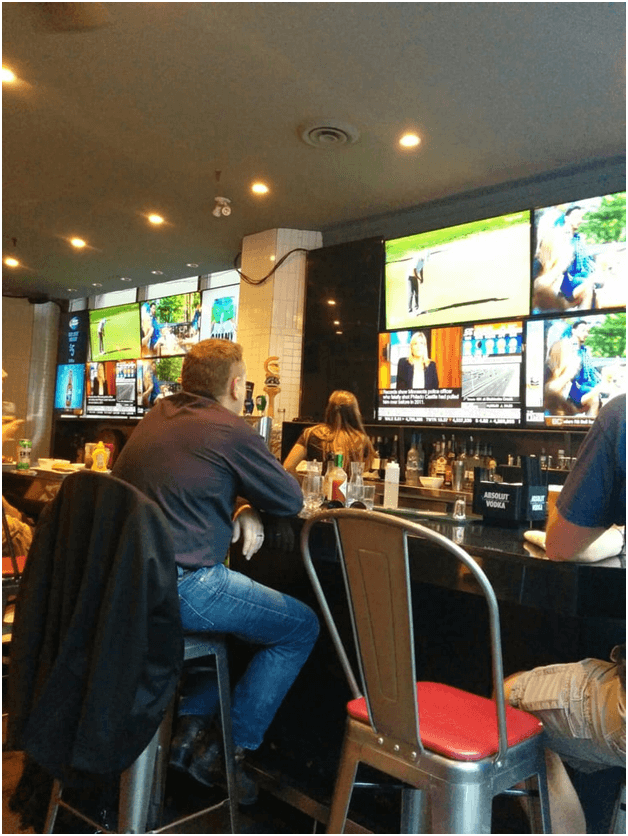 Location: 22 Front St W, Toronto, ON M5J 1C4, Canada
Phone: +1 416-362-7585
Cuisine: Bar food, beers, cocktails
The Bottom Line calls itself "Toronto's Classiest Sports Bar" and is just around the corner from Scotiabank Arena. Owned and operated by a former NHL player, it is not uncommon for Leafs, visiting players, and renowned athletes alike to be found at Bottom Line.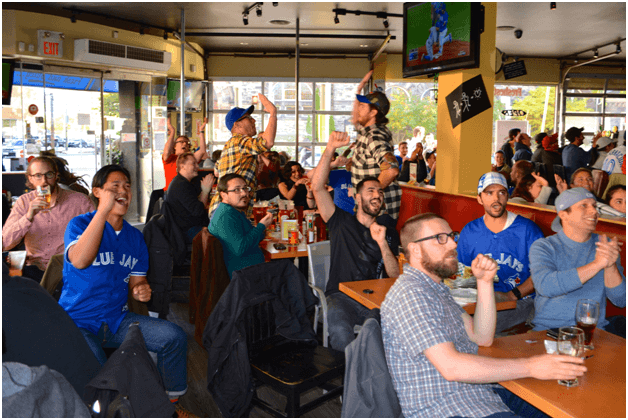 Location: 362 Bloor St W, Toronto, ON M5S 1X6, Canada
Phone: +1 416-901-7825
Cuisine: Bar food, beers, cocktails
It has 10 big screens to watch various sports. Also, check out their $4.99 lunch specials available every day from 11:00AM to 4:00PM!
Besides these eight bars you can visit few other big names like Jack Astor's, The Dog And Bear; Shoeless Joe's, 817 Sports Bar & Grill and few others in Toronto.