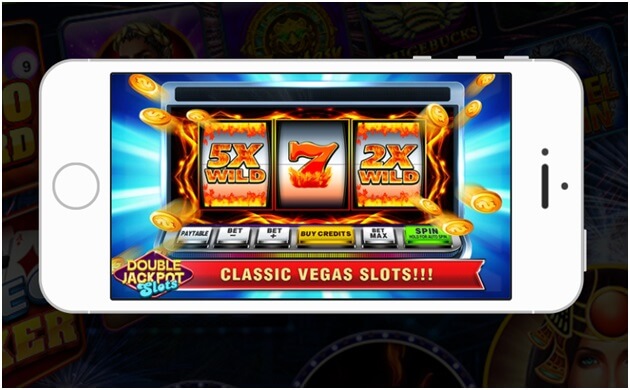 Double Jackpot Slots is the new app at app store to download now on your iOS or Android mobile and enjoy free slots in Canada. Developed by Phonato Studios the best thing about this app is that it works even offline which means you can enjoy free Vegas style slot machines even without internet or WIFI.
There are over 20 real Las Vegas free slot machines to play at Double Jackpot Slots app. The app gives you all the excitement and thrill you would experience in a real casino. This app has been created by casino experts to match the real slots experience. Enjoy the best of the free slots games and compete with others at the slots tournaments!
To play free slots you get daily FREE bonus coins. Also as you clear the levels to unlock new machines you add more free coins to your wallet. The app has engaging graphics, sound and smooth game play. This free slots game is the closest you can get to a real Las Vegas slots experience.
Features  of  Double Jackpot Slots Game App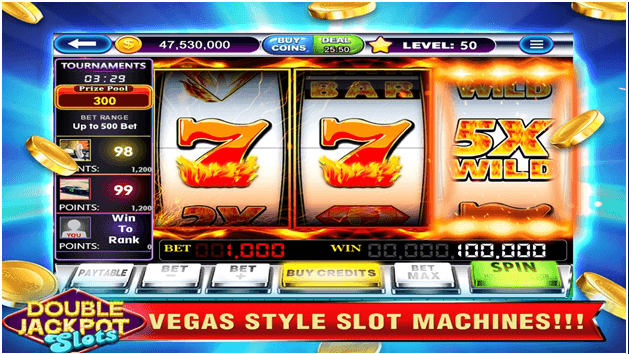 Get free coins every day.
Enjoy best of classic Slots Games.
Also receive Bonus coins every hour.
Try to win Exciting Bonus rounds
Enjoy Huge Jackpots
Play slots Tournaments
Gives Authentic Casino feel with casino music and graphics
And offers 24/7 Support.
Double Jackpot is a captivating game that is designed to be simple and relaxing to offer the players a feel of excitement and closest experience of a real casino that will make your gaming worthwhile. The free machines are truly based on the payout schemes of real slot machines of Vegas with a modern feel. This means what you are about to have is a fulfilling authentic game of slot machines, the best a casino slot lover can get.

The modish part about Double Jackpot is there is an enticing collection of enchanting slot machines –You can spin the 10x machines and Win 2000 times your bet or the Spin till Wild that gets you Big Wins progressively and many more. With these machines, there are over 150+ ways of hitting a good win and Jackpot in the game. Starting from your first visit you will receive a welcome bonus and can continue to claim bonus coins from its multiple bonus schemes.
Every round of game comes with a tournament that features many people on the challenge leader board. Another good feature that Double Jackpot has over many online casino games is the playability in offline mode, you won't require to connect to the internet every time you want to play. Above else, this free slot game offers free giveaways and fun activities every day on Facebook via posts so that a player running out of coins have the chance to save some more coins and continue playing.
If you have spun a lot of good slot games but are not trying something new, you should try Double Jackpot to experience something realistic both visually and by gaming experience. Go give it a try and you will be happy to have done so.
How to get started with Double Jackpot Slots Las Vegas?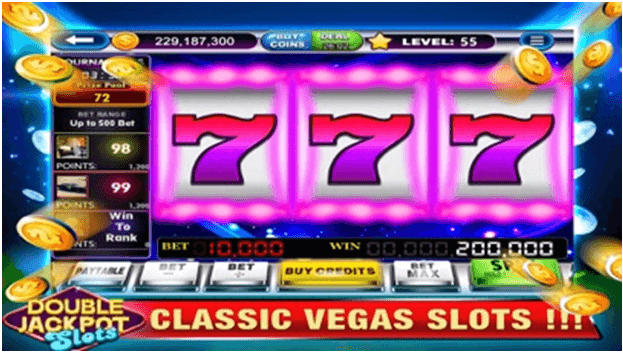 All you need to get started with Double Jackpot Slots Las Vegas is to download the free app on your iPhone or Android.
Play with your Facebook account or play as a guest.
You are offered free coins as a welcome bonus to play the slots
As you unlock more slot machines are added to your games section to play and win.
This game app is for fun and no real money is used to play. You are offered free coins to play and you earn free coins as rewards when you win the slot machines.
The app requires iOS 9.0 or later compatible iPhone or 4.01 up Android mobile.
But in case you need more coins there is an in-app purchase and you can buy the coins pack. The lowest coin pack starts at $1.39 and a bigger pack costs $139.99 CAD.
In case of any issue, you can contact at support@phonato.com