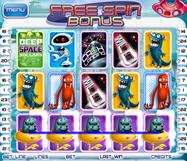 BrightLogic has been busy developing a new game, one that only Apple product owners will be able to enjoy. BrightLogic has really been expanding it games portfolio, much to the enjoyment of many online casino players so this latest instalment is going to be hugely popular… well to those who are lucky enough to have an Apple product that will support it!
Now it is something unique to see that BrightLogic has only developed this game for Apple products and hasn't delivered others versions, but it may be the others are coming shortly. Either way, let's look at this brilliant new game.
Deep Space Dollars
Deep Space Dollars gives off a theme of space adventures when you read the name, but you couldn't be more surprised when you learn the true theme of this game. The game is actually based on aliens would you believe, in fact the idea is to free the aliens.
This is a huge game, in fact if you are lucky; you can win up to 200 million credits on the free spins bonus. In total there are 25 pay lines to enjoy and you can wager up to twenty thousand credits per game.
The graphics are colourful and also brilliant as you get to see many different6 coloured aliens as you try to save them by rolling in three or more of the same aliens and other symbols on your reels.
Currently you can only play Deep Space Dollars on the iPad 2-4 and iPad Mini. We have it on good authority that you should be seeing this on the iPhone soon so as long as you have a more upto date Apple product you can enjoy playing this immense game.
If you are looking for a new and interesting game to play then this is the game for you.