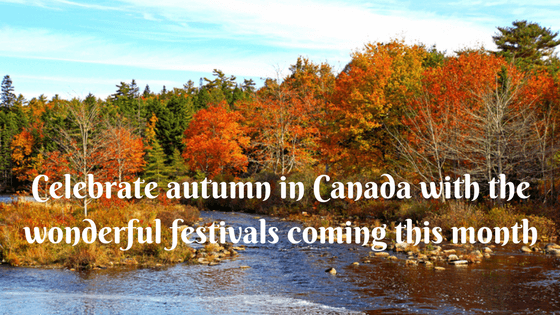 Canada is ranked as the second best country in the world. This was declared in March 2017 when the "Best Countries" survey from the U.S. News & World Report was conducted. The survey evaluated 80 countries in a variety of categories including economic influence, citizenship and quality of life. It is not only best in economy and people but the seasons and nature makes it more admired all over the world. When talking of seasons Autumn is now almost there and you will find change in the atmosphere and surroundings. With chill in the air the maple leaves of trees start changing colors and there is a hue of orange, yellow and red. The onset of fall brings in great festivals to be celebrated in Canada. You can enjoy nature at its best with music, great food and have fun with your families and friends. Below find listed the wonderful festivals coming up this month to celebrate the Autumn season in different parts of Canada.
Location:  200 Barclay Parade SW #184, Calgary, AB T2P 4R5, Canada
Phone: +1 587-351-7787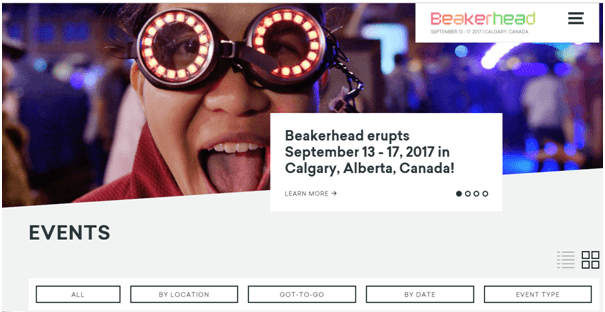 Beakerhead Festival is celebrated in Calgary from September 13th to 17th. If you love arts, sciences and engineering that join this festival to build, engage, compete, and exhibit interactive works of art, engineered creativity and entertainment. This is a five-day citywide spectacle consisting over 60 events centred around delightfully bizarre engineered installations and artworks. Last year over 130,000 people took part in this festival giving an insight to the community about the core educational purpose in engineering, art and science. The 2017 event will transform the city into a giant game of Snakes and Ladders, where attendees can explore more than a dozen sites of engineered artworks and interactive experiences.
Location: 1527 Ellis Street Kelowna, BC V1Y 2A7
Phone:  250.861.6654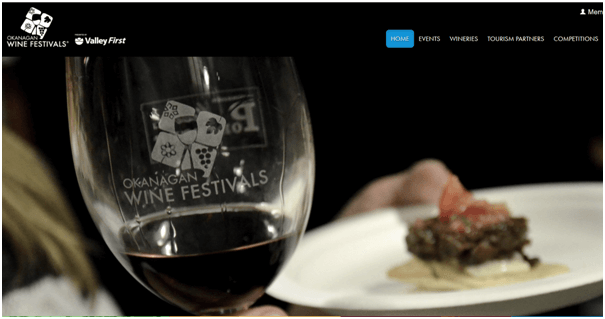 Fall Okanagan Wine Festival is celebrated at Okanagan Valley between September 28th to October 8th. Actually there are three Okanagan Wine Festival events throughout the year you'll enjoy a food and wine festival that celebrates gourmet wine and food, wine education and some of the best BC wine tasting events.
You can learn about and share traditions of winemaking, wine and food pairing, and it's also an opportunity to attend many events, educational seminars, and wine tasting. This festival  is held during the grape harvest time and runs over ten days in early October, with over 165 events throughout the entire Okanagan BC wine region.
This  fall season celebrates the 37th annual Fall Okanagan Wine Festival and is one of the best festivals to experience vineyard tours, lunches, dinners, unique events and the fall wine harvest celebrations. The festival events are focused on gourmet wine, food, arts, and education and is the largest Okanagan wine festival.
Various Locations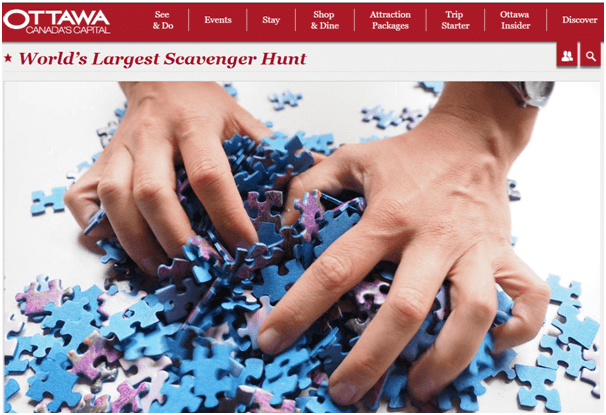 World's Largest Scavenger Hunt festival takes place in Ottawa  on September 10th and would make history with an attempt to break the Guinness Record for the World's Largest Scavenger Hunt. As an initiative for Ignite 150, the creators of Escape Manor have produced a Canadian-themed, epic daytime adventure for the ages.
In honour of Canada's sesquicentennial celebration, thousands of costumed participants will scatter from City Hall scouring the city to solve puzzles, find items, snap photos, attempt augmented reality, answer trivia, post on social media, and have a great time. Mayor Jim Watson and Ottawa 2017 Executive Director, Guy Laflamme will be on hand to kick off the event open to participants 14 and over. The hunt will commence at Marion Dewar Plaza at 9 am and culminate with a party style reception and awards ceremony, outside City Hall, that afternoon. Food trucks, a DJ, Beau's beer, and local dignitaries will be onsite to ensure a stellar celebration closes the day.
Teams of four are encouraged to dress-up in their finest Canadian themed gear  and should wear comfortable footwear, as the hunt will have them scan 7 unique Ottawa neighbourhoods, visit dozens of iconic landmarks and sites, and span up to a 3 km radius from City Hall. Early Bird Tickets will be available at a discounted rate of $100 +tax (per four participants) while supplies last. Visit http://www.escapemanor.com to get your tickets now.
Location: 1280 Douglas Street Victoria BC, V8W 2E5
Phone: 778.433.4743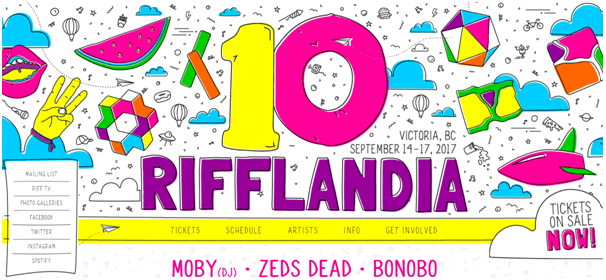 Rifflandia  is a festival that celebrates music and art in Victoria, British Columbia from September 14th to 17th and this is the 10th year to celebrate the four day festival. There are great events celebrating the art and music of British Columbia. The best to enjoy is local food, beverage, art, music and design companies including a diverse lineup of internationally renowned rock, pop and indie musical acts. This year's lineup includes: Moby, Zeds Dead, Bonobo, Hot Chip and more.
Location: PO Box 991 Charlottetown, PE C1A 7M4
Phone: 1-866-955-2003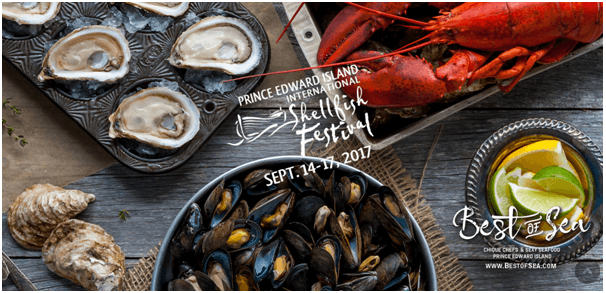 Prince Edward Island International Shellfish Festival is held in Prince Edward Island from September 14th to 17th. This is a four day festival held at the background of beautiful landscapes, gorgeous lighthouses and, most of all delicious seafood of Prince Edward Island. Come to dance, enjoy music and enjoy dishes from sea from the great chefs that participate and give live demos on cooking sea food.
Location: Suite 100, 8 Church St, St. Catharines, ON L2R 3B3, Canada
Phone: +1 905-688-0212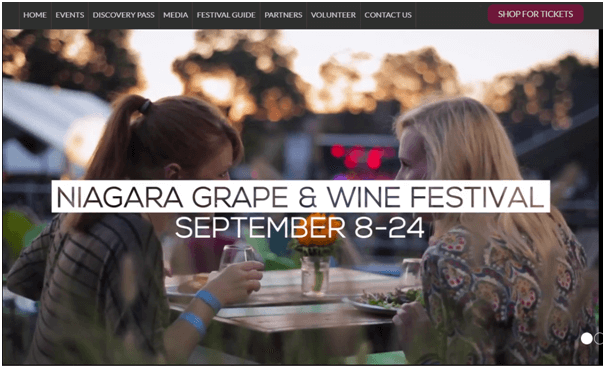 Niagara Wine Festival 2017 will be held at Ontario on September 8th to  24th The Niagara Grape & Wine Festival offers over 100 events including cellar door experiences, concerts, fresh local food, street parades and more. The hub of the Niagara Grape & Wine Festival can be found in historic Montebello Park in downtown St. Catharines. One of the oldest and most beautiful parks in the Niagara region comes alive for two weekends in September. A celebration of Niagara and the bounty of harvest, the Montebello Park food and wine experience truly showcases all that the region has to offer. Experience regional cuisine presented by top local chefs and sip and savour VQA wines while enjoying Canadian talent on the Centre stage.
Location: 671 Rue Maple C.P. 1580  Sutton J0E 2K0
Phone: 1-866-538-2545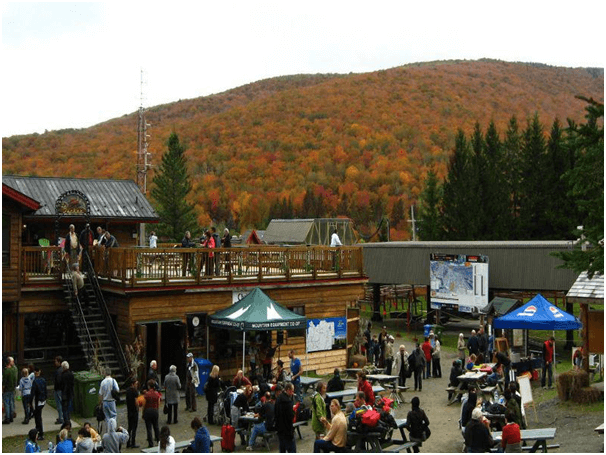 Mont Sutton Fall festival is held in Quebéc on September 16th to October 15th During five weekends, you can take in autumn and all its beauty here. Go for hiking, admire nature and even ski on slopes and take full advantage of the fall season, with fresh air to breathe  and enjoy the stunning views the Eastern Townships. There are chairlift rides, guided hikes, activities and crafts for kids, mountain bike trails and outdoor concerts with live singers to enjoy.
8. Culture Days Festival
Location: 245 McDermot Ave #300, Winnipeg, MB R3B 0S6, Canada
Phone: +1 204-942-8221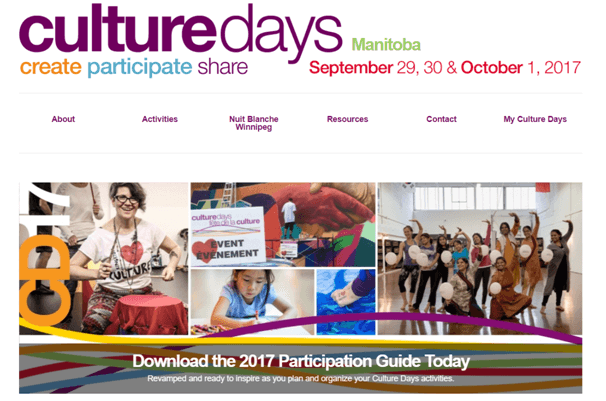 Culture Days Festival is held in Manitoba between 29th September to October 1st Culture Days Manitoba is a collaborative pan-Canadian volunteer movement to raise awareness, accessibility, participation and engagement of all Canadians in the arts and cultural life of their communities. The 8th annual Culture Days weekend is September 29, 30 and October 1, 2017 and will feature thousands of free, hands-on, interactive activities that invite the public to participate "behind-the-scenes," to discover the world of artists, creators, historians, architects, curators, designers and other creative people in their communities. Check out the 2017 activities here.
Location: Jasper, AB T0E 1E0, Canada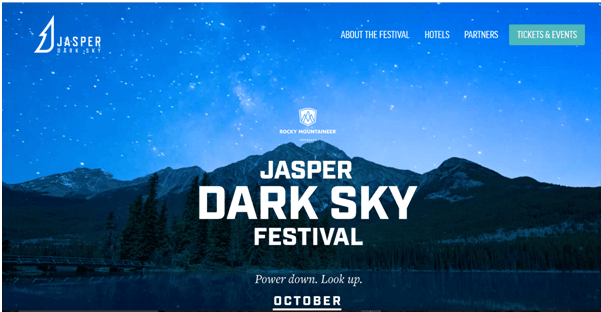 Jasper Dark Sky Festival will be held in Alberta from October 13th to 22nd This year also Niki Wilson will  host the Jasper Dark Sky Festival for the fourth time. Designated a Dark Sky Preserve in 2011, Jasper's limited light pollution creates ideal conditions for stargazing in the dark sky. You can also enjoy a Symphony Under the Stars, photo tours and a keynote speech by space science power duo Brian Cox and Phil Plait.
Jasper is the largest National Park in the Canadian Rockies spread on an 11,000 square kilometre swath of untamed wilderness. A designated Dark Sky Preserve and part of a UNESCO World Heritage Site, Jasper National Park welcomes all those prepared to venture beyond.
he 2017 Dark Sky Festival presented by Rocky Mountaineer highlights two featured weekends packed with events, speakers and activities that promote science, space and conservation, The Stellar Vibes and Dark Sky Science
Location: BMO Centre, Calgary, T3C 1C9, Canada
Phone: +1 403-228-0777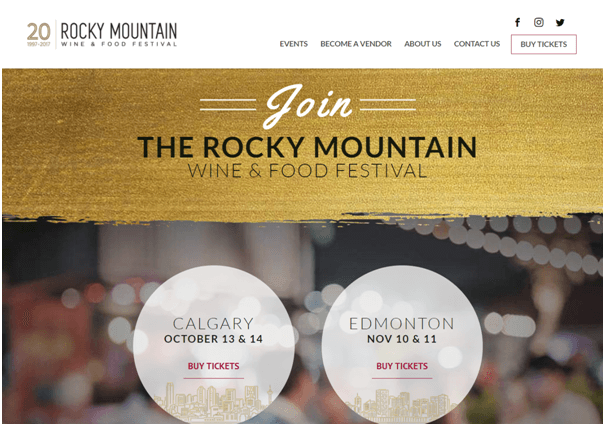 Rocky Mountain Wine & Food Festival will be held on October 13th to 14th  in Calgary, Alberta and from November 10th to 11th  in Edmonton, Alberta This festival started 20 years ago by three rag-tag friends working as beer brand reps in Ontario. After attending beverage trade shows out east, it struck them that they could do the same thing out in Calgary, where such an event didn't yet exist. Then in 1997, the first annual Rocky Mountain Wine & Food Festival was hosted, with 30 booths and 1000 guests. You can enjoy an array of delectable dishes and sip on delicious wines, beers, and spirits. The festival only admits all over 18 years so take note of that when visiting this festival.
Location: 7 Benton Street,  Kitchener, ON, N2G 3G9
Phone: (519) 570-HANS (4267)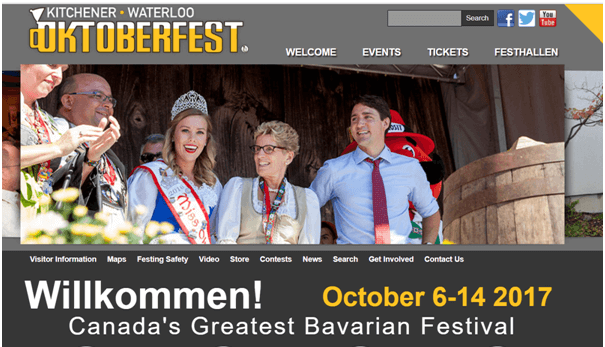 Oktoberfest  festival will be held in Kitchener-Waterloo, Ontario  between October 6th and 14th. The festival attracts over 1 million visitors each year. Enjoy this nine day festival with contest to win and celebrate with drinking dancing, eating and socializing in Oktoberfest celebrations.
Location: 850 Grand Lake Rd, Sydney, NS B1P, Canada
Phone: +1 902-562-6700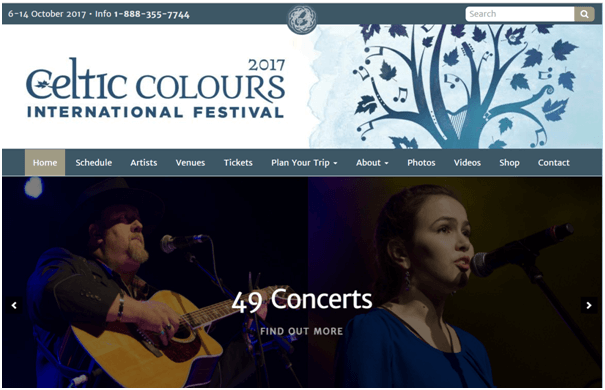 Celtic Colours International Festival is held in Cape Breton Island, Nova Scotia between October 6th to 14th For nine days in October, Cape Breton Island is alive with music, energy and excitement as people come from far and wide to celebrate Nova Scotia's rich culture. From concerts to dances and workshops to community suppers, you will find a full range of events against a gorgeous backdrop of autumn colours.
With all of these great festivals enjoy the full autumn bonanza before winter sets in and just awe in nature's transient seasons with beautiful colors spread across the landscape.