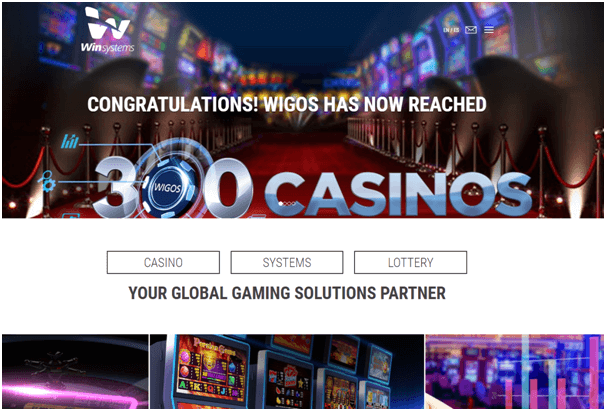 Recently it was announced by Win Systems gaming technology in Canada that for the first time Casino Management System called Wigos will be installed at casinos. The first Wigos installation in the country has taken place in one of the best Canadian Venues the Magic Palace Casino in Kahnawake Montreal.
Win systems is the leading technology supplier for the gaming and entertainment industry. With this installation, Win Systems continues its unstoppable growth. By the end of 2018, Wigos had reached 300 casinos. With this installation the number already increases to 310 casinos, connecting more than 85,000 machines in 20 different countries around the world.
About Win Systems and Wigos
Win Systems is a leading technology supplier providing management solutions, electronic roulette and slot machines to the casino and lottery industries Win Systems has grown to operate in more than 60 countries worldwide, with a multi-channel service offering across hundreds of venues of different sizes and across multiple regulatory jurisdictions.
Wigos is a leading Casino Management System (CMS) in the Latin American market, with a strong install-base in Mexico, where WIN interconnects thousands and thousands of Electronic Gaming Machines in over 50 casinos in more than 15 cities, and has firm agreements for the installation of thousands of additional machines.
Wigos offers a complete and scalable suite of tools ready at your fingertips to manage slots and live tables in casino operations of all sizes. It is a powerful yet easy to use solution, with integrated features that cover every aspect of casino operation: from accounting, reporting and statistics, to advanced marketing and bonusing. It also includes on-the-spot business intelligence tools for real-time floor optimization and in-depth data analysis. This Casino Management System encompasses all operations with gaming machines and tables; in Cashless, TITO or MICO. The hundreds of casinos all around the world that have been using Wigos for years are a testament to the reliability of the system, and they offer highly trained 24/7 Customer Care team to help you.
Following are the best features of Wigos Casino Management System
Connectivity, consolidation and integration of multiple casinos.
Intergation of operations of table games with chips and cage
Exclusive tools for mobile and tablets like Intellia and iStats
Multi tier loyalty program for slots and table games
Multiple promotions to reward players through powerful segmentation
Attractive mystery type jackpots
Complete raffle management for Keno and Bingo tickets or sractchies
Audit trail of all players and system actions
Online real time slot machine alarms and system events
For accounting real time recording and tracking of slot meters, cash, TITO tickets and chips
Win Systems, has launched Winstats, a unique addition to its established casino management system Wigos. The app has been specifically designed to allow for casino management to intuitively track key real-time and historical data on their mobile devices while away from a venue. At present, there is no other product on the market which combines the functionality and depth of real-time data that Winstats does on a portable device and away from the casino establishment.
Winstats leverages Win Systems' expertise in data collation and display, allowing users to filter data by both venue and vendor, with output then displayed as interactive charts and reports.
The app is fully integrated with Win Systems' casino management system Wigos, ensuring a secure and immediate transfer of data from casino floors to the user's mobile device.
The Magic Palace Casino Canada with Wigos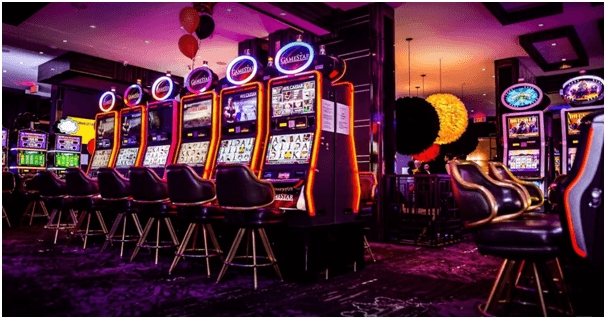 The Magic Palace Casino is located in Kahnawake, only 15 minutes from downtown Montreal and 5 minutes from the Mercier bridge on south shore of Montréal  in the indigenous Reservation of the Mohawks and is considered one of the best casinos in Canada thanks to its firm commitment to the best gaming experience, combining the best service to their players with the most cutting-edge machines and games in the sector.
This casino also has been awarded as the best payout casino in Canada and offers the best-in-class electronic gaming devices (also called E.G.D). Its supreme engineering, high-resolution screen and game-driven lighting effects will enable you to experience these world-renowned games. There are over 300 slot machines to enjoy here. Also enjoy Keno games as well as Poker tables.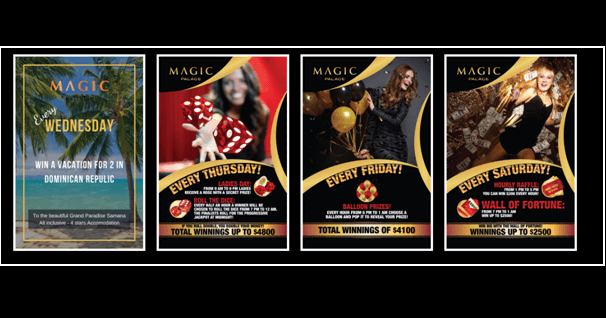 There are many ongoing promotions to grab here when you play slots. Also you can take part in their hourly raffles on Sundays where you can win over C$5000 and more prizes.
While playing slot machines if you feel hungry then enjoy best food and drinks at their Mirela's Restaurant where you'll find a menu with all the freshest quality ingredients that consists of mouth-watering dishes fresh off their fire grill, and taste traditional wood burning pizza oven that will cover all palates desires.
Also the casino offers complimentary drinks like alcoholic ones with house wine, beer and speed rack alcohol. Or enjoy soft drinks, Tea or Coffee. Also have complimentary brunch from Monday to Sunday which is served between 9 am to 1 pm at the casino.
According to Eric Benchimol, CEO of Win Systems, it was a  pride and honor for them that a casino of the prestige of the Magic Palace has decided to bet on their CMS Wigos, especially when it's the first installation in Canada.
You can visit Magic Palace casino at 247 Rte 132, Kahnawake, QC J0L 1B0, Canada. Also call them at  +1 450-638-4555 to know more about the casino.
Our powerful Casino Management Systems WIGOS has now reached 300 CASINOS! Congratulations to the whole Win Systems family for such an amazing achievement!#teamwork #celebration #congratulations #300casinos #casino #wigos #innovation pic.twitter.com/MALmJ1m4yX

— Win Systems (@Win_Systems) January 14, 2019