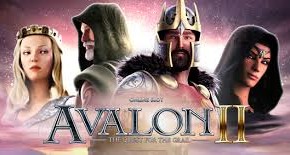 We all love the Avalon slot available from Microgaming, in fact it is one of the biggest online slots available at the online casinos, but soon the new Avalon 2 is going to be launched and will really push the boundaries of online slot gaming.
Avalon 2 follows the legendary story of King Arthur and delivers a master punch in the King Arthur storyline to make this more than simply a casino slot. Avalon 2: The Quest For The Grail is going to be huge once its released.
Avalon 2 Launch
The launch date for Avalon 2 looks set to be in February so those of you getting really excited will have to wait a little before you can embark on playing Avalon 2: The Quest For   The Grail and immerse yourself into the story of King Arthur.
Jackpot City Casino has been chosen as the launch pad for this slot, a major coup for one of the top online casinos available. Jackpot City Casino is truly happy to be the chosen casino and is pulling out all the stops to ensure the launch is fully loaded and maximised to the highest level.
Avalon 2 The Quest For The Grail
When you log onto the Avalon 2 game, you get to choose one of five characters to play as. These characters include the big man King Arthur, Merlin the wizard, Guinevere, Morgan and an elusive character that we know as being called the Black Knight.
The storyline sees you trek across the old world of Britain in search of the grail.
The sound effects and the 3D effect graphics combine to deliver a truly special experience and entices you to play this amazing slot more and more, you will just have to wait until February to try it out though.