If corona is stopping you from going out frequently and you don't know how to spend time, here are the most popular 5 slots with huge jackpots that you can play in Canada from the comfort of your home.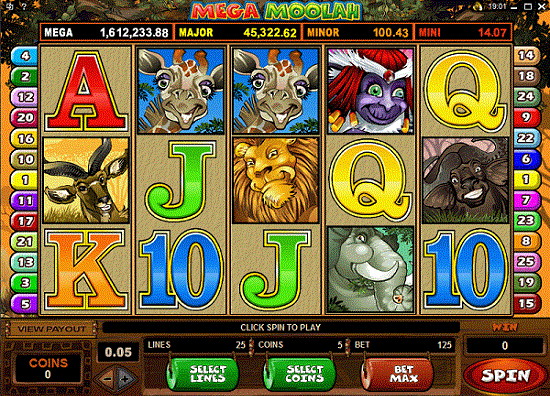 It is a popular video slot game with a progressive jackpot. This colorful game offers a colorful portrayal of the jungle, authentic-sound effects, and music.
This slot is popular for its huge progressive jackpots. It features endearing symbols like friendly jungle characters, such as a giraffe, lion, zebra, elephant, and more. Similar to other Microgaming slots, this game is easy to play with large buttons that are easy to find and click to customize your bets.
Mega Moolah Jackpots
You can select the coin values ranging from 1 to 5 cents. Apart from the progressive jackpots, you can win a large amount in the standard game with the base jackpot of 15,000 coins. With free spins and wilds, you can keep coming back for more jackpots within the game which is a whopping 225,000 coins.
Mega Moolah Jackpot Rules
To get the base jackpot of 15,000 coins, you need to land five of the "wild lion" symbols on a single active payline. Your jackpot can be multiplied by the number of coins you are betting per line. Greater the risk, the greater your reward will be while playing this game.
Mega Moolah Progressive Jackpots
This slot has four progressive jackpots. The Mega Progressive jackpot starts at $1 million prices. The Major Progressive starts at $10,000 and the Minor and Mini Progressive jackpots start at $100 and $10, respectively.
To win a progressive jackpot, you need to play a "spin to win" bonus game. Now, you can be selected to spin at any time, even after a loss. On betting more your chances of getting selected increase.
Mega Moolah Symbols and Free Spins
The wild lion symbol serves as the wild symbol. It can replace any symbol in the game, except the scatter symbol. Monkey is the scatter symbol and it can bring you good tidings to the tune of 15 free spins when you land 3 or more monkey symbols in a single spin. During free spins all of your wins are tripled, which means you can win up to 225,000 coins if betting the full amount when you get five wild lions during free spins.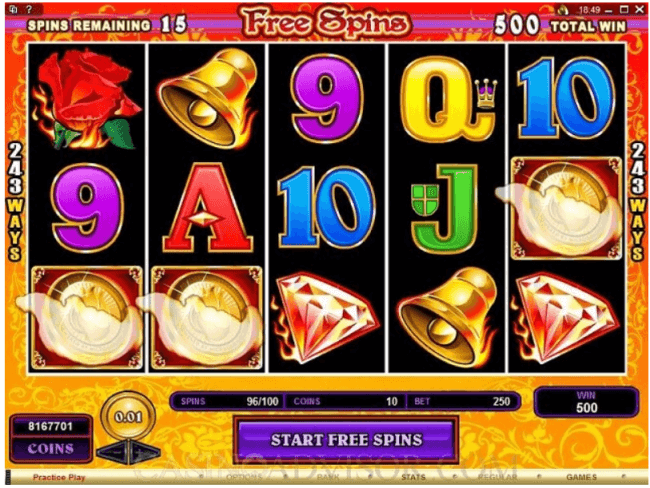 burning desire slot with jackpot
It is a simple, classy theme attached to a 5-reel slot produced by Microgaming. It utilizes the 243 ways to win technology that gives you plenty of ways to rack up some coins. Burning Desire features recognizable symbols like a bell, red rose, bell, gold coin, diamond, and others to make the game quite easy to start playing. The screen is clean without a lot of clutter, even with access to options, betting amounts, and other buttons available at all times.
Burning Desire Coin Values and Jackpots
In this slot, you can choose coin values of 1 cent, 2 cents, 5 cents, 10 cents, 20 cents, 25 cents, 50 cents and $1. You can bet for a maximum of $250, which should be sufficient for almost any online player's needs.
The largest regular jackpot is 3,000 coins, though you can win a maximum of up to 90,000 by playing the maximum number of coins and lucky to have the right combinations. During free spins, even larger wins are possible.
Burning Desire Special Symbols
The Burning Desire symbol is the wild symbol, which can substitute for any symbol but the wild only appears on reels 2 and 4 in this game. This Burning Desire Heart can replace every symbol, except scatter and double your winnings. You can win up to 30,000 coins on wilds alone.
Golden coins make for the scatter symbol and can give you free spins if you get at least three of them on any spin. During 15 free spins, it can be re-triggered, your wins are tripled, where you can win a jackpot of 90,000 coins.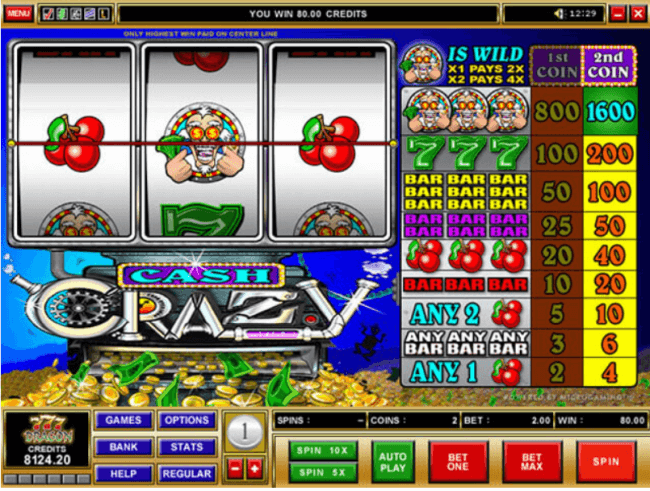 This slot game is also one of the 5 Slots Jackpots to Play. A Microgaming game which is a simply-styled and can provide great games despite being just one payline slot.
It's a just a 3-reel, 1-payline slot game. Up to two coins are playable for the one payline offered. It accepts a maximum value of $5 per coin, this means that the maximum bet per spin is $10. The wild symbol is a broadly grinning, rather insane looking gentleman.
Cash Crazy Coin Values and Jackpots
You can set the coin value at a minimum of 25 cents and the maximum is $5 per coin. The jackpots are valued at numbers of coins, so the larger the coin value for that particular spin, the more you have the chance to win the jackpot.
The jackpot is 1,600 coins. Therefore, if a Canadian player spins with the coin value at the maximum of $5, a possible win of $8,000 could appear with a jackpot spin.
Cash Crazy Jackpot Rules
As this slot is a very simple game with just one payline and three reels, the jackpot rules for winning are also simple. You just have to match three of the wild symbols on the one payline, and you can win the Cash Crazy jackpot.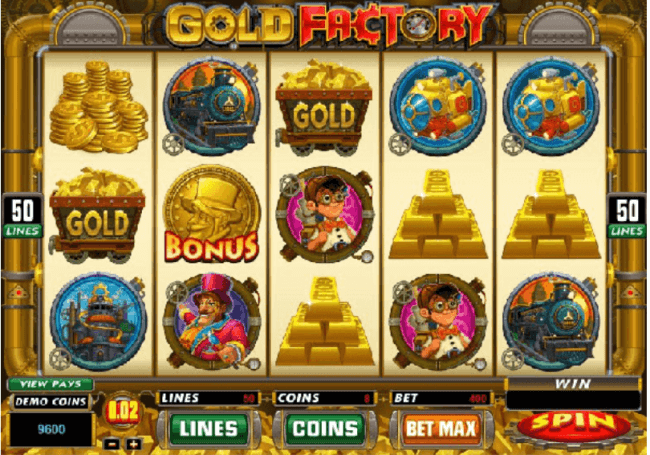 This is also one of the top 5 Slots Jackpots to Play in Canada. It is an appealing original video slot game from Microgaming. The symbols include the game's logo, a rich man, a hot air balloon, a train, a cart full of gold, a pile of coins, and more. You will find some of the animations to go with the upbeat music that will provide the perfect backdrop to an enjoyable experience.
Gold Factory Coin Values and Jackpots
Though the coin values are comparatively low in this game, it is similar to video slot games because you can bet so many coins per spin. The values start at 1 cent to 10 cents as a maximum coin value.
The standard jackpot is 7,500 coins, which means you can win $750 if you have the maximum coin value when you bet. Changing coin values and betting multiple numbers of coins per line can change the jackpot amount, as well.
Gold Factory Jackpot Rules
On landing five Gold Factory logos, you can win the jackpot of 7,500 coins. The scatter jackpot value is one of the highest in the industry at 10,000 coins. With bonuses and the right circumstances, you can win hundreds of thousands of coins in this game.
Gold Factory Special Symbols
The wild symbol is the Gold Factory logo, while the scatter symbol is the gold coin, with which you can either win a nice amount, enter the bonus game, or both. At first, you'll get a free spins feature where according to your choice, you can get between 10 and 35 free spins, with your earnings doubled in the duration.
Gold Factory Bonus Features
Gold Factory features two bonus games. In the Gold Factory game, you choose four hoppers in a boiler room that have gold on them. You can win up to a whopping 619,000 coins.
The Reactor Bonus is the other bonus feature. You have to move them and get bonuses until you choose a malfunctioning point, of which there are two in the reactor. You get a compensatory payout as per your performance and bet amount.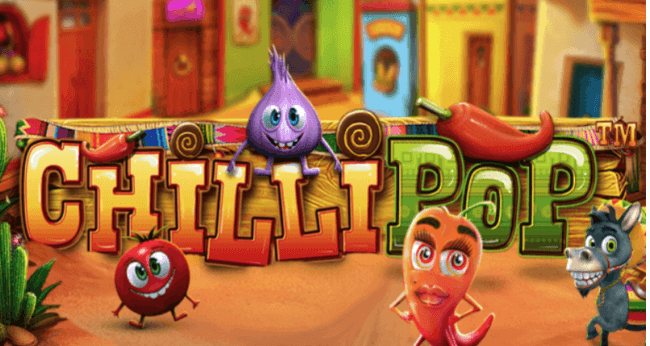 Based on a Mexican themed game that features a Mexican village whose inhabitants are made of various chili ingredients.
Bonuses
The bonus features are the most attractive ones. The wild symbol is piñata in this game. Other than the scatters it can substitute all regular symbols. With wild piñata in your combination, it will multiply your win by the number of piñata wilds +1. Apart from this, you will also earn a special bonus in case you land lots of piñatas simultaneously. You can also hit a jackpot worth 1000x your total stake in this way.
Chilli/Mexican Symbols
The symbols of this game are the core of this slot which is based on smiling vegetables. You can see green, red, orange, and yellow peppers. It is garnished by red onion, tomatoes, green onion, and garlic. Pinata, which is a wild symbol, can replace all the vegetable symbols on the reels. The scatter symbol is a pack of mules.
You can activate the free spins with the three-pack mules land on the reels. Get five spins for free, which can go up to 26. You can get an added casino bonus in the form of a buy-in feature. This is one of the 5 Slots Jackpots to Play in Canada.
Synopsis
These are the most popular 5 Slots Jackpots to Play in Canada offering huge jackpot wins which you can play in 2020.