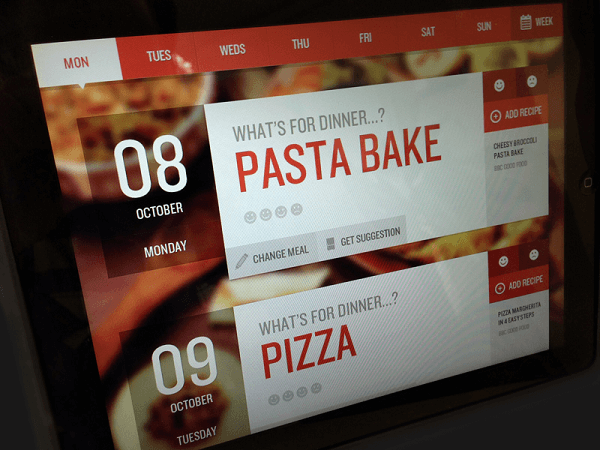 Thanks to the tidal wave of new health apps, staying on top of your diet has never been easier. Since summer is approaching fast, most of us want to trim off a few pounds before we are forced to wear bathing suits in public. If you are struggling to lose weight & don't have the money to hire a personal trainer, don't give up. Luckily for us there are massive amounts of innovative meal planning apps that have the potential to revolutionize the way we diet. Gone are the days of mindlessly consuming calories or having to hire someone to berate you into changing your diet. Let your smartphone do the work by harnessing the power of these amazing apps. We know that choosing between the never ending sea of apps can be a daunting task, which is why we did our own research to give you the 5 best meal planning apps on the market. Quit being a victim of poor planning by taking control of your diet with these apps!
App #5: Pepperplate – Pepperplate is an innovative app designed to eliminate the indecision that comes with meal planning. They let you choose between their immense library as well as allowing you to add recipes of your own. Once you have accrued enough recipes you can then set up your own menus that are tailor made for your schedule. Pepperplate creates grocery lists for you to make your dieting adventure go as smoothly as possible. From the grocery store to the kitchen, Pepperplate has you covered. With this app you have all the resources you need to easily make meal planning an enjoyable part of your life.
App #4: Cook Smarts – What makes this app stand out from the rest is that it encourages you to try new foods & expand your appreciation for cooking. For $6 a month this app is the key to an interactive community of like-minded people who are discovering their new passion for food. In their forum everyone is in different phases of their quest for the perfect meal, which is exactly why this community is appealing to such a diverse community. You can share new recipes as well as watch videos & learn new cooking methods. Cook Smart opens up doors to methods & recipes that will revolutionize the way you eat.
App #3: Ziplist – Ziplist started off as a grocery list organizer & quickly evolved into one of the most versatile meal planning apps available. Even though this app's strong point is still grocery lists, it packs quite a bit of surprises. It also serves as a recipe organizer, &meal planner, which gives you the freedom to customize every aspect of your meals. The ease of using this program will reinvigorate your passion for cooking. Throw in the fact that it researches available discounts at the stores you shop & you have an app that's truly a game changer.
App #2: Plan to Eat – For those of you who don't want to squint your eyes at your smartphone screen every time you cook a meal, this app is for you. For now it's exclusively available for computers, but a mobile version is already in the making. Managing your diet is a whole lot easier when the details are enlarged on a big computer screen. Plan to Eat's ridiculously easy to use drag & drop style makes planning your meals a breeze. The service costs $5 a month, which is a worthwhile price for such a powerful program. You also have a free trial option to try it before you buy it, making it perfect for those who fear commitment.
App #1: AllRecipes Dinner Spinner – This app is dedicated to alleviating the stress that comes with finding & preparing new meals. They complete this mission by letting you select meals that are compatible with your busy schedule. You can adjust your meals based on your preferences, allergies & available cooking time. You can also use its web component to print out your weekly itinerary, recipes & grocery lists so you can hang them on your fridge. Shockingly this remarkable app is completely free, so you have no excuse not to try it!