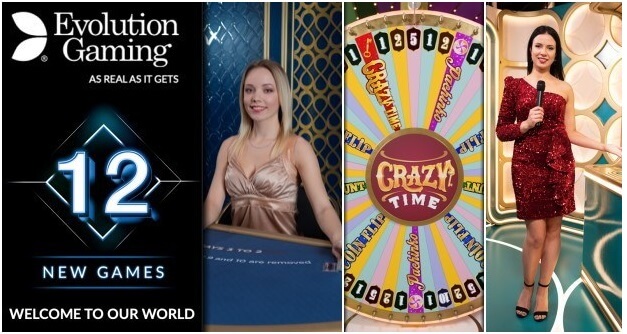 Evolution games are popular live casino games available at online casinos of Canada.  Lately there are 12 new games released by this gaming company for Canadians to enjoy them with live dealers in real time with real CAD. These games were announced at a recent ICE event in London which are a huge mix of classic games and the ever-popular game show style games.
12 new live games released by Evolution games
Here is the list of 12 new live games released by Evolution games and now are available to play at Canadian friendly online casinos.
New Multi-Player Games (Live):
Live Craps – industry's very first live online craps game.
Crazy Time – Evolution's craziest wheel game, packed with bonuses and multipliers.
Instant Roulette – world's fastest live casino game, featuring multiple auto-roulette wheels and unlimited time to place bets.
Lightning Baccarat – Classic baccarat with Evolution's famous Lightning-strike multipliers.
Mega Ball – innovative lottery/bingo game with up to 1,000,000x Mega Ball jackpot.
Power Blackjack – forget doubling down; players can triple or quadruple their bet on the first two cards.
Speed Blackjack – standard blackjack with lightning fast pace and no waiting for other players.
New First Person Games (RNG):
Baccarat
Craps
Dragon Tiger
Football Studio
Mega Ball
7 outstanding new games from Evolution
1. Mega Ball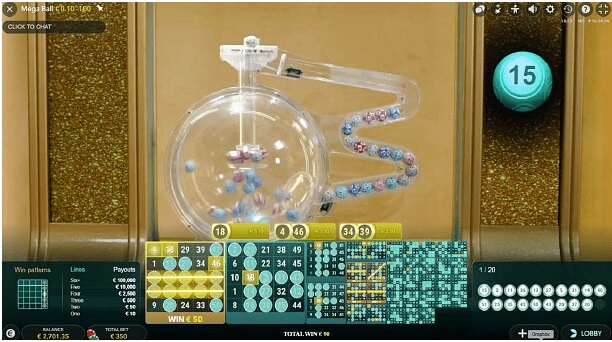 Mega Ball is a unique, entertaining and fast-paced game show, featuring one or two Mega Ball bonus rounds in which you have the chance to win even more with added multipliers! It's all about getting as many lines per card as possible —the more lines you get, the more you win! This new game is the combination of the familiar bingo-style game mechanics with lottery bouncing balls to create a unique and thrilling online live dealer variant, with all the elements of a world-class casino game show. So this unique new game is for the lottery and bingo lovers! You'll get a chance to trigger wins of up to 1,000,000x.
This dazzling game show, available exclusively from Evolution, is set in a vibrant and colourful studio, an environment that perfectly frames the main attraction, is their custom-built ball drawing machine, that houses the 51 multi-coloured numbered balls.
This exciting and fast-paced game is exceptionally simple to play. All players need to do is set the value of their cards and purchase their desired number, up to 200 per game round. The anticipation builds as they watch the balls drawn match with those shown on their cards, to make lines and potentially win!
In Mega Ball, 20 balls are quickly drawn individually from the automatic ball drawing machine. As the balls are released, the matching numbers on players' cards are automatically marked off. The cards are also automatically re-arranged in the user interface, with the one closest to winning placed at the top. The numbers the player needs in order to win will be highlighted above the cards together with possible winnings if these numbers were drawn.
When the last ball is drawn, a Mega Ball multiplier between 5x-100x is generated and the whole studio lighting is completely transformed, as well as the user interface highlighting the ideal numbers for a win, to build a sense of excitement and anticipation. If the Mega Ball completes a line, players' winnings are multiplied accordingly, with a chance of winning up to 1,000,000x!
There is a small chance for the excitement to continue with the draw of the elusive and rare '2nd Mega Ball', where players have a second chance of a big multiplied winning!
2. Craps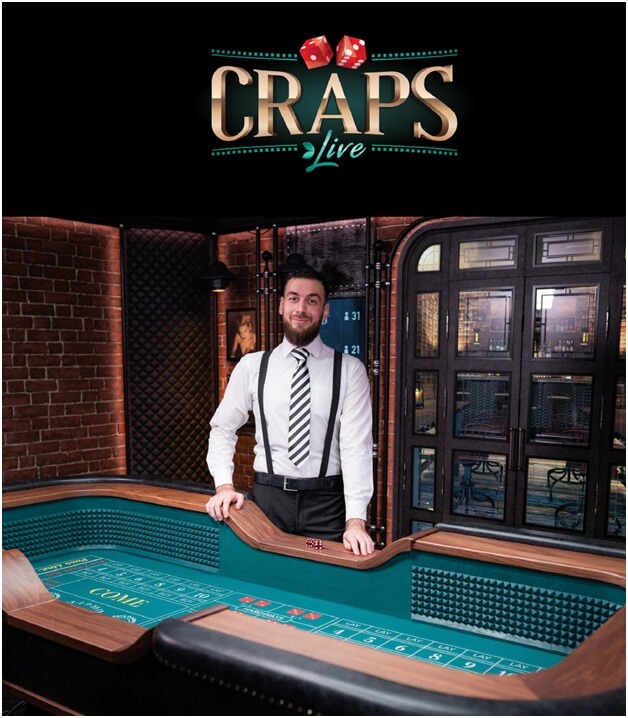 Evolution's first-ever live version of the popular dice game Craps. One key feature of the game is that players take turns in throwing two dice. Since you cannot throw the dice yourself in an online game, a launcher will do the honors for you!
Craps is different from other Live Casino games released by Evolution. In their other games, each bet is resolved in one game round. In Craps they talk of rolls instead of game rounds, and it often takes many rolls to resolve a single bet.
Evolution gamings Live version of Craps will make it easier for users to take the first step in learning how to play this entertaining and exciting game!
In Craps two dice will be thrown and what happens in the game depends on the value of these two dice. There are a lot of different kinds of bets in Craps.
Some bets are always resolved in one roll while others may take many rolls until they are resolved. The players will be offered a chance to place a bet every time the dice is rolled. There are two different types of dice rolls: Come Out rolls and Point rolls.
Each game starts with a Come Out roll. In the user interface there is a Puck that will be either black and say 'OFF' or white and say 'ON'. When the Puck is 'OFF', you know that the next roll will be a Come Out roll. If the Puck says 'ON' you will know that we are doing a Point roll. The type of roll will decide which bets you can place. Each game starts with a Come Out roll. You can tell that there is a Come Out roll in place since the Puck will say 'OFF'.
The player can place bets on Pass Line or Don't Pass at this point. The Pass Line bet is the most fundamental bet in Craps. It can take several rolls to resolve a Pass Line bet.
If the sum of the two dice in the roll is 7 or 11 – you win on your Pass Line bet. If the sum of the dice is 2, 3 you win on the Don't Pass bet, and push on the Don't Pass bet if the sum is 12. Either way, the bet is resolved and a new Come Out roll will start.
If any other total is rolled (4, 5, 6, 8, 9 or 10) that total is called the Point. The Puck is now changed to 'ON' and placed on an area of the table with that number to help players remember what the point is. The dice will now be rolled until either the same point has been rolled again, or a 7.
If you placed a bet on Pass Line you will win if the point is rolled before a 7. If you placed a bet on Don't Pass, you win if a 7 comes before the point. This resolves the bet and the game is finished. It's now time to start a new Come Out roll.
A Point roll will happen when the Point has been established during a Come Out roll. The player can see that it is a Point roll since the puck will say 'ON' and will be placed next to the points number.
The bets at this game include Multi-roll bets, One roll bets, Pass Line, Don't pass, Come, and Don't come bet. The Odds bet is made after a Point has been established. The number rolled will determine the payout.
3. Instant Roulette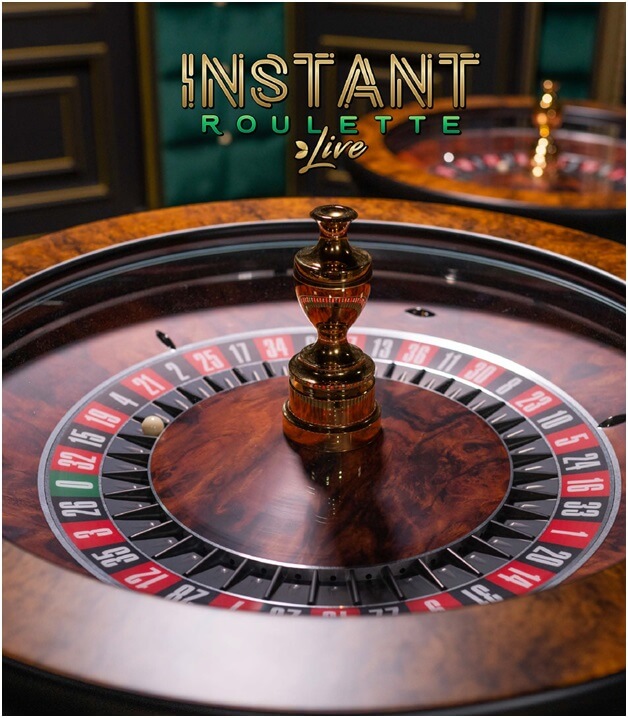 In Instant Roulette from Evolution gaming, you don't have to wait long for the result. You have unlimited time to place your bets. Click on the Play button when you have finished placing your bets. For the greatest speed, you can start a new betting round as soon as the results have been presented.
This game features unlimited betting time, 15- 18 seconds per game and is the worlds fastest live roulette.
Evolution offers various variants of Roulette game. Players enjoy a world-class live gaming experience. There's a choice of game views and rich features such as Chat, Game History, Statistics, Hot and Cold numbers, a personal Favourite Bets menu in which up to 15 bets can be saved, and mobile play that allows full-screen HD video.
For operators the opportunities to drive incremental revenue and extend the gaming floor are massive. Scalability means thousands of concurrent players can enjoy the live games on multiple devices – and players on mobile have access to all tables for any mobile-enabled game, not just one or two tables. Evolution Live Roulette can also be wrapped in an App for proven uplifts to KPIs, and integrated with land-based casino operations as an on-premise solution.
The other roulette games you can play from this gaming developer are Immersive Roulette, Live Double Ball Roulette, Mini Live Roulette and others.
4. Power Blackjack
Power Blackjack is a game variation based on Evolutions gamings regular Blackjack and their Infinite Blackjack.
Players can now multiply their winnings compared to regular Blackjack. In every game round, you can choose to double, triple or quadruple a bet on any two initial cards, even after a split! The dealer will also check for Blackjack on J, Q, K, and Ace. Power Blackjack comes with four side bets: 'Hot Three', '21+3, 'Any Pair' and 'Bust It'. There is no Six Card Charlie rule.
This game features Multiply (2x, 3x, 4x) the double down bet on any two initial cards, Multiply (2x, 3x, 4x) on Split hands and has a theoretical payout: 98.80%
To play power blackjack you can Double down, triple down or quadruple down on any two initial cards., Multiply your double down bet on split hands and enjoy multiplied winnings.
Like regular blackjack but you'll have the chance to bet on any two initial cards and a chance to triple or quadruple your bet.
Evolution has standard seven seat Blackjack offers the largest number of standard and VIP tables from a single source for players on multiple devices. It's the fastest, slickest, richest-featured regular online Live Blackjack game anywhere. Endlessly entertaining, with added-value features such as optional 21+3 and Perfect Pairs side bets, plus initial decision, Bet Behind and a 'DEAL NOW' button to quicken the pace and pulse still further and add huge scalability. Our friendly, professional dealers greet players and interact throughout the game. Players take their virtual seat and try to achieve a hand that's closer to 21 than the dealer's hand. It's really simple to enjoy the game with its choice of optional Insurance, Double Down and Split Pair bets. Live Blackjack tables include a wide range of tables from low stakes up to VIP to suit all player types.
5. Speed Blackjack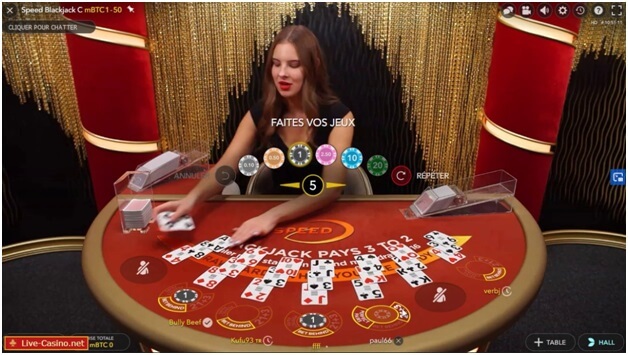 Evolution's Speed Blackjack follows the same rules as its regular Live Blackjack but with a key difference – the dealing order when it is time for the player to make their decision. In the new Speed version, each player's first two cards are dealt as normal. Then when the dealing of those initial two cards is complete, all players are simultaneously offered the opportunity to Hit, Double Down or Split. The player who makes the fastest decision will get their next card dealt first. This dealing pattern continues until all players have made all of their decisions and all required additional cards have been dealt.
Evolution Live Blackjack is the fastest, slickest, richest-featured online Blackjack game available anywhere. Everything's optimised perfectly for the best possible playing experience on desktop, tablet and smartphone – and on the largest selection of live tables or at dedicated tables created exclusively for any operator.
The numerous Blackjack variants meet the needs of both experienced and new players. Providing even further choice and variety are unique new takes on Blackjack. Most Blackjack tables are based on regular seven-seat Blackjack with the option to Bet Behind, while all  games in the Infinite family offers unlimited seats at the table.
6. Lightning Baccarat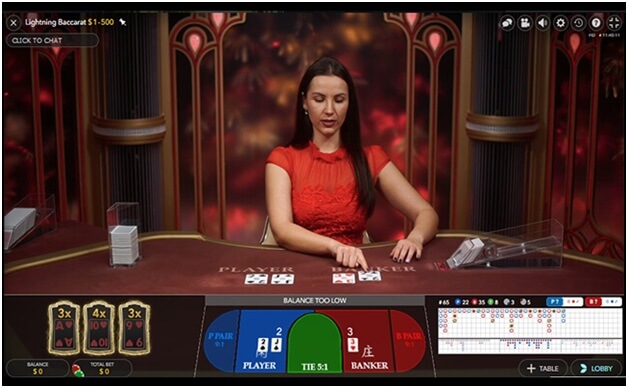 Just like their multi-award-winning Lightning Roulette, Evolution Lightning Baccarat is a unique take on a casino classic, super-charged with RNG-based Lightning Card multipliers in every game round. Lightning Baccarat positively crackles with thrilling lightning and sound effects, adding up to a totally electrifying gaming experience for your players. Exclusively from Evolution, Lightning Baccarat is like no other Baccarat game players have ever seen. Set in an eye-catching black and gold Art Deco game show-style environment, it's as visually stunning as all of their Lightning games.
Similarly, Lightning Baccarat also adds high-payout RNG wins to the already massive appeal of Asia's favourite casino table game. Players bet on Player, Banker, Tie and side bets, just as they do in regular Baccarat. Lightning Baccarat also features live betting statistics and a choice of roads, making it as endlessly engaging for experienced players as it is for new players.
As there is the opportunity for massively multiplied winnings in Lightning Baccarat, a 20% Lightning Fee is added to each player's total bet and this is visible in the game's user interface.
In Lightning Baccarat every game round features 1–5 randomly generated Lightning Cards drawn from a virtual 52-card deck, plus randomly generated payout multipliers. If the player wins on a hand and has one or more matching Lightning Cards, the winnings are multiplied accordingly (from 2x to 8x). However, the multipliers can go a lot further than that! With three matching Lightning Cards in a player's winning hand the total winnings could be multiplied by as much as 8x8x8 (512x)! Even more exciting, a winning bet on a Tie with six matching Lightning Cards can result in a multiplier of 262,144x! In fact, winnings can keep on multiplying up to a cap of €500,000 plus the player's bet.
7. Crazy Time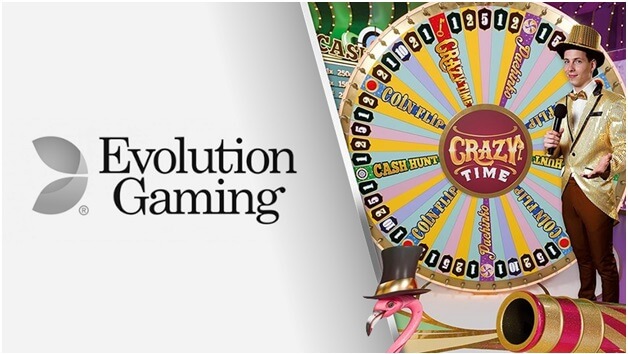 Crazy Time is a new Live Casino game which has 4 different bonus rounds. The first bonus round is Pachinko which is similar to connect 4 and pinball and comes with unlimited doubles. The second bonus round is Cash Hunt which has a game show theme and gives players a chance to win up to 25,000x. The third bonus round is Coin Flip which has the ability to pay out 5,000x. Lastly, Crazy Time is the fourth bonus round which displays the biggest dreamcatcher in front of a funky background. Crazy Time comes with an RTP of 95.5% and has the ability to pay out 160,000x!
Crazy Time is the name of the game, but also the name of a bonus. It's a massive wheel that can score up to 200x in a single go. It can also draw a double, which doubles the prize of your future win! The large wheel has three flappers, and players pick between them. The flapper you choose is the prize you'll win at the end of the round.
Pachinko reveals a large purple screen, with prizes at the bottom. Evolution's release will randomly pick what tile to drop the ball from. The ball does not travel straight down. Instead, it bounces left and right, so there's no guarantee which prize you'll win!
One thing that immediately stood out to us just how dense the new wheel was! It's very colourful, and each colour represents a different type of win you can land. You have blue 1x, a yellow 2x, a pink 5x, and a purple 10x. All of these cash tiles are frequently interrupted by different special feature tiles players can land on to trigger a bonus.
Betting works the same way as it used to with Dream Catcher. You place your bet on the number you think is going to land on the wheel, and receive it as a prize. As an example, if you bet for 10x to be drawn, then Crazy Time would award us a 10x cash prize if the wheel draws that number!
You can also bet on one of the four special features this game can offer. You have to bet on each one to be eligible to score it. If you didn't bet on a bonus, you will not be able to play it when it's drawn. Evolution Gaming also claims you'll go into a bonus round every sixth spin, which undoubtedly increases the winning potential!
Provided there are no changes, you can expect the following special features to be ready for you come July! The first one to mention is the multiplier, which appears after every round. The multiplier can apply to any of the eight things you can bet on. That includes one of the four numbers or one of the four bonuses you can draw!
The first bonus to cover is Cash Hunt! It'll briefly show a screen full of multipliers before they're transformed into colourful symbols. The icons are then shuffled about, hiding the exact location of the multipliers. Evolution let you pick a multiplier in the most badass fashion possible: by blasting the playing field with a cannon!
Coin Flip is very basic in its premise. The coin has two sides: a red and a blue one, and each one will have a multiplier value assigned to it. Pick one of the two colours. The coin is then flipped; if you guessed correctly, you win the multiplier you saw on the screen.
Where to play live casino games in Canada online?
Playnow casino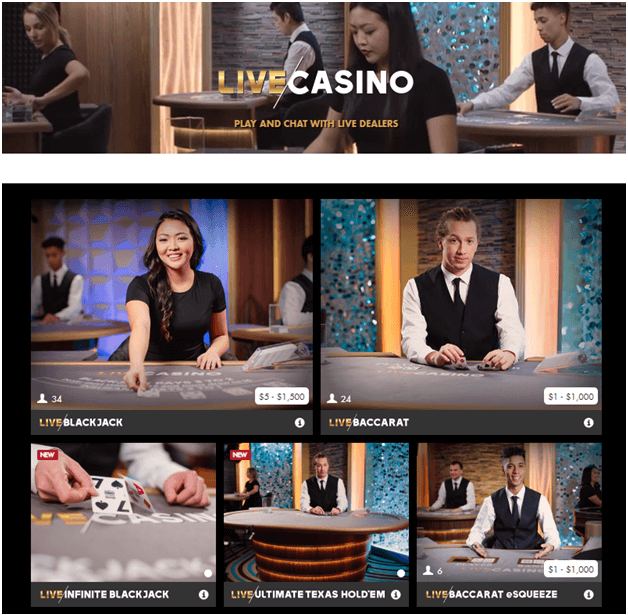 Enjoy Live Casino games which are streamed in real-time, where real dealers shuffle, deal and interact with Live Casino players. Play Live Blackjack, Live Roulette, and Live Baccarat and Live Ultimate Texas Hold'em even on your mobile. Click here to play now. Find more about this casino here.
Spin Casino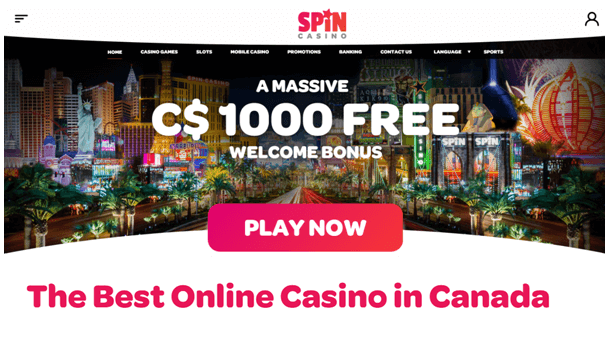 Spin casino is another best live casino accepting Canadian punters to play real live dealer games with CAD. With $1000 welcome bonus this casino is best for slots and sports betting too. Click here to play now.
888 Casino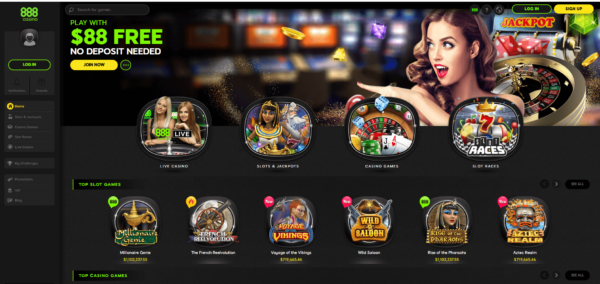 888 Casino Canada has an impressive selection of casino games available. Include Live Roulette, Live Blackjack, Live Baccarat, Live Poker, Live Dream Catcher, and the prestigious Elite Lounge. 888 Casino has crafted one of the finest live casino experiences. An ever-expanding range of live dealer games is available. Whatever your bankroll requirements – there's always a table with a seat waiting for you. Choose your favorite views of the action, from up close and personal immersive views, to classic views and 3D views. Click here to play now.
Casino.com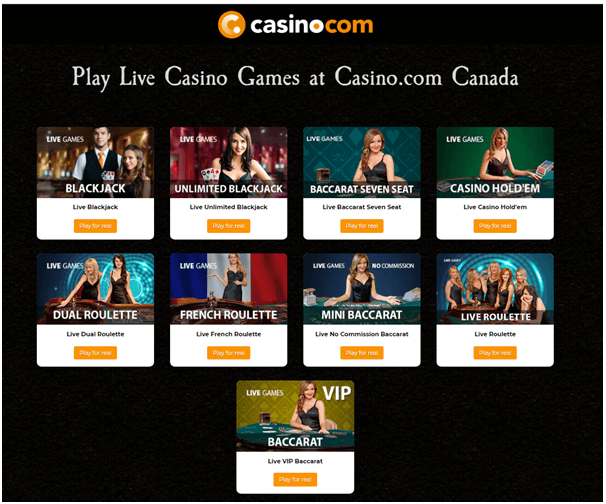 At this casino Live Casino games boast the highest quality video technology as well as professional dealers, dedicated to your needs. As you play, you can enjoy a range of special features including live dealer interaction, dealer-lead in-game statistics and winners' leaderboards.
You can also take advantage of various bonuses, exclusively designed for our casino players. Returning players can enjoy a variety of reload and games bonuses, while new players can claim a special tiered Welcome Bonus of 100% up to $400 (plus 200 free spins). To claim your Welcome Bonus, read and accept the terms and conditions when you make your initial deposit. Click here to play now
Leo vegas casino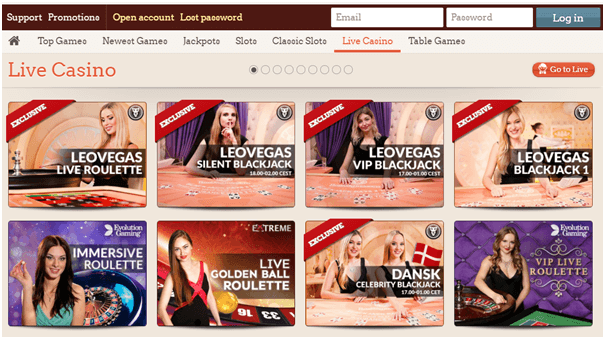 With live casino games streamed in real-time HD, live dealers, and players from all around the world, all that's left is for you to place your bet at your favourite table! LeoVegas is an online live casino featuring a huge variety of live casino tables. Whether you're a new player or an experienced high-roller, you're sure to find a new favorite table. Choose to play roulette online, blackjack online, baccarat and much more, including unique concept games such as MONOPOLY Live or Live Lightning Roulette. For that extra touch of class, head on over to  VIP tables or even exclusive personalized Chambre Séparée tables. Click here to play now
Casumo casino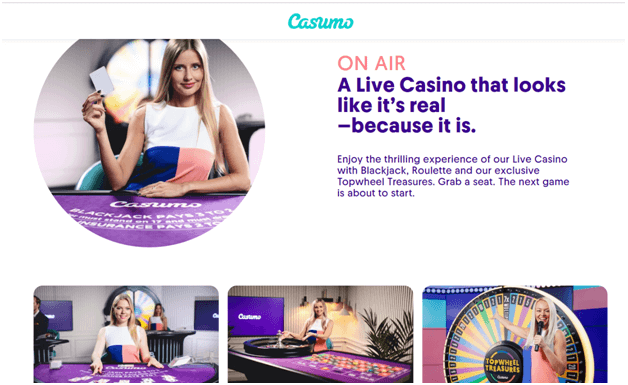 At Casumo enjoy the thrilling experience at Live Casino with Blackjack, Roulette and exclusive Topwheel Treasures. This casino has its own live studio, and supports playing games in the site using mobile phones. Almost all of its live games can be played online as long as the user's phone can handle the site. Games that are playable online through mobile includes Casumo Roulette, Dragonara Roulette, Auto-Roulette VIP, Casumo Blackjack, Blackjack Party, Casumo Hold'Em, and more.Click here to play now
Finally note that while playing in online casinos is a thrill, the feeling becomes even better when players play against real house dealers. This is what a live online casino is all about. Instead of playing against the machine a live online casino game involves competing against a real dealer. Live casino, is streamed live on the player's screen, allowing the player to follow the game in real time. You can chat while you play and have fun. Note that you need to have a good and stable internet or WiFi connection to play at any live online casino. Also unlike at online casinos, live casinos demand real money ply as live games are not available for free.