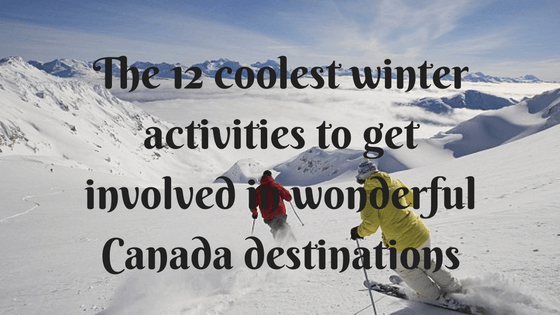 As you might have now happily embraced the New Year and still enjoying your holiday seasons still many of you might be attracted to the cool weather and snow outside. Obviously no one can deny that Canadians just love winter and snow. Neither you like to stay indoors all the time but you might be enthusiastic to rush outside to experience joys of the winter season. If you look around there are many wonderful Canada locations where you can explore the winter fun. Here are the 12 coolest winter activities to get involved in these wonderful Canadian destinations.
1. You can enjoy skating on Ottawa's Rideau Canal
This is one place where you will certainly love to skate as over one million skaters take the picturesque journey  each winter down the Rideau Canal's famous 7.8 km long Skateway. Yes it is this long and is equivalent to 90 Olympic-sized ice rinks, and is the world's largest too. It is opened in January for all skate lovers and you can enjoy till the end of February, sliding along the ice under the watchful gaze of Canada's impressive Parliament Buildings and Chateau Laurier hotel. Besides this in February you can enjoy the Winterlude, capital's annual winter celebration and relish toasty chalets and stands selling delicious Beaver tails, hot chocolate and maple taffy that welcome you along the route.
2. How about exploring Whistler and do some skiing
Whistler is a pretty village in British Columbia and enjoying some downhill skiing. This spectacular mountain community was named North America's best resort by readers of Ski Magazine. Whistler's popularity came after the success of the 2010 Winter Olympics. To reach this village which is close to Vancouver it only takes two hours to enjoy this winter playground. Explore the snow-covered mountains, enjoy some retail therapy in its 200 shops, or sample the finest cuisine in over 90 restaurants and bars. To book your accommodation and tickets visit here.
3. Enjoy hockey at  New Brunswick's World Pond Hockey Championship
The most beautiful winter destination is New Brunswick where you can enjoy some winter hockey. In the tiny town of Plaster Rock, New Brunswick, you can take part or just enjoy with the World Pond Hockey Championships. In the February weekend, you will find 20 or even more of pond rinks lovingly crafted atop the icy surface of Roulston Lake. You will find competitors from Canada, the United States and Great Britain skate and stickhandle in this wonderful  untouched forest and gently falling snowflakes. This is the annual event that hockey fans will love to cherish all the year round.
4. Go Ice Walking in Alberta
Ice Walking- is this a sport? What you will find is more than a sport where the deep stillness of the frozen canyon is broken only by the sound of boots crunching in the snow. Towering waterfalls plunge down steep rock walls, frozen in place as if frozen in time. You will exlore a maze of colossal pillars of ice and surreal sculptures, backlit in blues and greens. The Canadian Tourism Commission selected Discover Banff Tours' Johnston Canyon IceWalk as a quintessential Canuck activity. You will love to touch and feel the ice formations around you as you walk on this fearless adventure. Also you may spot some furry companions on the way as this is also home to wolves, coyotes and moose.
5. Be a part of Newfoundland's Snow West
For more of winter fun activity and sports you can head to Western Newfoundland for Snow West. Each year in winter the Maritime province showcases Canada's favourite winter activities including skiing both alpine and cross country, snowmobiling, dog sledding, snow boarding and zip line excursions. Also at evening time indulge in entertainment with music, theatre and dining at Newfoundland.
6. Winter Sleigh or Dog Sled at Saskatchewan- what you prefer?
You do not need to go to Findland for this but enjoy a breathtaking journey through the Canadian wild by dog sled. Saskatchewan's Sundogs Sled Excursions that lets you ride along on a trip of a lifetime. Each winter from late November to mid-March, Sundogs takes visitors deep into the beautiful and pristine environs of Anglin Lake – Canada's boreal forest – by dog sled. Navigate with these friendly and cute canines the Saskatchewan's snowy trails. Also enjoy overnight camping and have fun.
7. Have sweet yummy Maple Syrup at Nova Scotia's Sugar Moon Farm
Enjoy and savour the sweetness at Sugar Moon Farm in Nova Scotia  with Maple Syrup. Also learn the art of making it. Only 90 minutes from Halifax, Sugar Moon Farm offers warm hospitality along with their sugar camp tours, all-day brunch, maple-tasting experiences and hiking trails. You will be thrilled to partake in Sugar Moon's Chef Nights when the Maritime's finest chefs create exquisite dinners for you to remember for long.
8. Have traditional Canadian fun at P.E.I.'s Brookvale Winter Activity Park
Head to Prince Edward Island's Brookvale Winter Activity Park to shop for traditional Canadian fun. Located just 19 km west of Charlottetown, Brookvale embraces the joy associated with quality time outdoors during the snowy season. Indulge in winter sports with snowboarding, snowshoeing, cross-country and alpine skiing. You can even give biathlon a shot. Half or full day tickets, season passes and equipment rentals are available at the park.
9. Ski Le Massif de Charlevoix
If you're looking for jaw-dropping scenery and the highest vertical east of the Canadian Rockies, Le Massif de Charlevoix is your dream winter destination. Only 75 km from Québec City, Le Massif de Charlevoix offers its visitors an innovative experience rich in culture, adventure and beauty. Skiers – both alpine and cross-country share the mountain with energetic snowboarders, but if your style is more après-ski, treat yourself to the best in Charlevoix gastronomical delights in your choice of casual or formal settings.
10. Enjoy the non- stop party at Quebec Winter Carnival
Now this is a must visit destination as this Winter Carnival at Quebec is the world famous and longest one ongoing for the past 60 years.
In 2017, the party runs non-stop from January 27  through to the February 12th. With evening parades, snow tubing, skating, snow rafting, outdoor BBQs, ice sliding, snow sculpture competitions and dance parties, there's something for every taste and age. For more details visit here
11.Enjoy Snow Tubing in Alberta
Ever flown down a snow-covered hill with the wind rushing through your hair and looked down to see an inflated tube.  If not, you should try it. Whether you've never touched skis or a snowboard, or just want to try something different, snow tubing is a great way down the hill. Located on Edmonton's eastern edge within the Strathcona Science Park, the Sunridge Ski Area is home to the province's only tube park. From December onwards, Sunridge becomes snow tubing central with its invigorating hill chutes and dedicated tubing lift that gets you back up the hill so you're ready for your next sliding adventure. Now get the safety helmets and specialized snow tubes available at he Ski area and have the fun of winter and the snow.
12. Say cheers with Icewine in Ontario
When talking of Canada destinations can you miss Niagara- you will say no. Yes not only it is famous for its gorgeous scenery, but also for its award-winning icewines. There are three annual wine festival events; one for new vintages, one for ice wines and a third for classic wine vintages.
For three weekends in January the Niagara region is transformed into wintery wonderland, celebrating one of Canada's most cherished products, Ontario Icewine. From the Xerox Icewine Gala, to wine and culinary pairings, outdoor activities along the famed Wine Route, the 22nd Niagara Icewine Festival is the perfect place to celebrate the upcoming winter season and the incredible Icewine harvest in Niagara. In January 13, 2017 at the Xerox Icewine Gala: Sugar & Spice everything Ice, an all-inclusive event held inside the Grand Halls at the Fallsview Casino Resort, Niagara Falls. The official kick-off to the Niagara Icewine Festival offers Canada's most luxurious Gala evening featuring incredible culinary from the world class Fallsview Casino Resort Chefs and over 100 VQA Icewines and table wines from over 35 award winning wineries.